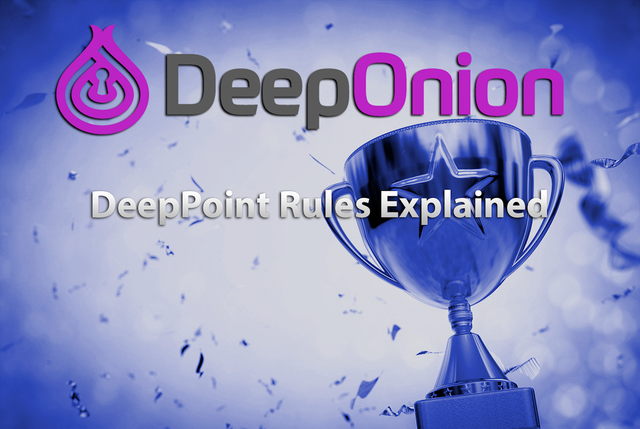 Well, in the past few weeks, we have seen how DeepPoints has helped build up the community. For some statistics DeepOnion has an average of 320 daily online users whilst BitcoinTalk only has 205 daily online users. Just in a few months DeepOnion has surpassed one of the most respected sites in the cryptocurrency world in regards to user popularity. We are already the 2nd most visited thread in BitcoinTalk history and soon to be first place. It is quite remarkable all the social media exposure we are getting thanks to the Deep Domination Tasks started by one of the devs @Deeper. If you still don't know what DeepPoint is, I will suggest you read on:  
What are DeepPoints?  
A new reward system was launched few weeks back by the development team as a means of showing appreciation to active members of the community who are always dropping helpful posts and promotional materials to advance the course of DeepOnion. So, this reward system would allow you to earn points – DeepPoints – for every like your activity receives. The most interesting part of this is that you receive Onion tokens every Sunday for accumulated DeepPoints and subsequently get to exchange it for Onions. Think about the whole thing as DeepPoint airdrop occurring every Sunday.  
What are the Rules?  
Of course, it is necessary to have guiding rules in place in order to prevent anyone from circumventing the system. Here are the rules:  
Make only original posts. In other words, plagiarized contents do not count. 
Ensure the quality of your contents. Spamming will be counterproductive and may cause you to get banned. 
Do not generate fake likes or followership. Moderators have a way of checking who creates accounts for personal likes to their main accounts.
Breaking any of the rules attracts a ban from DeepPoints and likely the forums and regular airdrops. 
How are DeepPoints Allocated?  
1 Daily login - 5Like DeepPoints  
1 New Post – 1Like + 1Like for Every 200 words  
1 New Thread – 5Likes + 1Like for Every 200 words  
Reply on 1Thread – 1Like  
1Vote for 1Poll – 1Like  
200 words – 1Like  
1000 words – 5Likes  
1New follower – 5Likes  
1 Avatar Upload – 5Likes
Obviously, this is another great initiative by the development team. The forum has since lighted up with helpful contributions since the introduction of this new feature as many users who have been hiding away now have a reason to become active. In addition to the forum activity, you can visit the "Deep Domination Tasks" section where DeepPoints can also be earned for completing promotional tasks that are capable of growing the community.  Having stated all that about DeepPoint, there is absolutely no excuse for not amassing more Onions this season. So, what are you waiting for? We will love to have your contributions.