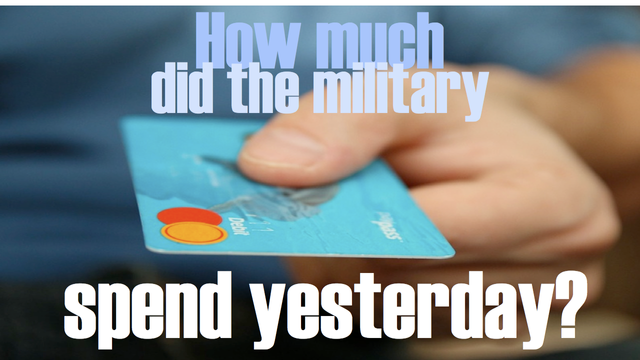 Yesterday, just one day out of the year, Raytheon grabbed another two contracts worth $376 million, Lockheed Martin was enriched by another $326 million, and Boeing saw another $122 million coming their way. BAE was left out again; view all seven below. (Starting in September, we'll track monthly totals, as well.)
Yesterday's breakdown:
BAE: 0
Boeing: $122,910,723 (1 contract)
Booz Allen Hamilton: $89,993,973 (1 contract)
General Dynamics: $30,837,185 (1 contract)
Lockheed Martin: $326,998,037 (1 contract)
Northrop Grumman: $9,462,556 (1 contract)
Raytheon: $376,306,490 (2 contracts)
This information is provided to highlight just how much taxpayer money is spent, per day, to enrich companies participating in the military industrial complex. The idea that our economy requires a governmental redistribution of wealth from individual taxpayers to large corporations that are friendly and well-connected to government came from the Keynesian argument for demand "stimulus" -- that our economy's health depends on higher and higher levels of spending. For this reason, personal saving is discouraged and often penalized by the government. But because individuals still tend to follow personal incentives to save, the Keynesian argument remains in effect: that government should spend money the public is reluctant to spend through tax-and-spend policies.
---
Below are the contracts awarded by the Defense Department
August 30, 2019
totaling $2,368,928,624
Recent record daily spending: $17 billion on August 5, 2019
Army - $1,196,352,8128
Southwest Range Services (Las Cruces, NM) $377,006,101
JE McAmis (Chico, CA) $140,700,210
Raytheon Missile Systems (Tucson, AZ) $129,811,367
PAE Government Systems (Arlington, VA) $122,830,985
HydroGeoLogic (Reston, VA), CTL Environmental (Novi, MI), PE Ayuda JV (St. Louis, MO), CAPE - Cabrera JV (Norcross, GA), ESI - ATC JV (Westland, MI), PIKA - Insight JV (Stafford, TX), EnSafe (Memphis, TN) $95,000,000
Oshkosh Defense (Oshkosh, WI) $77,609,835
California Department of Rehabilitation (Sacramento, CA) $56,473,292
Tiya Services (Baton Rouge, LA) $36,622,610
IBM (Bethesda, MD) $30,994,674
Great Lakes Dredge & Dock (Oak Brook, IL) $26,470,000
Heeter Geotechnical Construction (Mt. Morris, PA) $23,908,476
Herve Cody Contractor (Robbinsville, NC) $20,607,010
Tower Industries - Allied Mechnical Wisconsin (Greenville, WI) $18,473,434
Intercontinental Construction Contracting (Passaic, NJ) $14,893,318
San Antonio Lighthouse for the Blind (San Antonio, TX) $13,303,000
Alltech Engineering (St. Paul, MN) $11,648,500
Navy - $536,612,846
Raytheon (Tucson, AZ) $246,495,123
Progeny Systems (Manassas, VA) $115,736,303
Design Partners (Honolulu, HI) $50,000,000
Kellogg Brown & Root Services (Houston, TX) $27,721,832
Al Larson Boat Shop (San Pedro, CA), Epsilon Systems Solutions (San Diego, CA), Integrated Marine Services (Chula Vista, CA), Marine Group Boat Works (Chula Vista, CA), Miller Marine (San Diego, CA), Nielsen Beaumont Marine (San Diego, CA) $15,000,000
San Diego Gas & Electric (San Diego, CA) $12,765,441
Honeywell International Defense & Space (Tempe, AZ) $11,465,688
Peraton (Herndon, VA) $11,374,305
The Korte Co. (St. Louis, MO) $10,470,093
Northrop Grumman Systems (Bethpage, NY) $9,462,556
IntraMicron (Auburn, AL) $9,377,828
Tekla Research (Dumfries, VA) $8,972,221
CAPE Environmental Managment (Honolulu, HI) $7,771,456
Missile Defense Agency - $326,998,037
Lockheed Martin Rotary & Mission Systems (Moorestown, NJ) $326,998,037
Air Force - $218,970,956
Boeing (Layton, UT) $122,910,723
General Dynamics Information Technology (Fairfax, VA) $30,837,185
M1 Support Services (Denton, TX) $24,666,741
Rockwell Collins Aerospace (Cedar Rapids, IA) $15,400,000
Ensco (Springfield, VA) $14,300,000
IF Armor International d/b/a Man Lift (Warner Robins, GA) $10,856,307
Defense Intelligence Agency - $89,993,973
Booz Allen Hamilton (McLean, VA) $89,993,973