WHAT ARE DRONES ABOUT?
Drones are as well-known as an unmanned aerial vehicle (UAVs), they are aircraft that do not have a human pilot on broad. UAVs are usually a component of an unmanned aircraft system (UAS), and it includes a UAV, a ground-based controller and a system of communications between the two.
Usually, the flight of UAV's have the ability to operate within various degrees of autonomy, it can be either under remote control by a human operator or as an autonomously by what is known as onboard computers.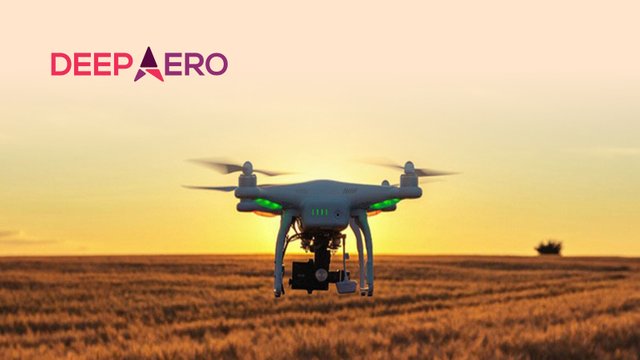 Image reference
THE MAJOR USE CASES OF DRONES.
• They are used for the delivery of goods: Drones are usually used to deliver packaged goods and other mail to specific shopping address, they as well have the ability to fly to designated locations, with which customers will be able to receive their packages.
• They are used for security and surveillance: Drones are also used by a number of industries who conduct surveillance. Drones could be used to monitor shopping centres and corporate offices, so they are used by security personnel.
• They are used for Agricultural purposes: The development of drones have been made available, they now have the ability to capture aerial images to monitor the health of crops. This drone has the ability to detect the availability of pests, weeds, flooding, drought conditions and the deficiency of nitrogen.
• The collection of data: Scientists can make use of a drone to gather information on weather data, which includes a real-time collection of data from within hurricanes and tornadoes, as this will help them study and track the storms.
• The use of a drone for emergency response: Drones can help with search and rescue operations, or they can as well help to find people who are missing in locations which appears difficult to access. They can also be used to deliver supplies to areas of disaster that have been struck with different catastrophes which include earthquakes, hurricanes, floods and tornadoes.
• Drones for construction purposes: Drones can be used to capture pictures for daily, weekly and monthly progress reports.
• Drones can also be used for taxis/ urban air transportation: Drones can be used by passengers on demand. The improvement of urban mobility can be done by the introduction of drones which will help to restore back the time lost to individuals on their daily activities.
• Drones can be used in the assessment of situations which look hazardous to human health, some of them include the spill of chemicals, the leak in radiation and the outbreak of contagious disease.
• Drones can be used to inspect roofs, bridges, roads, dams as well as to help survey damaged properties. They have the ability to provide information which will be useful for insurers and risk managers as the information provided will help to evaluate claims and other exposures.


image source
The Vision of DEEP AERO UTM.
They are going to build a technology which is A1 driven, they will build cutting edge, and they will be able to provide solutions on the blockchain which will be useful for the Drone economy.
DEEP AERO UTM hopes to have a marketplace that will be the biggest marketplace for any service or product which will be related to drones. It will have the ability to connect buyers and sellers of drone products and services seamlessly.
SERVICES AVAILABLE ON DEEP AERO UTM.
• The first one is the unmanned aircraft system traffic management (UTM) platform which will include a predefined low-risk location. This platform will not make use of a human operator to monitor every vehicle.
• The second one will be called passenger drones and cargo drones: In this case, DEEP AERO will work very closely with passenger drone manufacturers who are leading and it will help to launch Drone Taxi Service on its marketplace.
• The third one is the drone marketplace: In this case, users will have the ability to buy drones and the products and services that are related to drone and are present on the DEEP AERO marketplace.
The entire economy will be powered by the DEEP AERO (DRONE) tokens.
TOKEN DISTRIBUTION FOR DRONE.
The total token supply will be 5,000,000,000
The founders will receive 1,250,000,000 (this will be locked for 24 months)
The advisors will receive 500,000,000
The pre-sale will be 500,000,000
The ICO will be 2,500,000,000 and the
Marketing will have 250,000,000.
It should be noted that tokens that are not sold in ICO sale will be burned after the successful completion of the ICO
The price for drone token is $0.05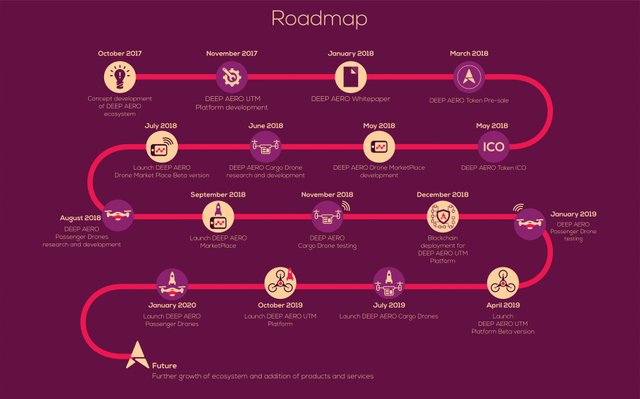 image reference
---
---
SOURCE
Website: https://www.deepaero.com/
Whitepaper: https://www.deepaero.com/docs/DEEP-AERO-White-paper.pdf
Facebook: https://www.facebook.com/DeepAeroDrones/
Twitter: https://twitter.com/DeepAeroDrones
Linkedin: https://www.linkedin.com/company/deep-aero-drones/
Telegram: https://t.me/deepaerodrones
Youtube: https://www.youtube.com/c/deepaerodrones
Authored by: geeboy88
Bitcointalk URL: https://bitcointalk.org/index.php?action=profile;u=1874835
Eth Address: 0xdcef7d27bbaae609accdaf43ccf41b042beaffb4