100 days of value challenge - Day 99: The great Seb
Day 99 - 100 days of value challenge!
My friend Sebastian hoped to be number 100, but I'll have to disappoint you as number 100 is reserved for some summarizing points of the challenge, so 99 will have to suffice!
Seb is the kind of guy who encompasses a lot of the values I've tried to showcase in this challenge and whose values I believe are very much in line with mine.
He's a kind spirit, caring of others, understanding and forgiving.
Five years back, I was in a relationship and had just gone through the toughest time of my life. Following this, I had pushed away many friends as I had to focus on myself.
Seb was the first guy I really managed to hang out with after that period, aside from a few childhood friends.
We met through online gaming actually, and clicked in real life.
Some time later, my relationship became troubled and came to an end, and because it had been such a major part of my life I really needed the support Seb gave me in the time after. He was a true friend indeed, and still is.
Now, only some years after but what feels like a lifetime, we still get to see each other from time to time even though he's moved to Oslo with his girlfriend, and his friendship is one I'll always cherish.
Another thing to note about this guy aside from his fantastic ability to see you as a person and be there for you is his bravery. I've always felt like a somewhat brave and tough person, but this guy wanted a change of pace in life so he quit his job and moved to Spain to work there for a while. And what do you know, if he didn't he probably wouldn't meet his girlfriend and now live in Oslo.
I can't express how awesome that is. So often when I'm faced with decisions that might seem scary, I remind myself of what Seb did and remember that it's better to regret a chance taken than a chance feared and rejected.
So yeah, thanks for everything so far Seb, you're truly appreciated ❤️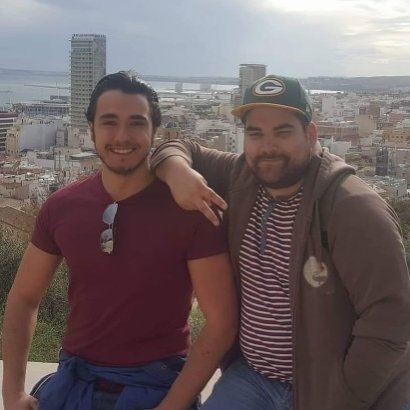 Posted using Deegram @deegramofficial https://www.deegram.com/