Your decision
Today I will be talking on decision
#I will be so brief, because I believe that most people don't spend time reading any longer, most people in this generation are too lazy especially we Africans.
#NOW TO THE TOPIC /YOUR DECISION/
Before taking any step, you will first consider it, does it worth it? or do I really need this? I'm I suppose to do this? I'm I in a safer mode doing this? Before you now get into conclusion (yes or no), that is what we call decision.
.DECISION as termed, has a lot to do in man's life
#WHAT YOU WILL GROW TO BE
#WHERE YOU WILL BE
#HOW YOU WILL LIVE YOUR LIFE
#HOW YOU WILL BUILD YOUR HOME
#YOUR DIGNITARIES
#RESPECT FROM NEIGHBORHOOD
#WHERE YOU WILL SPEND YOUR ETERNITY
There are different kinds of conclusion man could arrive at, but I will only mention five
1, I cant :- people who fall into this category already lost there hope, it may be due to finances, family background, environment, peer group and the likes. They already surrender because they believe that failure will surely end it, even if they try they end up failing.
2, I want to do :- this set of people have what it takes to succeed in that aspect but they are too lazy, all they want is ready made, cooked food, just to sit and eat, no effort, they also belong to the failure.
3, HOW CAN I DO IT:- these set of people need help, they can't think straight, all they know is do it for me, sometimes they get help but sometimes to no avail. There percentage of making it is 50:50.
4, I'M GOING TO TRY:- This one's are risk taker, they keep trying, they do not relent, they believe there is a way out in the desert, they practice failure to succeed.
5, I CAN DO IT :- this last Set of people already believe in themselves, they believe in success, they keep proceeding, though they fall but never relent, they are public figure, they are celebrity,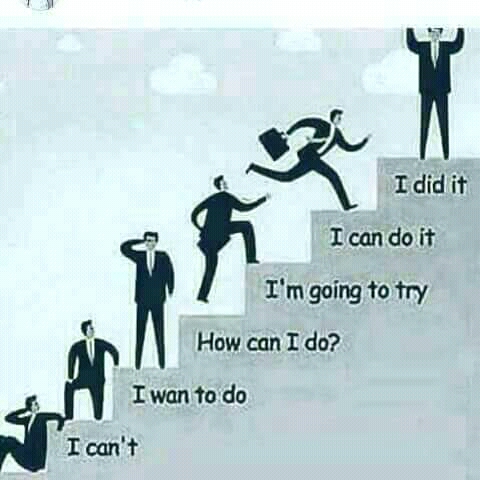 we celebrate them, what the failure ought to celebrate is what we celebrate in them, failure serve them, hail them, honor them, respect them.
That's what they are /YOUR DECISION /
which of the aforementioned are you.
Be wise in doing.