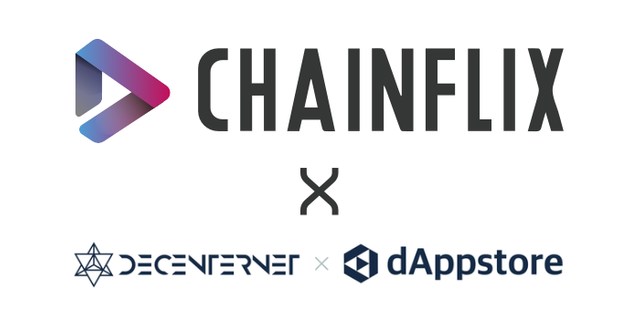 Chainflix is pleased to announce a partnership with Decenternet x dAppstore. CEO Jeong-seok Oh and Co-Founder of Decenternet and CEO of dAppstore- Louie Hwang agreed to join together for the pursuit of common marketing and business goals.
Decenternet (also referred as 'Dnet') is an alternative P2P permanent hyperspeed neutral decentralized internet infrastructure platform solution. Dnet is designed to be cheaper, faster, and proliferates net neutrality. It also protects privacy of users and removes the influence of intermediaries. Decenternet core assets such as Dnet web hosting, the blockchain native Spyce, Liberty Search Engine, and the Osiris Net-Neutral Web Browser create a completely free web environment which delivers profits directly to the participating peers without the exploitation of an intermediary.
dAppstore is a marketplace which supports all Ethereum based dApps. dAppstore's goal is to provide an easy and convenient dapp consumer experience by natively supporting major blockchain ecosystems. The dAppstore is designed to drive mass adoption of blockchain technology. dAppstore will promote Chainflix by exposing it to the marketplace audience.
Decenternet homepage: https://www.decenternet.com/
Osiris Browser homepage: https://browseosiris.com/
dAppstore homepage: https://playdapp.store/
Chainflix homepage: https://www.chainflix.biz/