The Best Job Search Website for Deaf Job Seekers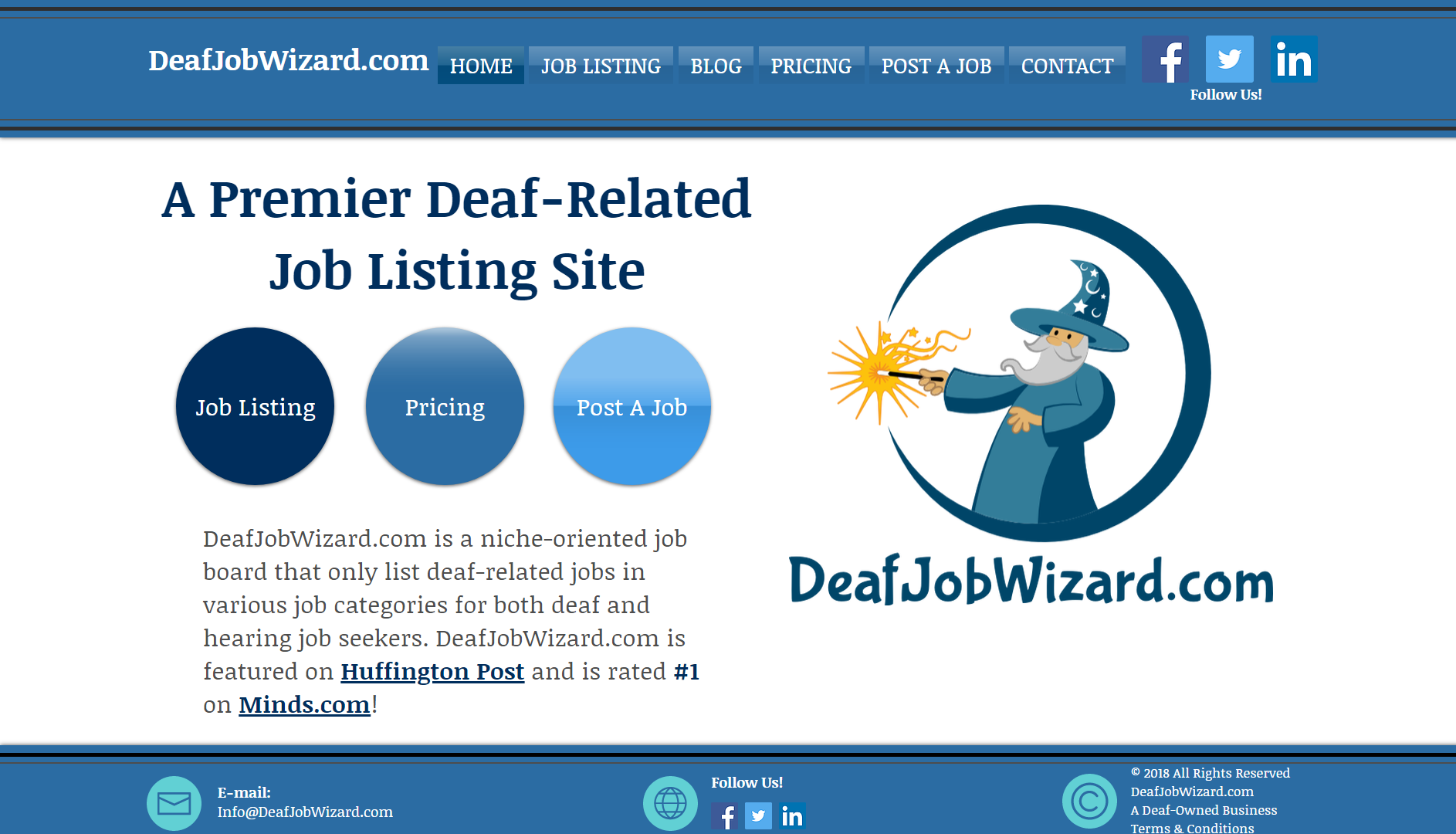 We have so many job boards and job search engines out there on the Internet. The list is endless. Some are good job search websites and some are very bad. Our team recently came across a very different kind of online job board called DeafJobWizard.com. This unique website lists job postings for deaf and hard of hearing people across America as well for hearing people who want to work within the deaf fields.   
What does DeafJobWizard.com do?  
DeafJobWizard.com solves the problem of helping the employers to connect with prospective job seekers for deaf job employment opportunities. DeafJobWizard.com sets itself apart from other job search sites as all of its job postings are deaf-related. Guaranteed. 
When our team reviewed the website, they were amazed that they weren't asked to complete a tedious registration process. Actually, there is no sign up – just go to the website and search for jobs. A quick and easy process for anyone. On DeafJobWizard.com, you can view all the posted jobs in a single listing. Its job listing is regularly updated and the most recent deaf employment opportunities come at the top. There is also an option of searching jobs via your home state for greater details such as the location of each job vacancy. For example, if you want to search jobs in California, simply click on the California link on your right side of the screen. DeafJobWizard.com also have a quick search box if you want to use for a specific job keyword.    
Why DeafJobWizard.com is the Best Job Search Website for Deaf Job Seekers and Employers?

Anyone can publicly view the list of posted jobs on DeafJobWizard.com. This website does not charge users money for visiting the job board. DeafJobWizard.com only charges money in the form of very affordable packages for employers who want to post jobs on the website. The current rate of 30 dollars per job posting and your job ad will run for six weeks (which is very low as compared to other websites we found). If employers have multiple job vacancies, they can choose the $99 package. For $99, employers get the option to post four or more job postings for a period of six weeks. Payment can be made by major credit/debit card and by paper checks. Once the payment is verified, the job ad goes live. Not only that, the process of posting a job on DeafJobWizard.com is very straightforward and painless.  
The best part is that all of posted jobs are also listed on DeafJobWizard.com's company pages across Facebook, Twitter and LinkedIn at no additional charge! Even if someone does not come across the official website, one can always benefit from social media sites and find the job postings via relevant hashtags or keywords.
Our team did a creative analysis on their social media accounts and found out that DeafJobWizard.com uses various types of marketing tactics to gain a wider audience. They make well use of the hashtags that will capture the audience based on relevant words. Nearly all of their posts receive ample number of views which eventually connects an employer with a potential job candidate, either via hashtags, keywords, or through someone's social circle. 
The website also have outstanding monthly blog posts that will benefit both the deaf job seekers and employers on different deaf employment-related topics or ideas. Some of its blog posts covered some unique issues that are not seen elsewhere. 
Our team concluded that DeafJobWizard.com is the best job online board for both deaf and hearing job seekers that only list deaf-related jobs in multiple employment categories. Visit DeafJobWizard.com today!