Freebitco.in investment!
The more I do look into freebitco.in, the more I am impressed how well they have organized it all.
During the weekend I did look into their premium membership and decided that it was maybe worth an investment.
Premium
They did introduce a premium membership powered by Funfair (Fun) tokens.
Depending on the stake you do have there, you do get extra benefits.
These benefits vary from cashback on your bets, a specified free spins at the Wheel of Fortune and an increased interest rate and the BTC you are holding there.
The Fun token did get some blows in the past weeks, just like most crypto around. Due to it being a gambling related token, it could just fit fine into my portfolio. So why not pull the trigger and enjoy some benefits while holding the Fun token.
I decided to invest 12.5K Fun, this would give me the next benefits.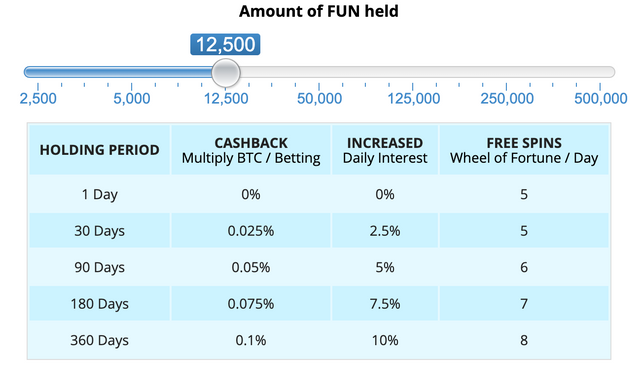 I am mostly interested in the Free spins at the wheel of Fortune, which you do already get the first day!
The route of investment
There are 2 ways to stake Fun at the the platform. You could buy them directly on their website with BTC, or you do buy them at an exchange and deposit them into your account on Freebitco.in.
I decided to follow the exchange route. I did know that it is an Ethereum based token and I was aware of the out of the world fee on Ethereum, but I did not image that these would be so extremely high. To be able to deposit 12500 Fun, I had to sent over just over 14K Fun, around 1500 fun did the transaction cost. The first time I really felt the flaws of Ethereum. I could have stopped at that moment and just kept the coins on Binance, but I did continue.
Shortly after transaction I did get an email from Freebitco.in that the funds did arrive.
Shortly after that I did get my first 5 extra daily spins.
Wheel of Fortune
While I didn't expect too much of these spins, they weren't bad at all.
I did get the following rewards:
5050 Satoshi
5050 lottery tickets for their weekly BTC lottery
50 reward points.
I will keep track of these extra spins and see if I can recuperate the GAS fees I did loose, which is around 30 euro.
Also curious if I do have enough BTC after 30 days to get some interest on my BTC holdings there. Probably I will leave my FUN tokens there at least until 2022. After that I will know if it was a good or bad investment.
If you do want to read more about Freebitco.in, you can find my review about it here:
https://leofinance.io/@fullcoverbetting/is-freebitco-in-the-best-btc-faucet-around
If you just want to create an account and claim daily some free BTC, feel free to use my referral link:
https://freebitco.in/?r=41852558
Cheers,
Peter
Posted Using LeoFinance Beta