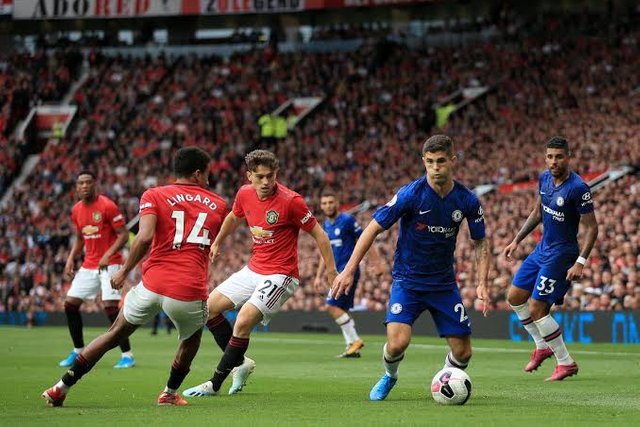 Source
Chelsea lost 0-1 against Manchester United in Carabao Cup round of 16 at Stamford Bridge, London. After the loss Chelsea Seven Consecutive Match win in all competition was ended.
Its so sad that Chelsea will still lost to Manchester United the second time this season, Chelsea had previously lost 0-4 to Manchester United in the opening match of the English Premier League.
Chelsea played very well but it's quite unlucky Chelsea will still lost to Manchester United, the first goal of the match was scored by Manchester United man Marcus Rashford, Marcus Alonso made a rough tackle on Daniel James in the box and resulted to Penalty kick. Marcus Rashford kicked the penalty and it's a gooooal!!!!! (21m).
Chelsea play well and dominated the possession but Manchester United did not give them a chance and the first half ended 0-1 favouring Manchester United.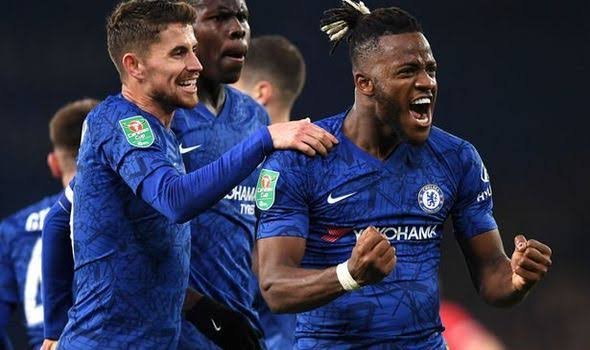 Source
In the 61 minutes of the second half Michy Batshuayi received a goal kick from Caballero and he struggled pass the defenders and move the ball close to Sergio Romero before taking the shot, it's a goal but Sergio Romero could only see the ball in the net and the scores tally to 1-1, what a great equalizing goal by Michy Batshuayi.
Pedro fouled Pereira in the 72 minutes, and free kick was awarded to Manchester United, the free kick was kicked by Marcus Rashford about 34 yards and it was turned to goal, making it the second goal scored by Marcus Rashford and the scores change to 1-2.
Chelsea continue to opress Manchester United but all efforts prove futile and the Match ended 1-2, Manchester United won and proceeded to the next round of the Carabao Cup and Chelsea will have to try again next season.
Chelsea's however took all the possession, and the statistics shows that Chelsea really play well, though I was a determined match by the both team, in every game there must be a winner and also a looser. I hope Chelsea bounce back in the weekend English Premier League match against Watford.