Datablockchain Transforming Our Data Driven Economy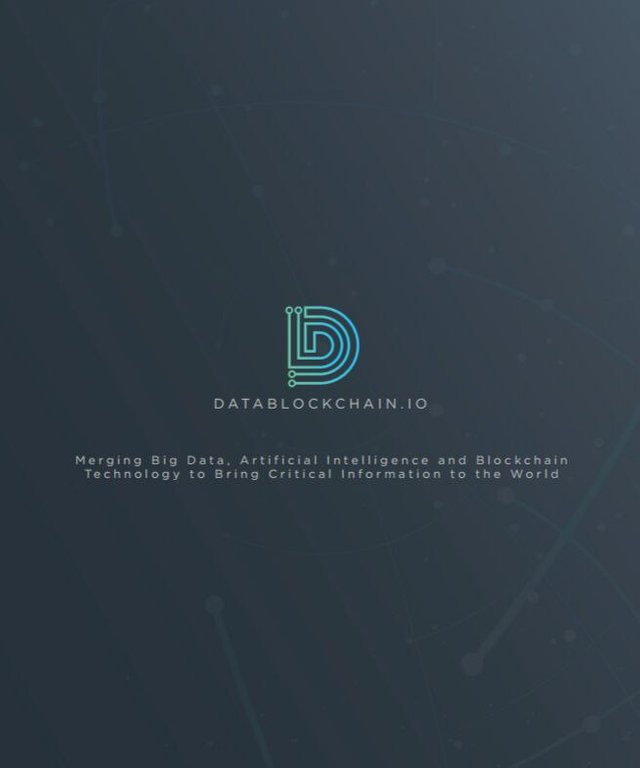 Introduction
Each new day comes to us with a new challenge and a new task that must be accomplished. Thus we wake up every morning with our minds set on the best ways to accomplish these tasks that lies ahead of us. How then do we cope with accomplishing these tasks and dealing with all these challenges that are ever growing and endless. We are simply able to accomplish it not through the methods that are not accessible to us or the solution that is existing somewhere out there in the world of "forms" but through the data available to us. Put succinctly, we can only solve these endless problems through what we know. No wonder "Francis Bacon" in his work "De Herisibus" said that "Knowledge itself is power" and "Wurren Buffet" the famous multi billionaires and one of the most successful investors the world have ever known said that "the more you learn the more you earn". Thus, affirming to the fact that we can only achieve and attain more when we have more information and data available to us. Accurate data is required in every sector of human endeavor to attain the maximum result. The importance of data in all human undertakings can simply never be over emphasized, little wonder "Jess Greenware", Tiffany Bova and David Buckingham said that "Data is the new oil". The difference between a successful and unsuccessful man is simply the availability of data at each one's disposal, little wonder Jeff Weiner asserted that "Data really powers everything that we do". In fact considering the enormous impact of data on our day to day activities Tim Berners-Lee ascertained that "Data is a precious thing and will last longer than the systems themselve".
The Challenge To The Data Management Systems
Various firms institutions and companies have enormous need for accurate, precised and systematic data in order to be up to date with the demands of their customers and as well have the best possible solutions to their needs. Institutions therefore, are forced to pay heavily to various data vendors or corporations who provide them with these desired information and data necessary for them to keep up and as well increase their standard of services. Most of these data management systems are not well updated and end up providing outdated data to their subscribers, others do not organize and process these data well for the easy consumption of their customers, thereby making these data both complicated and shattered for those who subscribe to their services. Especially for firms which require day to day realtime data, such data that are constantly in a state of flux and requires a direct contact as well as observation from specific zones, territories and locales.
The Datablock Solution
Datablock aim to be the world No1 data management firm. Datablock through the use of the latest technology feat and with the help of the blockchain technology will continuously obtain accurate data, process them in forms that will be better to comprehend and store them using it's unique decentralized system. Datablock will make the data readily available to all who need it for making the best investment decisions and for adapting to the concrete circumstances of time and place.
The Datablock platform data aims at obtaining, processing and providing unique and coherent data for industries, institutions and firms and all sectors of human endeavor especially businesses who require their services. Based on realtime life current, systematic as well as unique qualitative and quantitative coherent data. These form of data are very difficult and sometimes seemingly impossible to obtain especially in an ever growing economy and ever improving cultures. DataBlockChain will build an undivided solution which will eradicate the demand for excessive number of data list managers and data vendors which result to an ineffective and uneconomical marketplace.
DBCCoin Token
This is the token which will be used to power the Datablockchain ecosystem. The clients of the Datablockchain will make payment for the services they obtain using the DBCCoin token. DBCCoin token is built on the Ethereum blockchain
Other Important Information
Website: https://www.datablockchain.io
Whitepaper:https://www.datablockchain.io/pdf/whitepaper.pdf
Medium: https://medium.com/dbc-io/announcement-datablockchain-telegram-airdrop-39beefe5b9bb
Reddit: https://www.reddit.com/r/DataBlockChain_IO
Facebook: https://www.facebook.com/datablockchainio-210421122875853/
Telegram: https://t.me/DBCIO
My Bitcointalk Account: https://bitcointalk.org/index.php?action=profile;u=1102373;sa=summary