Dash self funded project: Living Room of Satoshi
| | Dash the "digital cash" cryptocurrency has the ability to self-fund projects. |
| --- | --- |
This is done using its' own blockchain based treasury system that allows stakeholders (masternode owners) to vote on proposed projects.
Looking back through the Dash treasury funded project archive. I found the Living Room of Satoshi which is a nationwide bill payment system in Australia. You can pay your electric bill, credit card or cell phone bill all from one website using Dash.
A summary of original project request:
By: Living_Rm_of_Satoshi AKA Daniel Alexiuc, Australian software developer
Treasury payment date: 2016-10-05
Payment: 1,000 Dash - @ USD 12.13 = USD 12,130
Votes: 997 Yes / 32 No / 0 Abstain
From the Dash Forum topic:
Summary:
Enable seamless, anonymous Dash bill payments to over 45,000 billers on the Australian BPAY bill payment network, as well as instant Dash to Fiat conversion to all Australian Bank accounts; by integrating Dash with Living Room of Satoshi.
Purpose:
Paying bills is a very accessible and natural use-case for Dash. It's something almost everybody does every week, and is a great answer to the newcomer question "What can I do with Dash?". Allowing direct bill payments and bank transfers with Dash is a sure way to increase its real-world utility, raise its profile as a useful currency and increase its value.
Background:
Since 2013, Living Room of Satoshi has been connected to the Australian BPAY payments network, the largest bill payments network in the country. It is used by virtually all medium to large business, and allows bitcoin holders to pay over 45,000 billers instantly without registering, and even without creating a login on the Living Room of Satoshi website. In 2014, Living Room of Satoshi added direct bitcoin-fiat conversions, with payment available to any Australian bank account, quickly and without any registration required.
I recently visited the Living Room of Satoshi and was pleased to find that in the 6 months since the project was funded it appears to be successful. I picked Dash in the currency drop down and would have been ready to pay a bill if I lived in Australia.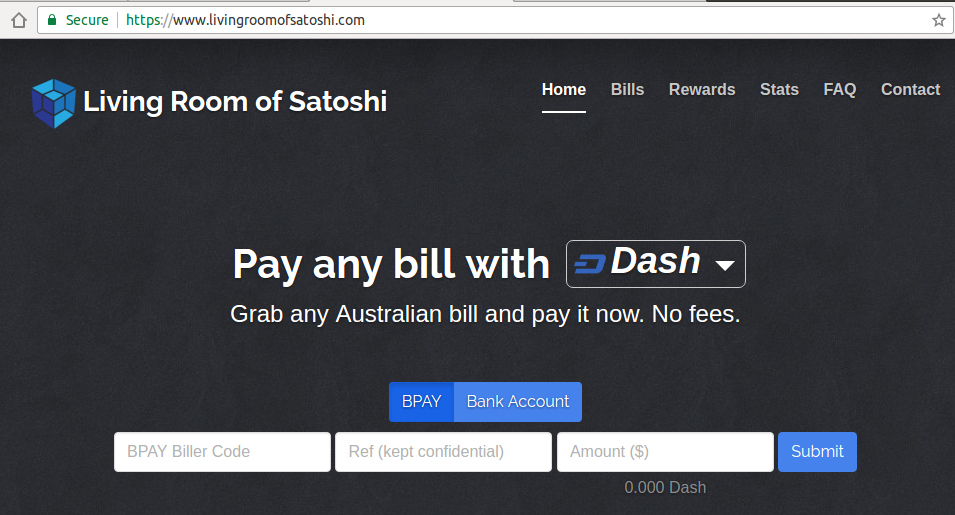 Looking through the well designed website I found their Stats page which shows that for the last 3 months Dash was the 2nd most used currency next to Bitcoin (3x more than third place ETH). Estimating from their graphics they do between .25 and .5 million AUD per month in bill payments.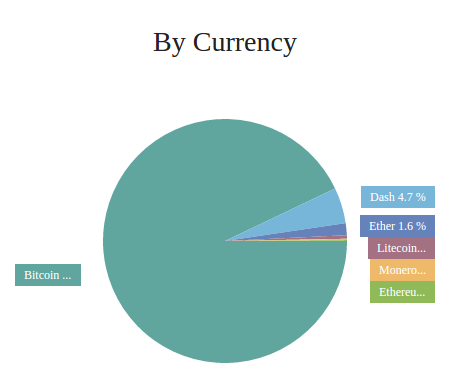 Based on my guesstimate there is approximately AUD 14,000 per month in Dash transactions going through the LRS system. It may be the largest "real world" use of Dash currently working.
Living Room of Satoshi also offers a reward program similar to credit cards. Each dollar you spend gets you a point which you can use to buy things from a Ledger Nano S or a FitBit.
Overall I would rate this a successful project as it gives thousands of people the opportunity to be exposed to Dash and use it in real world payments.
I would point the Dash Evolution developers to this site as a great example. If they can bring much of this functionality to the rest of the world that would be awesome.