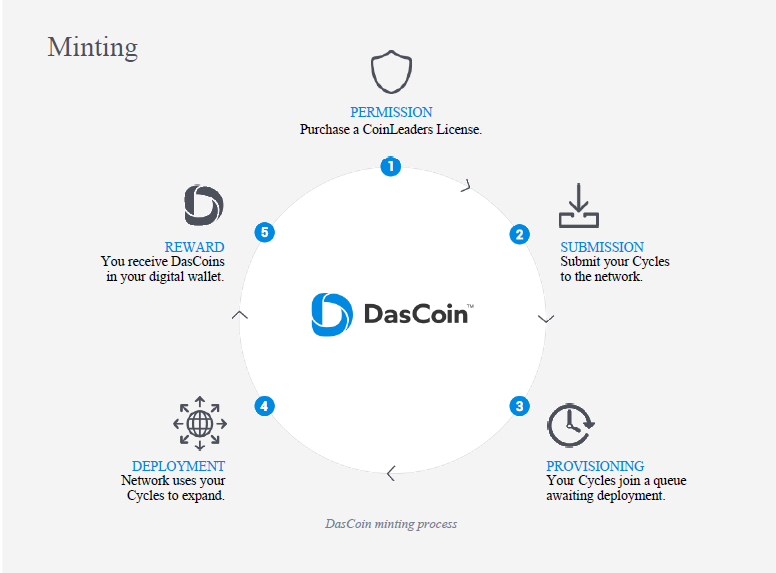 Bluzelle is a blockchain dev. company that is now building DasCoin smart contract and it now launched a cryptocurrency name Bluzelle(BLZ). BLZ is rocketing in binance at this right moment. Guys! DasCoin will also be a player in the crypto industry. DasCoin(DSC) is coming into public exchange on 28th April. So I would like to suggest all this group members not to miss DasCoin. Just buy a DasCoin blockchain's cryptographic license and then lets see what changes are coming in your financial life.
DasCoin ecosystem maintains an upgrade to start minting of your DasCoin. An upgrade is done after 108 days. 17th February is the date for that upgrade. So, if you buy DasCoin license package now withing 16th February, 2018, your coin minting will start from 18th February, 2018. Therefore, you don't need to wait for 108 days if you invest within 16th February. This is a huge opportunity to save your time to get minted DasCoin. Whenever your DasCoin are credited into vault, you can transfer them to HotWallet for exchange. Thus you may encash your capital and profit.
At present, 1 DasCoin price is about 55 euro cent. Maximum supply is 8.5 Billion but the circulating supply is about 40 million at the time when it will launch into public exchanges. Hence this is still in very cheap price but it is huge potential. For example, if you buy an executive license package which values 5000euro. You will get about 20 thousand DasCoin. So you may, for example, calculate the present value of 20 thousand coins. This is more than double your investment. Simultaneously, think the DasCoin potential while it comes into public exhcnages.
Some concerns of DasCoin are working parallel to bring a new realistic dimension in cryptocurrency industry. Such as Netleaders, DasFinancial, DasNet, DasPay, Global ECN, WebWallet and DasExchange(DasX). DasCoin is really a digital assets. To ensure this asset, DasPay is playing a vital role for global mobile payment solution. DasPay will not only a payment medium for DasCoin but also all the legit cryptocurrencies will be included in DasPay. Anyone can make transaction with DasPay to pay for goods and services globally. This amazing payment method is being developed under the supervision of Carta Worldwide that developed many mobile payment wallets like Vodaphone, ApplePay etc.
To buy to DasCoin and to know more of it, please register free here https://netleaders.com/ref/socialtradingonline
Social:
Join our fb group: https://facebook.com/groups/socialtradingonline
Steemit: https://steemit.com/@selimuddin
Linkedin: https://www.linkedin.com/in/selim909/
Instagram: https://www.instagram.com/selim_lifestyle_freedom/
Secure your crypto with Hardware Wallets: https://ledgerwallet.com/r/8b3b