Update Regarding Cryptopia Security Breach Possibly Involving DAPS Tokens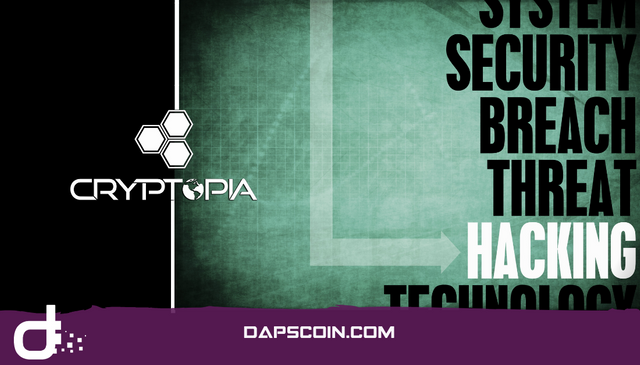 Dear DAPS community,
Cryptopia has not yet released an official statement regarding the alleged hack. We are waiting for an official statement from them and will not take part in any speculation.
The only new update from Cryptopia so far is the following: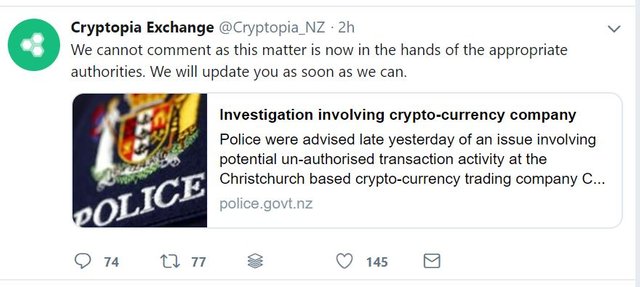 Link to police update: http://www.police.govt.nz/news/release/investigation-involving-crypto-currency-company
In the meantime, we have set motions in place to track this wallet of the alleged hacker. Here are more details on what that means and how we are going to deal with this in case a hack is confirmed.
We are currently watching this address for any movement of DAPS tokens.
Due to our previous successful airdrops, we already have the infrastructure in place to deal with tracking and investigating of wallets and these systems will be put back to work to track all DAPS that moves from this alleged hacker wallet.
In summary:
All the wallets that DAPS tokens move to from this address will be tracked and recorded.
We are currently investigating the feasibility of blacklisting this wallet and any downstream wallets that the DAPS tokens move to in order to not allow these wallets to receive DAPS coins during the mainnet transition.
DO NOT buy DAPS tokens from any parties offering cheap DAPS for sale as this may see you get caught up in the tracking and your wallet may be blacklisted as a result of this.
All wallets that do have movement from this address will be reported to the exchanges we are currently trading on so they can hopefully stop DAPS getting mixed in with other wallets on their exchange. – This is not under our direct control and we can only ask exchanges for cooperation in this matter.
We urge our community again to NOT keep any digital assets on exchanges as this can happen at any time to anyone. Remember - "Not your key, not your crypto"
Mainnet is not far away, we only have a few more weeks left until we reach the finish line and release our unique first of its kind cryptocurrency into the market and you all will finally have a beautiful and safe DAPS wallet to keep your coins on.
We need your support now more than ever. We've come too far to let this impact us badly. All our plans and development will continue and all we can ask you is for your support to get mainnet finished.
Address we are tracking: https://etherscan.io/tokentxns?a=0x9007a0421145b06a0345d55a8c0f0327f62a2224&p=4
At the time of writing the following exchanges confirmed cooperation in either freezing deposits from this wallet or assisting in other ways they can depending on their exchange operations:
Bluetrade
Crex24
IDEX
Stex
Catex
Awaiting response from:
Mercatox
We thank you for your support, we have an amazing community that we are very proud of. We will keep you updated as soon as new details become available.
Thank you.
DAPS team.