DAPS Development Certification Press Release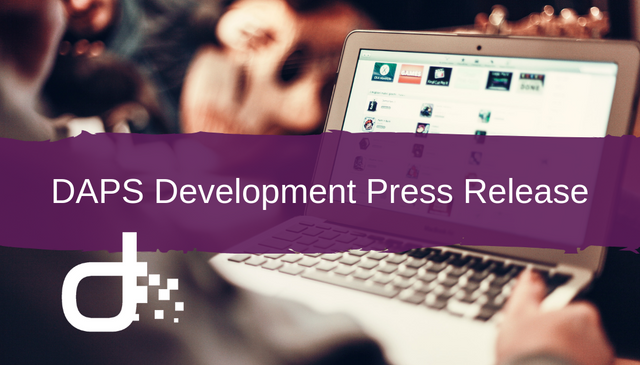 Development of DAPS Coin is a very exciting time for the DAPS community and all the DAPS team members. Becoming the world's first and only fully private trustless blockchain has always been our goal and the vision and we are proud to say we are well on our way to making it happen.
Today we are happy to present to our community official certification of the development process currently occurring. DAPS Coin used to be in part-time development only as we solely relied on volunteer developers that had free time to work on the project. Much of the groundwork for full-time development was created by DAPS internally before the development company was contracted, such as Proof-Of-Audit's theorized implementation.
Since the decision was made to switch over to DAPS Token we also decided to get full-time development on board so that we can speed up the mainnet launch. During July and August we sought out full-time developers and in the process, we did much investigation and comparison of prospective development companies, while also having a look at who has the capabilities to R&D the PoA concept. We found an organization whose passion matched our own and who have the expertise and ability to execute this development.
Recap:
The DAPS chain has been in full-time development since early September.
Preliminary development of DAPS was conducted by the DAPS Project independently.
DAPS is currently in 'Phase 1' of development as per reference to the 'SOW'
The main objective of the current phase is perfecting the revolutionary Proof-Of-Audit algorithm and finalising the designs and features of our wallets and block explorer.
Ensuring the chain is secure and solve potential flaws and vulnerabilities, such as "well poisoning", 51% attacks and block injection attacks.
DAPS Coin is considered a hybrid blockchain with PoA as a subchain.
Phase 2 will begin with internal testnet and then transition into a public testnet early in 2019.
We believe that this certification sets us apart from many other altcoins and tokens, ensuring the community and the world that the DAPS Coin is being developed full-time while we cultivate other aspects of our ecosystem. The decision was made that DAPS won't be an open source project yet due to the first of its kind technology we are introducing to the world with PoA.
We do not want to be 'just another clone' of an already existing protocol. DAPS is passionate about the evolution of technology in the crypto industry and want to be seen as innovators, not followers.
We are eager to get DAPS Coin out to the world to solve real challenges we are facing in the digital currency space.