DAPS Airdrop Main Exchange Claim Form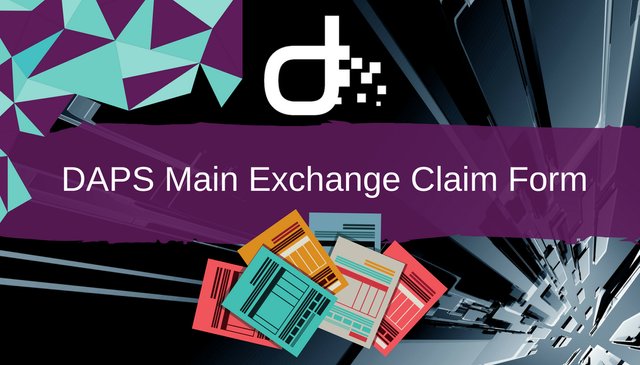 We are thrilled to launch the main exchange claim form today! The main exchange claim form is NOT for CoinExchange.io users. CoinExchange users will get a separate claim form.
Thank you for being patient with the delays we experienced with exchange negotiations, agreements and finalizing how they can assist in the DAPS token airdrop process. We also had to test the form multiple times to ensure all bugs were addressed and that the process is as user-friendly as possible.
Bleutrade and Cryptopia users do not have to fill out the form as these two exchanges will conduct the DAPS token airdrop automatically.
Please be careful and fill out the form correctly so we can ensure that you get your DAPS tokens properly and keep support time to a minimum. We are a small team, so your cooperation will be highly appreciated.
You must have held Peepcoin at 06/27/2018 on 02:00 UTC to qualify for the DAPS token airdrop. This form is for users who held Peepcoin on exchanges excluding CoinExchange. CoinExchange users will get a separate claim form.
The DAPS project has a Zendesk help center that is dedicated to servicing the airdrop process. Once you have submitted a claim form you will get an email from Zendesk with a link to your SUPPORT TICKET. This is where our team will follow up with you and you can also use this form to add comments or any other info needed. PLEASE try to eliminate the need for extra support as much as possible.
Click below to fill in your exchange claim information: https://dapsproject.formstack.com/forms/exchange_wallet_claims
The CoinExchange claim form will be launched later this week!
Any users found spamming our form or trying to game the system will be blacklisted and not receive any DAPS tokens. We have a zero-tolerance policy towards this behaviour.
Users who submit personal wallet claims and exchange claims will be collected and processed and released in batches as explained in this post
The DAPS token distribution will be done in this way to give a significant number of users who held on personal and exchange wallets their tokens at the same time as to be as fair as possible to all investors.
30 Days after the CoinExchange claim form is released, we will close all forms to new entries. This will give us a final set of data for processing. We will finalize the 1st batch at this point and get it fully processed.
After analysis of our current progress with our developers and team, a rough estimate for the 1st airdrop batch delivery and activation of DAPS token markets are expected mid-September. We have 3 developers on team that are building the scripting, nodes and automation process in some of the steps involved to get verification, emails, and database done. They've been working around the clock and are close to testing phase. It's a lot of moving pieces involved coordinating 7 exchanges plus personal wallet claims.
We have a lot of data to get through as we are estimating around 8-10 thousand claims. We've already received a large number of erroneous claims. Claims with errors increase the time required to process all claims.
We urge everyone to please be patient as we are making sure everyone is processed properly and that no issues arise for example allocating the wrong tokens or no tokens at all to eligible claimants. Batches after the 1st batch will be scheduled and announced.
Thanks to everyone for being patient and we look forward to seeing DAPS tokens in your wallets as soon as possible!