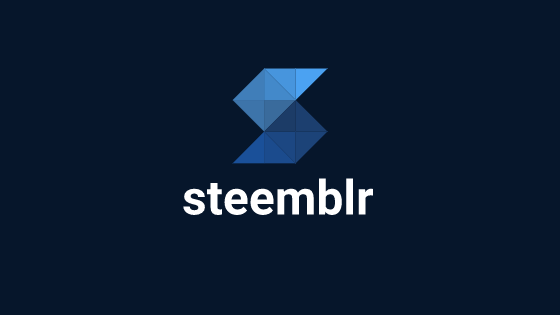 Steemblr is open source microblogging platform powered by steem blockchain . It allows user to post and explore content which is smaller than a traditional blog.
You can check developer version here: https://steemblr.com
Repository
https://github.com/snwolak/steemblr
https://github.com/snwolak/steemblr_api
Pull Request
https://github.com/snwolak/steemblr/pull/7
New Features
Upvoting
A new voting component that supports voting for all logged-in website users.
Now every vote and user is distinguished between two platforms: blockchain and firebase. Each user can vote for each post, but only steem users which vote for steem posts will result in a reward.
During the development I tried to use a one-way flux architecture so that the used solutions seem to be solid. After each vote / unvote data is sent to firebase api, then post is downloaded again and the state is updated depending on the action taken.
Following
For the best experience, all actions related to following were moved from the blockchain to the database, so users can follow each other between different platforms.
Similarly to the previous feature, to handle all actions follower button component was created.This is how it works: after user action, the relevant data is transferred to the api and then the person we follow / unfollow is saved/deleted in the user's profile.
For now user can follow only 100 accounts.
Changing Avatar
The option of changing the avatar by non-steem users has been added. Just go to theme editor and upload new avatar. Also there was added default avatar for new non-blockchain users so it won't show empty profile pic now.
To do this, I used firebase storage services, each saved avatar has the name of the user, which makes it easy to locate.
GDPR, Terms, Cookie Law
It seems to be more a feature for me than for the users but all the required terms and notifications about different things have been added.
GDPR notice and cookie law are shown when user enters app for the first time, and terms of service is here https://steemblr.com/termsofservice it can be located in side menu and footer in intro page.
Changelog
added google analytics,
added new upvote component to handle upvoting for steem and non-blockchain users,
added new follow button component, following is now non-blockchain for everyone with limit of 100,
added uploading avatar for non-blockchain users and default avatar for every non-blockchain user without avatar,
added terms of service, gpdr, cookie law
added offset to react-waypoint which means loading more posts should work better than before
change number of actions in post is now counted instead taking it from prop,
hide voting slider for non-steem users,
added links to terms of service and discord to side menu
fixed some of the reblogging bugs
If you have any question you can ask them on steemblr discord server https://discord.gg/hHmZgk6
View this post on steemblr