Hello Readers,
Do you have a dream project and you are looking for funds to kickstart your dream?
Do you have resources and you are looking to donate for a project in need?
Then you must know about Fundition - Your new friend in need.


What is Fundition?
Fundition is a peer-to-peer crowdfunding platform based on the blockchain technology where founders, backers and followers can work together to start and make projects successful. It is decentralized which makes it robust and the peer-to-peer functionality ends the need of any middlemen. The founder and the backer are in direct transparent relation with each other.
The platform charges no fees to the founder, also provide a fair share to the backer. The platform is supporting projects of all kinds - books, technology, music recording, exhibitions, charity or sports team. It lets you access 2 million+ user of blockchains - Tron and Steem.
It was launched in December, 2018 and has already raised $90k in funds, which gives you a fair idea of the potential this platform holds.
---
How to use the Fundition DApp?
You can visit the DApp website here : Fundition
On launching, you will land on their homepage which is quite attractive and user friendly. You can clearly see the buttons for all the options of your need.


First of all you will have to create an account, choose sign up options from the top right corner and then you can navigate to various options. Let's say you click on 'Founder' button in the menu then you will land on below page which clearly states the objectives, cut & clear to understand.

The extreme UI friendliness of the website would make you comfortable in the first visit itself, still if you feel you need more explanation, they have a button enabled 'How it works' in the top left corner to help you.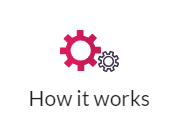 Various components of Fundition
First and foremost, the way they have clearly overlaid the buttons in their User Interface is very appealing.


Fundition has a changed policy around the taxes and fees unlike other popular crowdfunding apps.

The application is functional in America, EMEA and APAC.

The decentralized platform offers simple collaboration.

There is a concept of heartpower which a backer gets for any kind of donations they make. Here is a diagram to display the concept:

---
What can be improved?
Since I am to give you a genuine review of Fundition, let's also discuss what can be improved.
There is a button for discord gaming app in the right bottom corner like this below :

On clicking it throws 502 error which in my opinion is not good. Any new user should not be seeing an error anywhere on the screen, it puts a question mark on legibility of the application. I personally feel it must be fixed.
2 The website has very friendly User Interface, no doubts. But I personally do not like the choice of colors, rather than pink it can be purple it they want to keep funky colors. Pink makes me feel like they are not serious about their website. Although this is a total personal opinion by me, some other users might totally love it because of the pink color.
---
Why you should choose Fundition over other crowdfunding platforms?
Foundition backers do not need to pay any fees for their donations. Whereas other platforms charge a good amount of fee from 5% to 15%.
Fundition founders also do not need to pay any fee as compared to 3% fee criteria of other platforms.
One backer can backup multiple projects over their lifetime.
---
All-in-all I feel this platform is a great opprtunity for everyone to pursue their dreams projects. You do not need to worry from where to crowdfund money, since Fundition is here for your rescue and yes no fees. No fees is total Go. I would rate the app 4.5 since it pretty good both in its concept, features and User Interface.
Website Link: https://fundition.io/?utm_source=StateOfTheDApps#!/?utm_source=StateOfTheDApps