VEVUE - A REWARDING BLOCKCHAIN HUB FOR YOUR VIDEO CONTENTS
We live in an era where blockchain technology is gradually perpetuating every aspect of the economy - from education to entertainment to health to hospitality to media to lifestyle... you name them. This gradual evolution is in turn fostered by the hundreds of unchain projects radically varying from one another. This write-up aims to review one of such projects known as vevue, a blockchain-based platform that's fast reshaping the media and social networking economy.



An Overview of Vevue
Vevue is one of the featured dapps on stateofthedapps.com
Vevue is a rewards-based social media app, powered by the blockchain, that empowers the next generation of media makers to honor their creative craft and make a difference in the world through powerful visual content. Source


Vevue is a tokenized platform
for sharing media contents (videos). The platform rewards its users for sharing their media creations and interaction among users by viewing and commenting on shared works. Content creators monetize their works by placing prices (in vevue tokens) which other users must pay to view contents. An added edge here is the fact that the offers copyright protection for content creators against theft. This no doubt makes the platform a #1 choice among content creators
Another loveable aspect about Vevue is its flexibility of access. The platform can be accessed both through their web dapp and mobile app available for free download on Android and IOS. Vevue runs on the ethereum block chain network.
Getting Started On Vevue
To access vevue platform through the web dapp, visit https://vevue.app and click on the human icon at the top right corner of the page to register.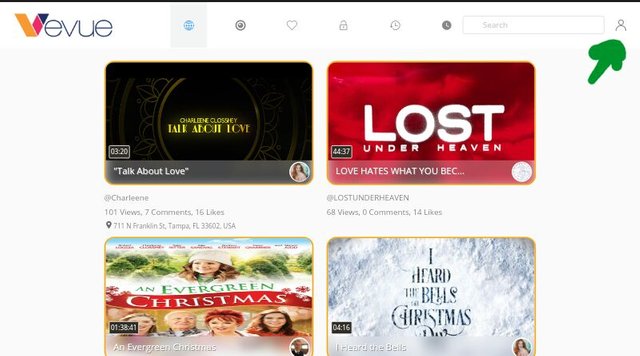 The registration takes only a few minutes. You need to register with a phone number.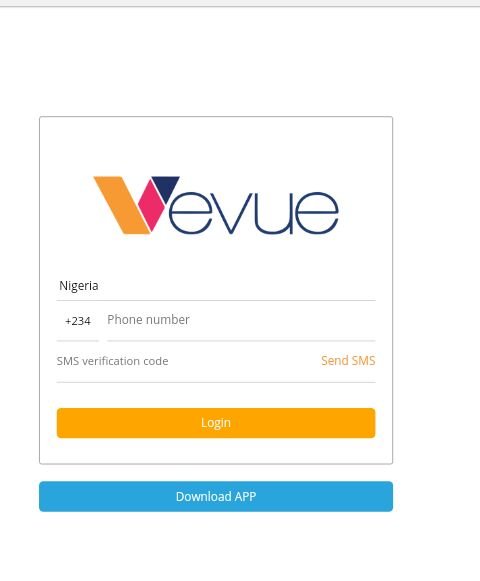 Select your country, provide your phone number, and supply the code sent to your phone to verify your account. Then click on login to board the platform.
You would be directed to your account setting on first login to set up your profile information.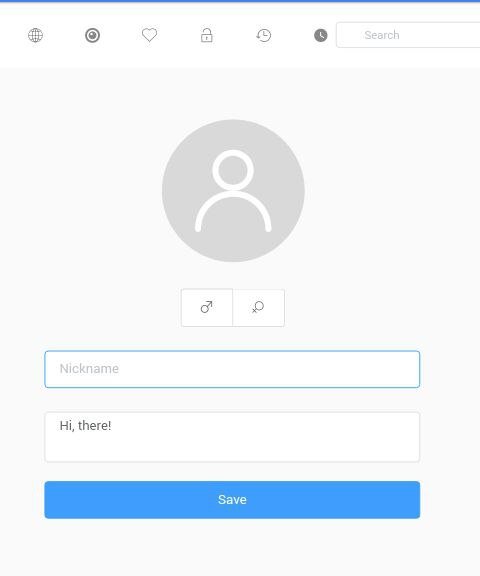 Set up your avatar by clicking again on the human icon at the center of the page. Then upload your desired photo from your device gallery. It is important that you upload a good photo of yourself. It gives you more credibility. For this review however, I chose this beautiful bundle of rose flower I came across online partly because I've been looking for an avenue to flaunt it (lol!); but mainly because I'm not much of a video freak and so might not be quite frequent on the platform.
After a successful upload of your photo, type down a nice nickname for yourself and type down whatever you wish in the next field - a greeting, a description of you... or just leave the field blank. Save your information.


Performing Social Actions - sharing, liking, commenting
Actions like sharing videos as well as liking and commenting on shared videos are done much the same way as on any common social media like Youtube, dtube, facebook or here on steemit. However, unlike these other platforms, you need to set the price for your video content which other users must pay to view. Remember that vevue is all about monetizing your creative contents.
So to share your videos, click on upload at the top right corner of your account beside you profile photo.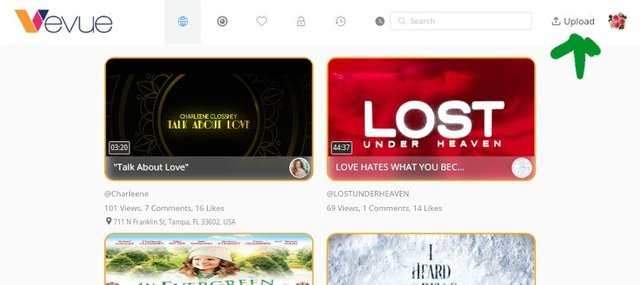 Select the video you wish to upload from your gallery or simply record a new one. Set the price(in vevue tokens) that you wish to be paid for the view and publish it.


To like and comment, simply browse through the contents posted by other users and tap on anyone that you wish to view.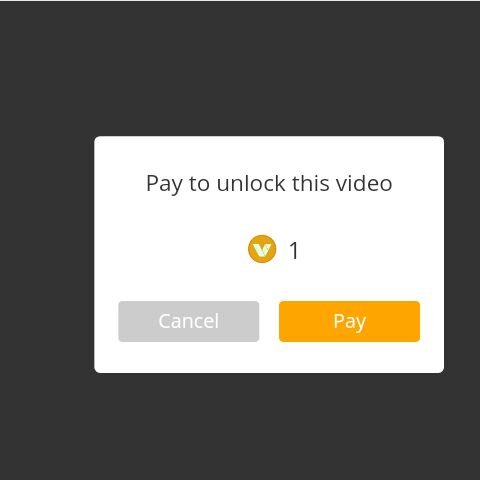 As expected, you may receive a prompt as the one above to make some payments to view the video. Tap on the pay button to reveal the address to pay to. Upon payment of the required amount of tokens, you should be able to view the video - things being equal.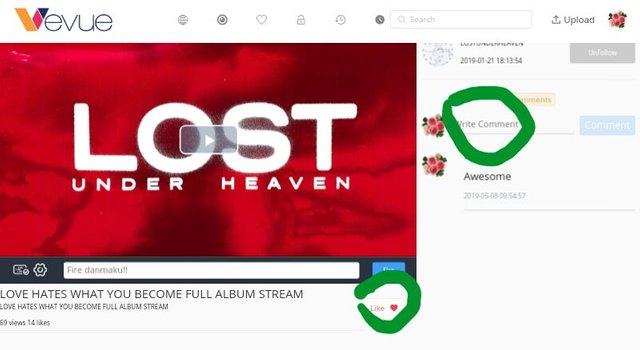 Comment and like buttons are available on each of the shared media which you can make use of to appreciate/provide some feedback on any content of your choosing.


Vevue Features
Playlist
User page
Likes page
Messages
A browsing history page
A search box
Playlist: On vevue, you can make a playlist of your favorite records/videos. Here is where your selections are stored.
User page: This is like your back office. It contains basic information about you on the platform such as your followers and your user ID. It also keeps track of all your activities on the platform such as your liked videos, your posted contents, comments, people you follow, etc
Settings: Here, you get to make basic settings to your vevue account like setting your display photo and your username.
Messages: Here, you can view and also send messages to other vevue users.
A browsing history: This keeps track of the videos that you have visited. This tool is particularly helpful in the event that you need to revisit such videos at a later time.
A search button: This makes for easy finding of contents that you wish to view. Simply enter a phrase or the type of content that you want and you'd be presented with a number of options to make your pick.


My Take On Vevue
Vevue is a platform built with the noble vision of empowering creativity in video production. Gone are times video creators had no choice but to publish their creations for free views. Vevue offers an open opportunity for video creators to monetize their contents as much as they wish. This coupled with the copyright protection vevue provides all content creators makes this platform unique while spurring interest in creators and bringing out the best within them. Vevue is quite a commendable project that is sure to bring about a rapid revolution in video production industry.
There are no turnoffs on vevue so far from my end. Vevue is the go-to place for video creators any seaon.
My Rating
Useful links:


All screenshots taken from https://vevue.app/


References