OpenSea | A decentralized marketplace for crypto collectibles!

Source

Introduction
---
Many human beings develop a taste for collecting items that are of interest to them. This is usually manifested with objects that have a high level of uniqueness as in the case of works of art, but there are also many cases of people collecting old coins, old bills, stickers, and even current toys and video games.
The psychological mechanisms that lead an individual to start collecting things are very diverse and they have been studied by professionals in an area that is called the "psychology of collecting." But in a few words, this is something that people tend to do for intellectual entertainment, or to meet people with similar tastes or as a speculative investment.
Personally, I think there must be a genetic conditioning from the time when human beings were gatherers and hunters, perhaps the need to collect and store useful objects began to be printed in our genes at that time, and today it is still manifested, only that instead of collecting useful tools for our survival, we collect objects that are considered fun or interesting.

Recently, with the great popularity and attention that projects using blockchain technology have been getting, virtual goods have begun to be created and thanks to the versatility of this technology, these can be considered as truly unique digital goods. Its owners can have an unprecedented level of control over them thanks to the possibility of becoming complete owners over any type of existing token in a blockchain. These digital creations can be viewed technically as crypto tokens, so the digital wallet that has control over those tokens is literally their owner.
The creation of this new type of good could spark a whole universe of new possibilities where the creativity of people would have the opportunity to manifest itself and create value in digital environments. This would naturally mean greater freedom to carry out commercial and entrepreneurship activities that may be of great help in getting more people to achieve financial independence. In addition, because everything would work in the digital world, there would be no complications regarding transactions between people living in different jurisdictions.
To facilitate the trading activities of all this new generation of digital goods, there are virtual marketplaces exclusively dedicated to the purchase and sale of said goods. In the next sections, we will explore the most important of these markets, which is known as OpenSea.

What is OpenSea?
Source
---
This project is a platform where people can sell and buy all kinds of digital goods created in the Ethereum blockchain. These goods can be digital collectibles, valuable items belonging to a video game (CryptoKitties being the most popular example), unique designs of virtual art and even software licenses such as the ones from Dottabot.
For users who wish to sell any of these products, they can do so through a normal sale where they publish the price while waiting for a buyer to pay for it, or they can also do so with an open auction that can be extended up to a week in case there are new offers constantly coming in. People can also put an item to sale and configure it to automatically decrease the price as time goes on, this is to try to ensure the sale of the article in case there is not a high demand for it at the original price.
OpenSea also accepts the creation of customized bundles containing different digital assets to put them all together on sale and thus be able to sell or buy several items with only one transaction. All of these commercial activities are possible thanks to the use of smart contracts, which allow the OpenSea's marketplace to operate transparently and safely.

Explaining OpenSea's Affiliate Program
---
As a strategy to promote this platform and facilitate all the buying and selling operations, OpenSea allows users to use referrals links and share them with third parties. This way, if they manage to get an individual to buy a product available in OpenSea, they will receive as a reward a percentage of that sale.
Source
This referral program goes a step further because, in addition to allowing the use of simple referral links, OpenSea also facilitates the embedding of its marketplace in other websites. This allows visitors to have direct access to the OpenSea marketplace and for each sale that is achieved in this way, the owner of the website will be receiving a percentage of every sale.
Likewise, in the case of developers from other similar digital markets, they can also join forces with OpenSea and carry out an integration between both markets using OpenSea's SDK. This would allow the affiliated market to show its users the information of the products available in OpenSea, and receive their percentage for each sale.


How to start using OpenSea?
---
Being a project developed for the Ethereum blockchain, it is necessary to use one of these 3 options in case we are visiting the marketplace from a PC. The most common is, in my opinion, the MetaMask extension. It is the one I always use to interact with the Ethereum dapps.

Source
For people wanting to visit the marketplace from an iOS or Android device, it is necessary to use of these "Ethereum-compatible mobile browser like Trust, Coinbase Wallet, Vault, or Opera." Source
Making use of one of these options is necessary because it is the only way to interact with the Ethereum blockchain and record the transactions that happen while we explore the market and make our purchases/sales.
The next thing to do is simply to explore the assets available in the market and make sure to have enough Ethereum to be able to buy items or participate in auctions.

Exploring OpenSea
---
The first thing we will see when visiting the main page of the OpenSea marketplace is a list of all the available products. In the top left, we can see some options to quickly filter the items in the list, and below these options, we can see the most active projects in the market.
Additionally, we can also see several sections such as rankings, activity, browse, among others that will be discussed in the following images.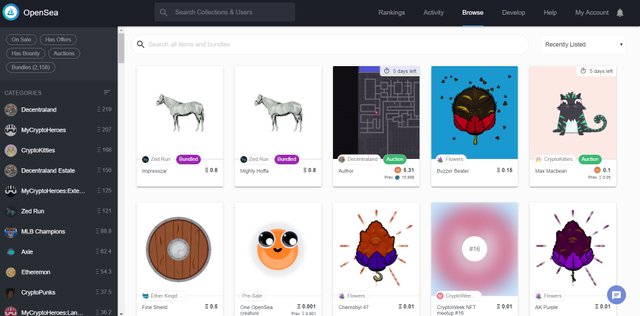 When clicking on an item we will see the following interface. In this case, this digital good is part of a bundle. In the image, we can also see the different cryptocurrencies that can be used to buy the item. It is important to mention the 2 options that appear next to Ethereum are 2 tokens created in that same blockchain and designed to serve as stable coins with a value of 1 USD.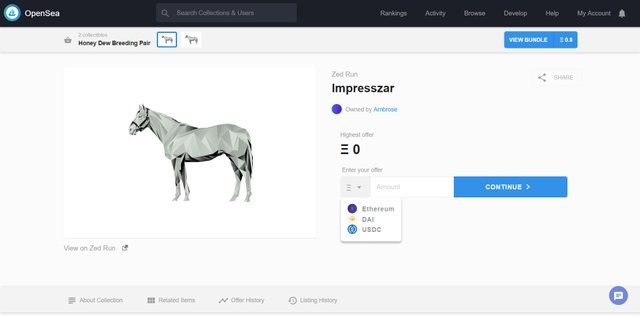 Here we can see the contents of the bundle. There are 2 different virtual horses belonging to a game where people can breed horses and compete in virtual races.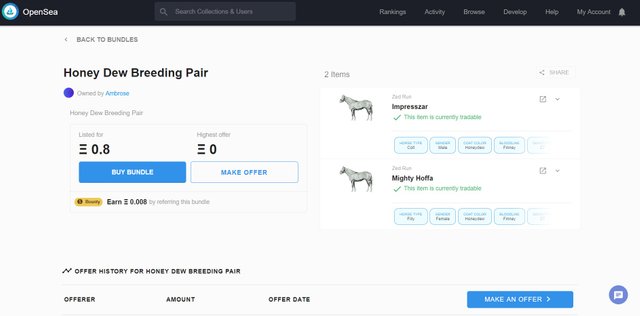 The publication also shows us information about the product in question and about the blockchain project where it belongs.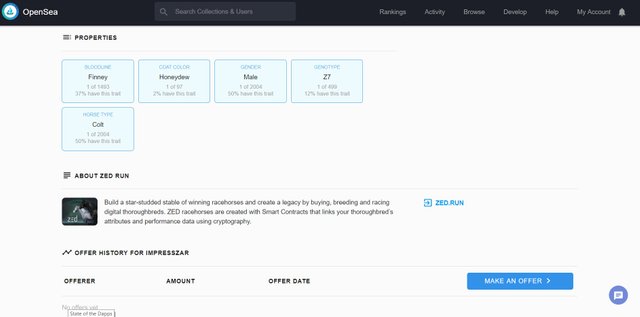 At the bottom of the publication, OpenSea shows us other similar virtual items available for sale. We can also see the transaction history of the item we are planning to buy. This is something only possible thanks to the use of blockchain technology.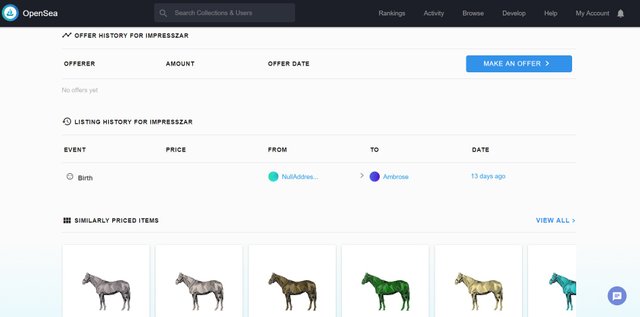 In this image, we can check the information available when visiting the Rankings section. As we can see, these rankings can change depending on several factors, such as the project's volume, market capitalization, average price, among other options. This is quite useful to know which projects are having the best reception from the market and therefore, the most active user community.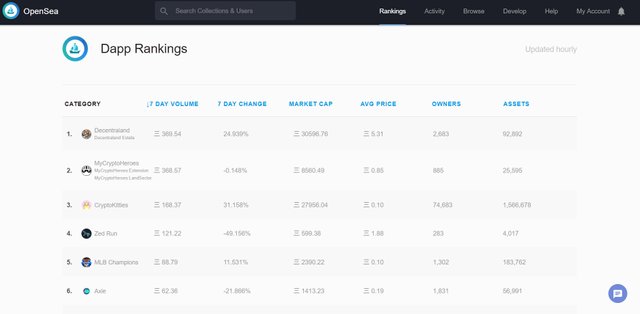 By visiting the Activity section, we will see the latest transactions that have taken place in the OpenSea marketplace. These transactions are recorded in the Ethereum blockchain, this can be confirmed by checking their corresponding etherscan link.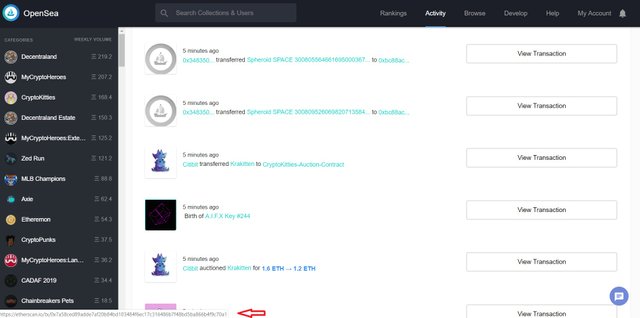 The next image shows us what we will find when clicking on Browse. As we can see, it is a huge alphabetically organized list showing all the different projects with assets available for sale in the OpenSea marketplace. It is expected to see this list expanding as the blockchain industry increases in size, and more projects are added to this market.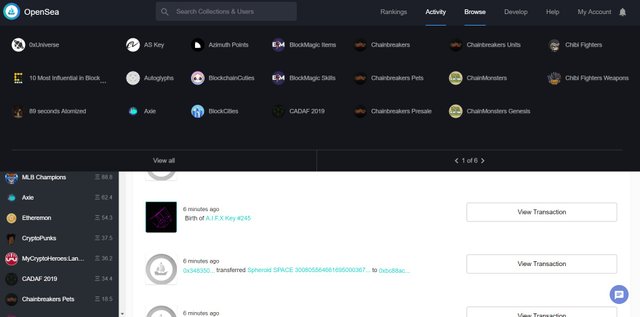 In this image, we can see the available items of the popular videogame Gods Unchained. As mentioned above, on the left we have some filters that can help with having more customized listings.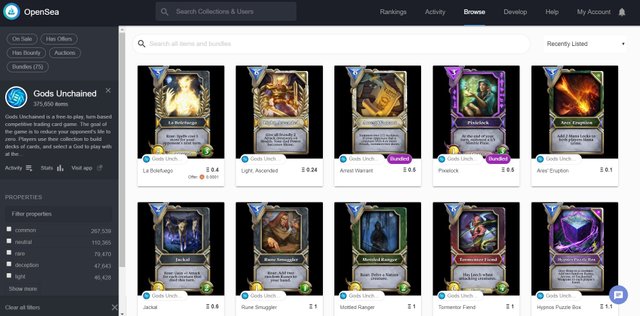 This shows us the OpenSea filters in action. The cards that we can see on screens are some of the remaining ones after having modified the available filter options.
Finally, in this image, we can see the different options to display the information relevant to each user account. All in a very neat and simple way.


OpenSea's positive aspects
---
The market has a wide variety of virtual goods and is considered to be the largest in its industry.
The interface is very fast and loads perfectly. It is clear the development of the platform is very well polished.
The chat support in discord is very good. They are always willing to clear up any doubt. I wrote to them to consult some things and the answer was quite fast.
There are several types of sales as well as many options for people interested in participating in the affiliate program.
Transactions are very safe thanks to the use of smart contracts.
It has an active user base, as can be confirmed by the data available on its State of the Dapps page:

Source

OpenSea's negative aspects
---
At this very moment, OpenSea is only compatible with Ethereum. This is understandable because, since its creation, the project was designed to work only with Ethereum. But given the potential it has and given the enormity of the universe of blockchain projects, perhaps being compatible with other additional blockchains is a good idea.
There is no public information on upcoming plans. This forced me to contact them directly using discord, of course, as I mentioned earlier, the attention was very good.
The platform does not have a full night mode, exploring the market at night can be a bit annoying because of the white background.

OpenSea and its competitor known as Rare Bits
Source
---
One of the main OpenSea competitors is Rare Bits. This is a very similar market with quite similar options to those available in OpenSea. However, there are certain aspects where OpenSea is better:
OpenSea has more volume and a more active market. At the time of this writing, I can confirm that in https://opensea.io/rankings there is much more activity than in https://rarebits.io/rankings.
When searching for products in Rare Bits there are times when the images in the listings don't load. This has not happened to me when exploring the OpenSea listings.
The personal attention by discord from the OpenSea team is much better. After I joined their discord, I received a welcome message and they answered my questions. While in Rare Bits they have their channel abandoned with only old messages.
The OpenSea interface is more polished in my opinion.

Future plans for OpenSea
---
Since there is no public information about this, I had to consult them directly about what new developments are planned for the future of OpenSea.
In the short term, support for ERC1155 tokens will be released and people will be able to sell and purchase these tokens. This should be implemented in the coming months.
On the other hand, a long-term possibility is to expand OpenSea's compatibility and be able to work with other different blockchains and not just with Ethereum. This is only a possibility, but depending on the demand it is something that could happen in the coming years.

Conclusion
---
The OpenSea team has done a great job developing their marketplace for virtual goods from the Ethereum blockchain. The platform works perfectly, and the project looks very well polished. It is not surprising to know this is the largest market of its kind.
It is very likely that as the blockchain industry grows, the importance of this type of platform will also grow and the number of products listed will continue to increase even further. In addition, it is also beneficial for all the participants in this industry and all cryptocurrencies users that these digital markets are successful, as this would mean the sector in general is healthy and with the possibility of continuing to generate more value.
Due to all the reasons explained in this article, I give this project a 4 star rating:
Source
Repository
https://github.com/ProjectOpenSea/opensea-js
Resources
OpenSea
OpenSea's FAQ
OpenSea Developer's FAQ
OpenSea's Blog
OpenSea Marketplace
State of the Dapps - OpenSea
DISCLAIMER
This is not financial advice, nor a guarantee or promise in regards to any result that may be obtained from using the above content. The information provided here is for informational and entertainment purposes only. It should not be considered as financial and/or investment advice. No person should make any kind of financial decision without first consulting their own financial adviser and/or conducting their own research and due diligence.