We're living in a time when getting the required support to facilitate your dream is becoming increasingly difficult. Loans often come with a lot of interest and it's not like banks give us a lot to be positive about because they tend to be sneaky.
Crowdfunding platforms were created to mitigate the effects of taking loans and with Fundition, we have a platform that has taken it to the next step.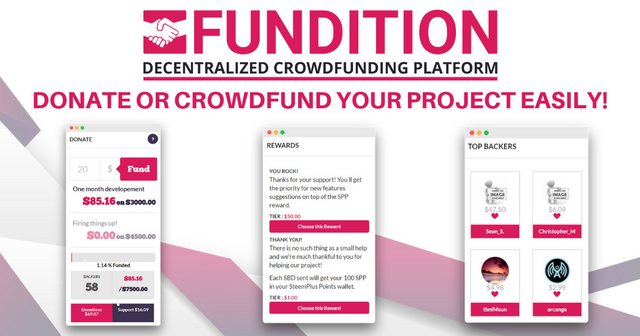 Fundition is categorised as a Financial dapp in the Stateofthedapps ranking, it is a crowdfunding dapp that operates within steemit and Tron blockchains. According to its introduction on Stateofthedapps
A decentralized approach to crowdfunding allows Fundition to eliminate all fees for the founder, gives the backer more of a share of the project, and allows a peer-to-peer relationship between the founder and backer, without a middleman. Without the centralized corporation middleman, donations are available quickly and securely.
Getting Started
Like I mentioned earlier, Fundition is crowdfunding platform that works on Steem and Tron blockchain. I will be reviewing it from a Steem point of view.
If you already have a steemit account then you simply login using steemconnect by clicking on login on the home page.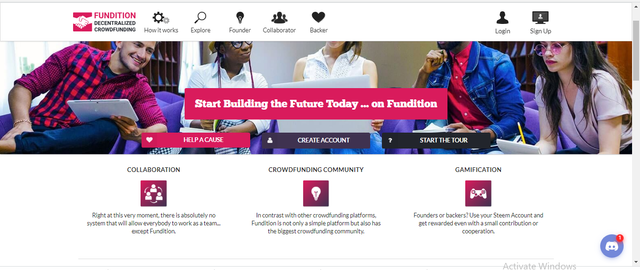 Note: Always confirm you're using app.steemconnect.com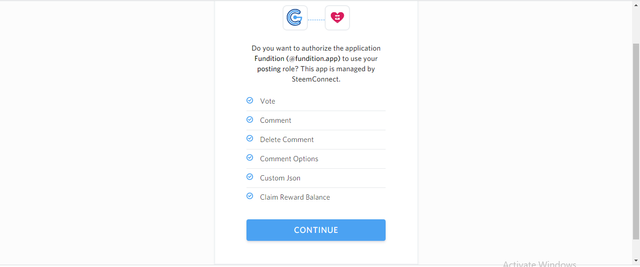 Complete the login process by clicking on "continue", then input ypur steemit login details to gain full access to the site.
If you don't have an account, you can create one easily by clicking on Sign up then pick between joining the waiting list here. To get an instant account that comes with some perks, you can pay just $2.5 to @steem.ninja by using my referral link.
The Home Page
After login in, you will have full access to Fundition.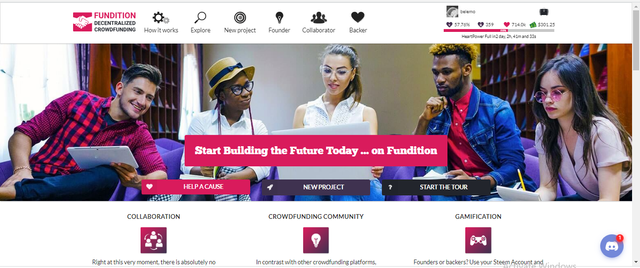 Your "heartpower" represents your voting power and there's a timer that counts down to when it will be at 100%. Your total Steempower and available steempower(to account for deduction for delegations and the value of your account in dollars are all displayed at the top right.
Moving from left to right of the top of the screen we have
How IT works: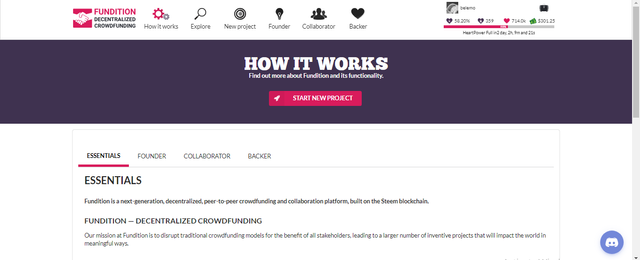 A quick explanation about how the platform works.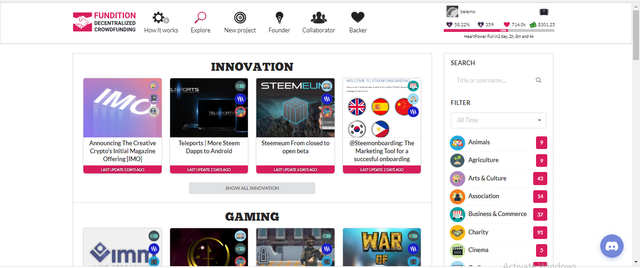 A categorised overview of various projects including funded and those still in the funding process. It is common place for individuals to visit the platform with a project or charity in mind but in the event that you just stumbled into the platform. You will find a library filled with projects ranging from charity, software development, Agriculture, gaming, arts and culture or individuals looking for support for personal projects, whatever the project is, you can create a campaign on fundition.
Creating a New Project
The next tab is the "new Project" tab. This is where you go to create your own campaign. If after going through How IT works and still need support, you could let the tour guide lead you through the process by clicking on "start the Tour".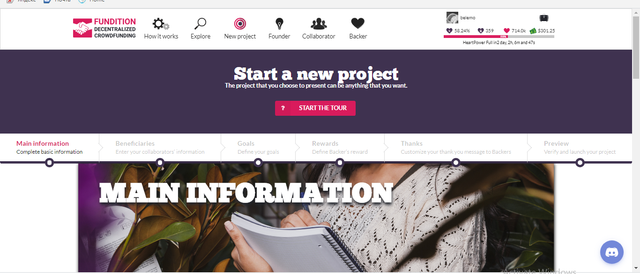 Note: you will be required to undergo verification through one or more of your social media accounts. To increase your chance of getting verified, it is advisable that you include as many social media profiles as possible.
How To Support a Project
If you stumble into a project or perhaps already have a project in mind that you would like to give support to, here are the steps to go about i
Select the campaign either from the Explore section or through the customised link that takes you to the project's page.
click on "fund" and you will be taken to a portal where you specifiy what currency you want to support in. For this project, I will be supporting using Steem
Complete the form, confirm payment and you will be redirected to a steemconnet portal to finalise the payment.
Your Profile
To view your profile, click on thumbnail of your avatar usually found at the topright of the screen and you will be directed to your own page. Your Steemit reputation, your wallet details and the projects you've supported are among the items you'll find here.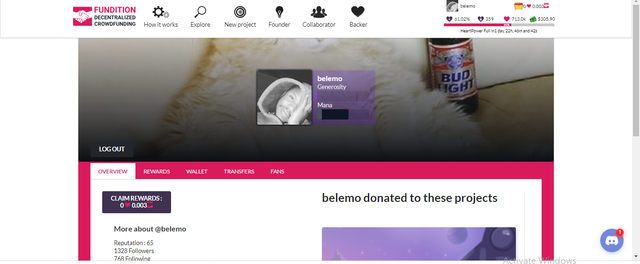 Impression
I've come across a few crowdfunding platforms. Only recently I published some articles concerning a particular project by @utopian.io hosted on Indiegogo. On that platform(Indiegogo), any campaign that isn't for charity purpose will be charged a percentage of the funds raised. Fundition does not have that feature because all funds raised go to the creator of the project.
Indiegogo provides support from industry experts and have an elaborate library of information for individuals who create campaigns on the platform but on fundition, you're left to work based on what you have and can source individually.
Fundition is rated as the 3rd best Dapp in StateoftheDapps Financial Ranking and 19th overall for good reason. It is a popular source for support and is used by millions of people across Tron and Steemit blockchains.
I would particularly recommend it for individuals who want to start a charity and those interested in growing an already established business idea. Indiegogo is a better fit for someone who is new to business because of the added support you will received. I hope you find this information useful, I would lke to get your feedback about your experience.