DApp Review - Finance Section - The Smartsteem Dapp Review (Task #9)
Introduction
What does Steem, its blockchain and its cryptocurrency mean to you? For some, the Steem blockchain is simply a place that replaces their traditional blog sites. For others, it is where they come to meet new people from all over the world, learn new cultures and make new friends. For yet a number of others, the Steem blockchain is where they post articles and earn rewards through it. A final group includes those that are into the blockchain because of its investment possibilities that abound. It is for these latter set of people that Smartsteem was founded. We shall now delve into what Smartsteem is and why it is an essential finance dapp for everyone to use.
What is Smartsteem and how do I use it?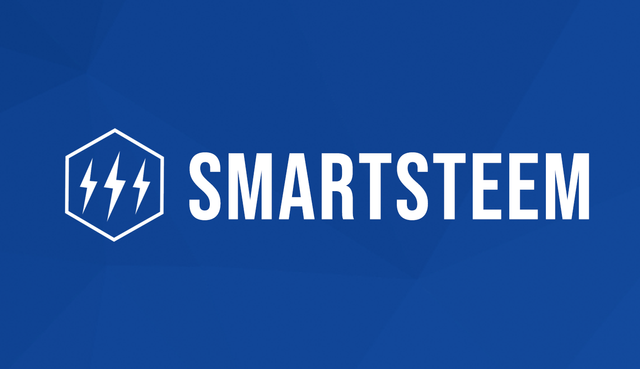 After my little introduction, I believe this would be your biggest question right? I will answer you right away. You probably know what fixed deposits are with the banks right? You have some money and you place it with the banks for a few months and it continues to yield you interest until its maturity date. The Smartsteem platform is a dapp built on the Steem blockchain which allows members to "fix" their Steem Power and gain interest from it.
For some who do not have the time to post articles and earn rewards but have the money, you can also earn by purchasing Steem power and delegating it to the Smartsteem dapp. Your Steem power is now put to work by the owner of the platform and earns you a daily interest for as long as it continues to remain with them.
To begin using the Smartsteem platform, you can reach out via its website at Smartsteem.com or visit the finance dapps section of stateofthedapps.com and search for Smartsteem. You will need to log in using Steemconnect before you can begin using this platform. Once you are logged in, you would see a preview of the components of this platform.
Components of the Smartsteem Platform
The Smartsteem platform comprises of different components that are quite useful to its users. We shall look at each of these components carefully. Please stay on with us.
Dashboard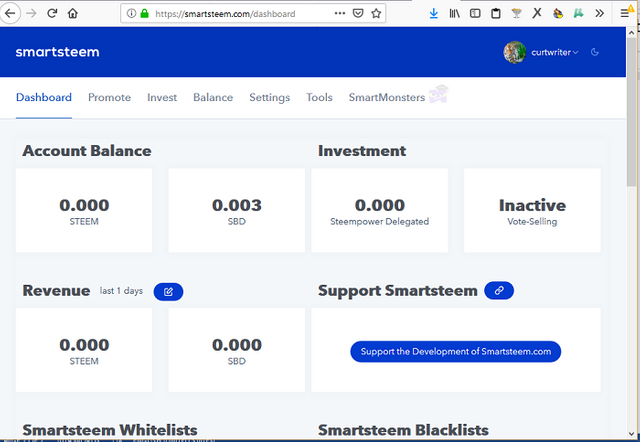 Your dashboard is where you have the summary of all you have on the Smartsteem platform. There, you can see all interests you have earned both in terms of Steem and SBD. It equally shows how much Steem Power was delegated by you and the recent transactions carried out by you. Under this dashboard, you can see those users on the whitelist of this dApp as well as those in its blacklist.
Promote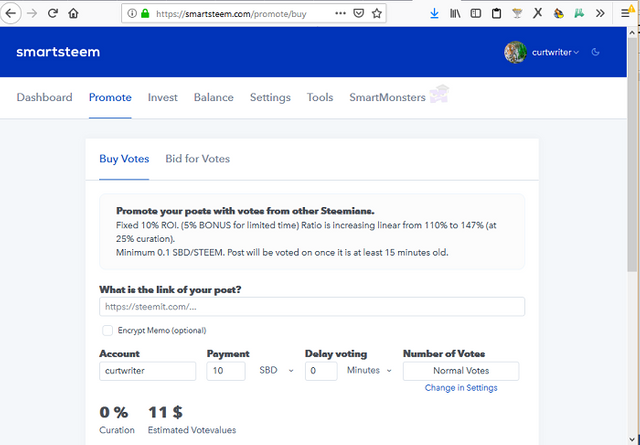 Luckily enough, the Smartsteem platform goes both ways. You can invest with it, or promote your blogs with it. Users who want their blogs to reach the trending pages of the Steemit platform can use this section to promote their blogs. Simply add the link to your blog in the provided box, type in the amount of Steem or SBD you are willing to pay and click on the "Buy Votes" button.
Invest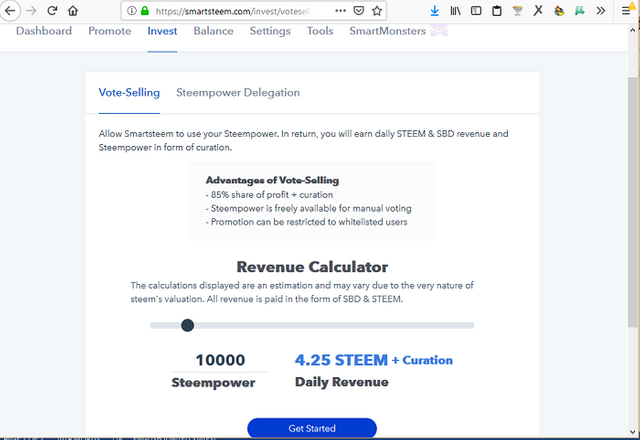 The Invest section of the Smartsteem platform is the section for those interested in "fixing" their Steem power and earning interest on it. There are two sub sections here. Those are the Vote-Selling and Delegation sub sections. This means that you can either decide to sell your votes or delegate your SP to the dapp. With vote selling, you earn interest and curation rewards. However, with delegation, you are better suited to earn higher interest than those who sell their votes. Unfortunately, when you go the delegation route, you have to wait for five days after you undelegate your SP before it returns back to you. To use any of these, click on them, input the amount of SP you wish to delegate or vote-sell and click on the get started button. While inputting this amount, you are immediately informed of how much interest you stand to gain daily.
Balance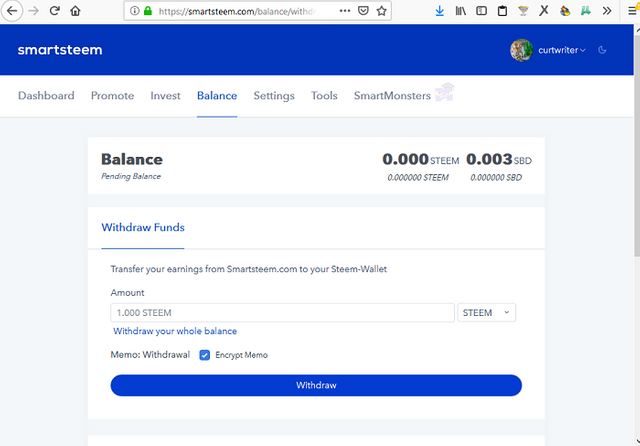 In this section, you can view the amount of interest you have so far earned both in SBD and Steem. It serves as a wallet for you interests. From this section, you are also able to withdraw your earned interests. Once you input the amount you wish to withdraw, click on the "Withdraw" button and in a few seconds, your withdrawals are added to your Steemit wallet balances.
These are the major components of the Smartsteem platform. Once you are able to get it right with this, you are definitely on the path towards cashing your interests out on the Steem blockchain as well as promoting your blogs and increasing your readership and ultimately, your rewards and followership as well.
My Experience with Smartsteem

I had learnt of Smartsteem sometime last year when I was still trying to build up my Steem power. I liked the idea of practically delegating your SP and letting it work for you. SO I decided that I was going to build my Steem Power to at least 1000 and then delegate it. I was able to achieve that and I also delegated it to the platform. However, at some point, my finances spiraled down so I had to undelegate and begin a full power down. It was not an easy decision as I was enjoying the daily interests from the dapp.
I however still plan to use the Smartsteem platform very soon. Once I can purchase another set of Steem, I'd power up and either try out their vote-selling option or use the one I am familiar with - delegation to the dApp. Basically, throughout my time using the dapp, I had no issues with it. All transactions on its website went very smoothly.
The only issue I had was with undelegating my steem power. It takes about five days to get back the delegated Steem power and during those five days, you do not get any interests. I however understand that it is not an issue with the platform, but it is how the Steem blockchain has been built to function. I wish it the timeline could be shorter but then, I have to manage.
Conclusion
For users wishing to earn from their Steem power, the Smartsteem platform offers them a simplified platform and an easy to do way of delegating their Steem power or selling their votes. If you wish to promote your blogs, doing so is equally easy to understand and follow through.
My Rating of Smartsteem
There are a lot of other investment and vote selling dapps out there that do the same thing that Smartsteem does. However, what stands out for me with the Smartsteem dapp is the presence of an easy to use website that has been built for its users convenience. This was what endeared me to Smartsteem from the other vote selling dapps. Thus, I am giving the Smartsteem finance dapp a 5/5 rating!!
App Details
Website - https://smartsteem.com/?utm_source=StateOfTheDApps
Discord - https://discord.gg/H59vTmq?utm_source=StateOfTheDApps
Steemit - https://steemit.com/@smartsteem?utm_source=StateOfTheDApps