Review Featured DApp : Basic Attention Token (BAT) As a Profitable Digital Advertising Business Solution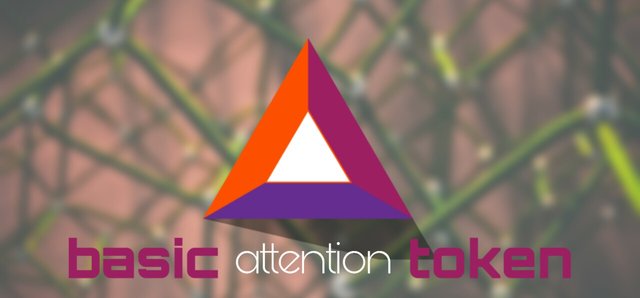 Image edited by @ponpase
---
Beginning of the History of BAT
Often when opening a browser, notification and advertising services appear that are very annoying. For me it was really very time-consuming and spent data in my network in vain. I am sure that you have experienced this too.
Imagine how many internet users feel disadvantaged by advertising services they don't want. Data shows that there are millions of people who access the site every day to get various information and one that is very disturbing is the ad that appears suddenly. This results in wasted your time because it is transferred to the display ad.
Based on the background of this problem, a founder of Mozilla, Brendan Eich created a special browser named Brave. This platform was created to refine advertisements and track ads shown by website publishers. Through this platform, users can access various sites without any interference from advertisements or other services from third parties.
In its development, this platform is very popular with the public. Slowly, the platform model is transformed into a profitable business platform. In its design this platform allows for tracking on advertisements, and then the ad is replaced with a personal ad. This model can be controlled anonymously by browser users. In the end if there will be a lot of visitors using the browser, the results of the download in the browser will be shared with the creators and users.
What is amazing, users will receive gifts made with Bitcoin. Their company dares to pay the site publisher through the user's virtual wallet. However, this business model was later claimed to be one of the practices of violating the law.
Nonetheless, Brave founders remain optimistic about being able to create a platform that is far from advertising. The Brave platform was later adopted with blockchain technology. So that payments arise using cryptocurrency called basic attention tokens (BAT).
The presence of BAT is certainly the latest solution in the development of this project. Since the beginning of the BAT seller, the developer has managed to raise funds of $ 35 million. Capitalists in circulation also showed that there were around $ 220 million from 1 billion BAT. If you ask, what is BAT? I have sought information from several sources to answer the things that are very important to explain in this paper.
BAT is a digital advertising platform that is supported on the ethereum contract. This platform has a vision to change the advertising model that tends to be third-party advertising, fraud and corrupted advertising. With the advent of this platform, it will enable the creation of a transparent digital advertising market. Each user will be compensated for seeing security-level advertisements protected by the platform. BAT changes the way traditional advertising interactions become mutually beneficial interactions for all parties involved on the platform. Users, publishers and advertisers will feel the same benefits.
The presence of BAT has provided some extraordinary benefits:
Publishers on the platform get an increase in the value of their income, get a report that is accountable, good and transparent.

Advertisers get attention from customers because the costs are very minimal, this will also reduce fraud, and get better attribution.

While users get security, privacy that is protected when they see advertisements, increase performance and relevance, and also get a share of profits.
---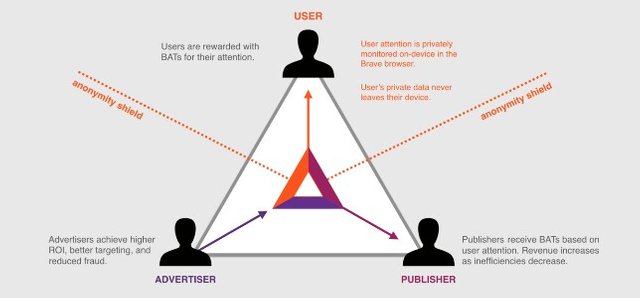 image by screenshot whitepaper
See how BAT works
BAT is a token born under the Ethereum contract that is based on good decentralized ad exchanges. The Brave BAT platform is equipped with ledger data inscriptions that can measure the attention and behavior of users simultaneously can also provide full privacy. The value of advertising is based on involvement in the active browser tab. Users only get the most relevant ads that allow better access to the actors. User data and information is very safe, because it is only stored on hidden data devices. Payment for transactions is based on the Braver Ledger system. In addition to getting tokens from advertisements, users can also participate to provide tokens to publishers anonymously.
This system can only be accessed using the brave browser. The main initiative of this company will be to provide opportunities for advertising businesses that will benefit every party involved. In the end a digital advertising project was created which adopted blockchain technology.
If you browse to the platform, you will find other features like Dashboard, analytics, ad matching algorithms, and intensive program attention measurement systems. Every transaction that occurs on this platform will be paid in BAT tokens, ERC20 utility tokens which will be used as a means of exchange for publishers, advertisers and users.
---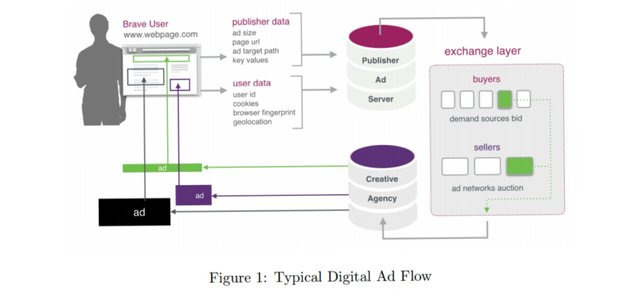 image by screenshot whitepaper
Developed for a fairly innovative idea
This platform is really very interesting, BAT will enable the elimination of intermediaries that do not provide added value to users, advertisers and publishers. So that BAT will allow advertisers to give initiatives to users to watch ads with $ BAT. My latest analysis shows that advertisers will send payments in the form of tokens to users in a locked state, then the key will be opened when the user sees the ad. According to information, compensation given to users reaches up to 70%.
---
Get to know BAT Developers
BAT was born with the intervention of great and experienced people. Brendan Eich and Brian Bondy are the highlights of this project. Brendan Eich is the co-founder of Mozilla, besides that he is also the chief architect of Netscape, and the creator of Javascript. Whereas Brian Bondy, he is one of the founders of brave and a major developer who has experience of more than 18 years as a software developer engineer and has served in Khan Academy and Mozilla. They are great people who are praiseworthy or the success of creating ecosystem tokens and innovative digital advertising technology.
---
Overview Market BAT
BAT began launching on May 31, 2017 with a maximum supply of 1,500,000,000 which was born at the ERC20 consensus. BAT is almost the same as new coins that are at the beginning of the circulation, such as binance, bitconnect or dogecoin. ETH technology has an impact on BTC that allows certain regulations from some governments.
Other things can cause the crypto market to be unstable, considering that laws in a country tend to close the circulation of coins. However, on the one hand, BAT tokens will also be at a high exchange rate if advertisements circulating on the platform can increase market liquidity.
---
How is the BAT competition
According to my analysis, blogging platforms and social media such as STEEM and EOS are BAT toughest competitors. Because STEEM and EOS have a platform that allows people to receive income through voting (upvote / rating). Meanwhile, reddit can also be included as part of BAT competitors, but at a very minimal level. The disadvantages of reddit are not a platform for general users to publish and award content. However, BAT has its own advantages because BAT does not curate anything, users only access websites and publishers will get rewards. Even Google cannot compete with BAT because the platform does not produce tokens and is not based on blockchain technology.
BAT popularity is very dependent on the adoption of Brave platform. This allows performance to be improved in order to compete with great platforms like Chrome, Safari, Firefox, and Internet Explorer.
---
Partners from the BAT
Currently BAT has partnered with several digital money platforms and media groups. In the digital money section, let's say there is an uphold, DuckDuckgo internet search engine, Dow Jones Media Group and Townsquare. The development of the platform has also penetrated the launch of reference programs for Twitch, and Youtube. With this adoption it will enable users to be pushed into the project.
But on the one hand, the adoption of references allows the birth of weak quality users so that it is so bad to advertisers. However, the team has tried to deal with this problem by limiting the number of ads to be aired. In addition, it is also possible to have KYC / AML rules for disbursing tokens.
---
Conclusion
Seeing the entire explanation above seems to be a basic consideration to support the development of this platform. BAT has built a concept that is quite innovative and focused on maintaining privacy and a mutually beneficial business model for each interaction. By utilizing blockchain technology, it will enable the distribution of data in a ledger that is safe, reliable, and transparent.
BAT is created specifically that can work on Brave, Brave shows performance to overcome the problem of fraud in advertising. We cannot deny that the online market is one of the biggest attractions of society today. If the platform is able to open networks and build partnerships with various parties, it will provide the possibility of increasing BAT values.
However, there are some things that need to be reconsidered, among others, the adoption of BAT wallets that must involve third-party wallets to convert FIAT to BAT or vice versa. Another thing that looks a bit limiting the user's movement is related to the application of KYC / AML which requires users to verify the transaction to be carried out.
Another influential factor is the competition of platform development models that must be created with easy and fast access. Moving on from all of these considerations I still have a positive outlook for its development.
---
For Reference and Information
State Of The Dapps : https://www.stateofthedapps.com/dapps/basic-attention-token
Website : https://basicattentiontoken.org/index/
Twitter : https://mobile.twitter.com/AttentionToken
Facebook : https://m.facebook.com/BraveSoftware/
Telegram : https://t.me/batproject
BAT blog : https://basicattentiontoken.org/blog/
Github : https://github.com/brave-intl
---
Disclaimer
This is not financial advice, or a guarantee or promise regarding any results that can be obtained from using the content above. The information provided here is only for information and entertainment purposes. It should not be considered as financial and / or investment advice. No person may make any financial decisions without first consulting their financial advisors and / or conducting their own research and due diligence.