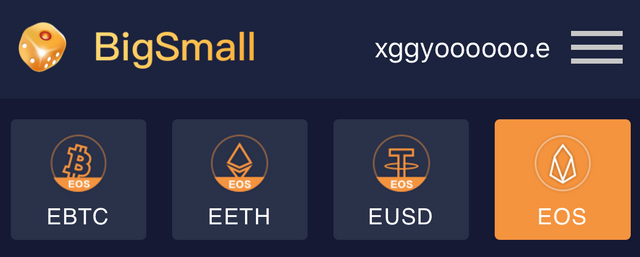 Prepare your EOS account. If you don't have an EOS account, you can follow the tutorial to create one.

Select the wagering coin, you can choose from EBTC, EETH, EUSD or EOS.

The amount of the single bet is fixed. The bets in different coins are: EOS 0.001, EBTC 0.000001, EETH 0.0001 and EUSD 0.01.

Players can decide whether to choose big or small, the single-game winning ratio is fixed at 50%.

Press the "Roll" button to place a bet. If the dice number is between 1–50, it is considered a small number; Therefore, from 51–100 are big numbers.
Note: For Listed Top Winning Players, if you are still participating in wagering at 0:00:00, the wagering result will not be included in this statistic.
Guess Big-small Award Rules:
Guess Big-small activity time: December 17, 2018 12:00:00 to December 23, 2018 24:00:00 (UTC+8 Beijing time)

EBTC, EETH and EUSD zone daily activities list:
Time: December 17, 12:00:00 to December 19, 24:00:00 (UTC+8 Beijing time)
Prizes giving out rules: 24:00 every day, in these three coin zones according to the number of consecutive wins, among them the top three players will be selected; the 1st place will be awarded 290 USD, the 2nd and 3rd will be given a BITHD and the players from the 4th to the 20th place will also be given EOS rewards.
The EBTC, EETH and EUSD coin zones overall activity:
At 24:00:00 on December 19 (UTC+8 Beijing time), only one player from each coin zone (EBTC, EETH, and EUSD) with the highest consecutive wins within 3 days will be awarded with iPhone XS Max.
EOS zone activity:
Activity time: December 20 12:00:00 to December 23 24:00:00 (UTC+8 Beijing time)
At 24:00 on December 23, the player with the highest consecutive wins in the EOS zone will be awarded an iPhone XS Max.
Specific rules: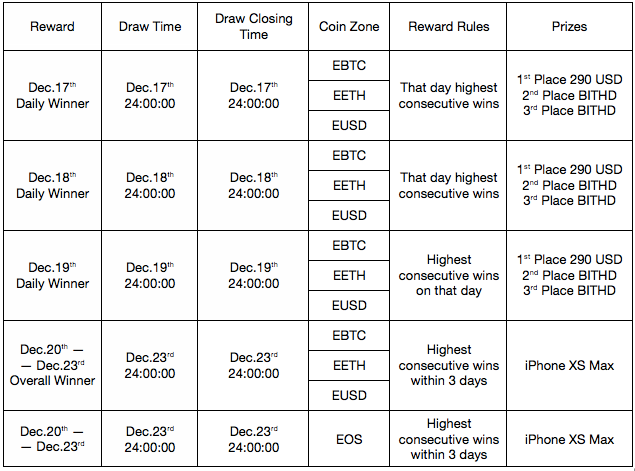 *Until Draw closing time, if the Ranking player's highest number of consecutive wins are the same, the player who reached that number first will be the winner.
Prizes give out rules:
The physical prizes will be sent by post. For EOS prizes, Bitpie UID should be provided (APP — Me — Profile). For 290 USD prize, we will issue the equivalent EUSD (the given amount will be calculated based on that day 00:00:00 EUSD selling price on Bitpie OTC Trade).
For the Winners, please contact Bitpie through Telegram: https://t.me/BitpieInternational
If you don´t redeem your prize before January 1, 2019 0:00:00 we will consider it as a renounce.
---
At Dec.12 2018, Bitpie launches the Swap Gateways for Stablecoins: EBTC, EETH and EUSD on EOS in Bitpie Wallet.
Official website: https://eosstablecoin.com/
The 3 stable coins are 1:1 pegged to BTC, ETH and USDT respectively. Users swap original blockchain assets to EOS.IO through gateway service so as to utilize them in DApps or DEXs. They could be the game changer in the dapps ecosystem.
Stable coins Telegram group: https://t.me/StableCoins_EUSD_EBTC_EETH
Bitpie official Telegram:https://t.me/BitpieInternational
---
Find us on:
Telegram: https://t.me/BitpieInternational
Twitter: https://twitter.com/BitpieWallet
Medium: https://medium.com/@Bitpie