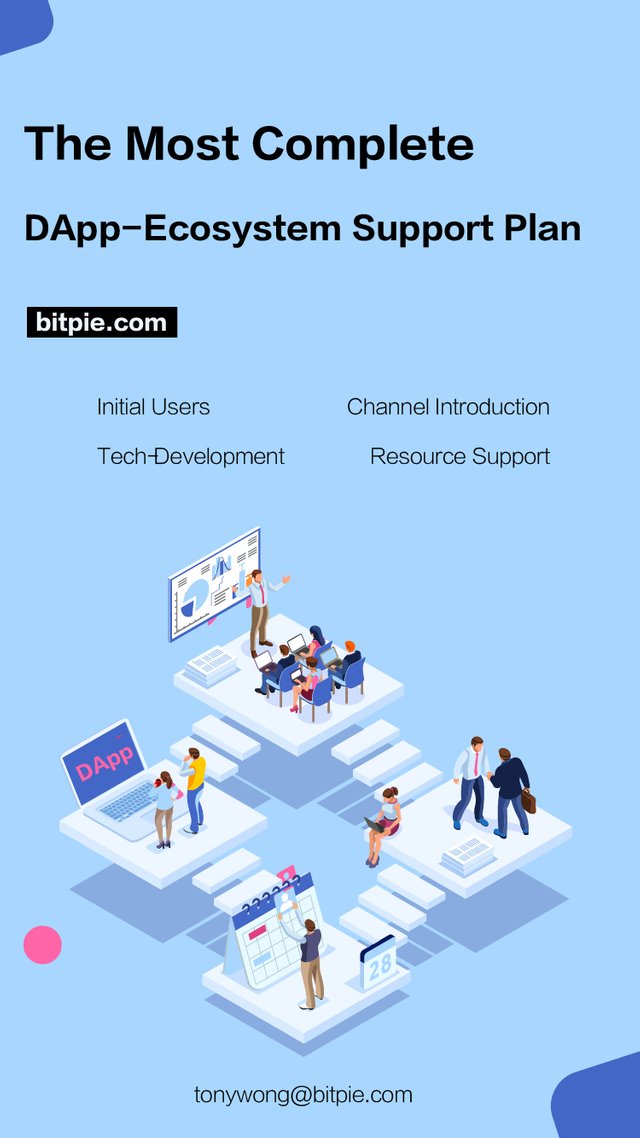 To all DApp project parties:
Since the DApp Boom, Bitpie has been deeply devoted in the DApp ecosystem for a while, we have got in touch with a large number of project parties, players, KOLs and other ecosystems members, all these made us deeply understand Dapp teams' weaknesses on operation and advertising. At the same time, in contrast to the current limited number of users of DApp world, Bitpie is the only one that can guide users to the world of cryptocurrency and Dapp on a large-scale. Taking these facts into consideration, in order to help the DApp teams to maximize their advertising effect in the market and effectively acquire real users and high-quality resources, Bitpie initiates the following supporting plan:
Banner position

Recommendation in App

DApp browser search recommendation

News flashes publicity

Chat Group creating for accurate high-quality users, initial players, potential users, miners, etc.

Resource introduction, including:
Influencers: leader KOL

Exchanges

Mainstream Wallets
-Data Information Platforms
DappRadar.com
Dapp.review
…
-Technical resources
Large amount CPU lease
-Content Media
Twitter
…
Online activities, including:
Airdrop /giveaways /airgrabs
Market strategy and project consulting
DApp project parties are welcome to contact us through the e-mail: tonywong@bitpie.com, please leave us your Telegram contact information in there.
---
At Dec.12 2018, Bitpie launches the Swap Gateways for Stablecoins: EBTC, EETH and EUSD on EOS in Bitpie Wallet.
Official website: https://eosstablecoin.com/
The 3 stable coins are 1:1 pegged to BTC, ETH and USDT respectively. Users swap original blockchain assets to EOS.IO through gateway service so as to utilize them in DApps or DEXs. They could be the game changer in the dapps ecosystem.
Stable coins Telegram group: https://t.me/StableCoins_EUSD_EBTC_EETH
Bitpie official Telegram:https://t.me/BitpieInternational
---
Find us on:
Telegram: https://t.me/BitpieInternational
Twitter: https://twitter.com/BitpieWallet
Medium: https://medium.com/@Bitpie