Review a Finance DApp & Earn Rewards ft. State Of The DApps!
Good Morning,Good Evening, Good Afternoon depending on where are you in this world. 
Greetings of the day it's great to be with all of you. It is great because I'm a part of this awesome community. I'm writing this blog to confirm my participation in the contest  started by @Oracle-d Review a Finance DApp & Earn Rewards ft. State Of The DApps. So in this blog post I'm @ajks going to review SMARTSTEEM  A Steem Blockchain Based Vote Selling and SP Delegation Platform. So  with out wasting much time let me start the  review.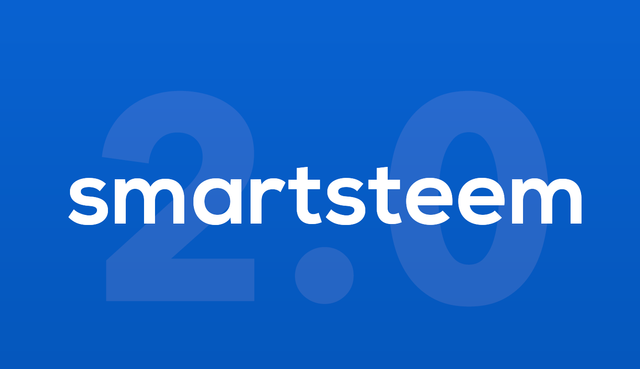 Smartsteem is a Blockchain Based  Advertising, Vote Selling and SP Delegation Platform built on top of the Steem blockchain where every steem user can advertise/promote there blog post for more visibility or sell their votes for additional revenue. Smartsteem.com was launched  in late 2017 as a investment and promotion service for the Steem blockchain.  Smartsteem is the first votingbot on steem that is purely focused on content  quality and wants to make steem a better place for all steemians. Steemains can purchase upvotes legitimately from Smartsteem and from the vote merchants of this administration. Steemains can get a decent offer of the benefit from their sold votes.
How To Get Started Using The DApp?
IF you want to advertise/promote your blog post, Sell your votes  or wants to invest some SP for extra revenue then you can join  SMARTSTEEM.COM and get paid for your investment/ vote selling. For using the DApp you have to follow  some steps which are given below.   
Step-1   
Go to Smartsteem official website https://smartsteem.com?r=ajks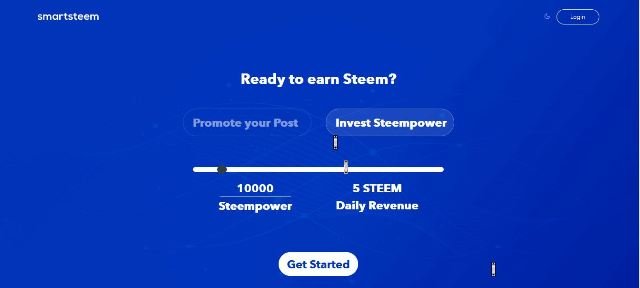 Step-2 
Click on Login and you see a window like this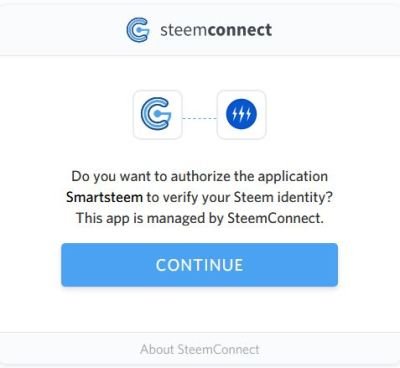 Step-3
Click on continue with steemconnect and give your login credential   (Don't  worry you are using Steemconnect nobody can steel your private key) and click on Sign In.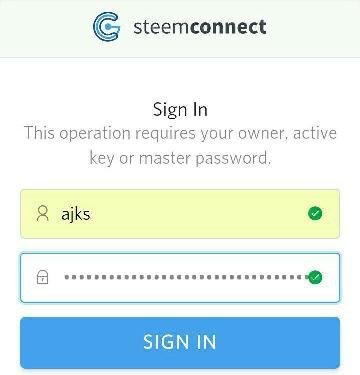 That's it you are all done now you can experience the power of  blockchain with simple user interface of  Smartsteem.
Main Components of The DApp
There are SIX  main components of the DApp 
DASHBOARD:
That quickly empowers you to get to every one of the information  you may require of your activities that you have done on Smartsteem platform. You can  kept  track on your investment's progress by visiting there dashboard.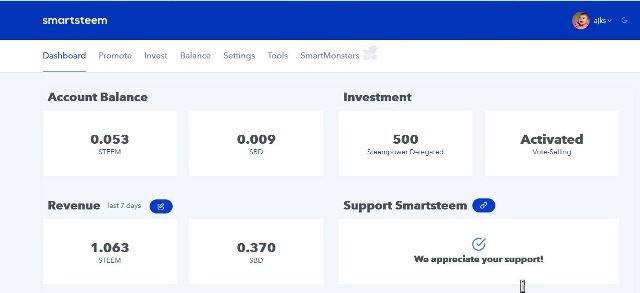 All information can be gotten to from the dashboard with one single click. It essentially doesn't get any more straightforward than that individuals.
PROMOTE:
In this section you can buy promotion for your blog post. you can boost your blog post by buying some votes so your content can get more visibility on steem blockchian.  There are Two option to promote your content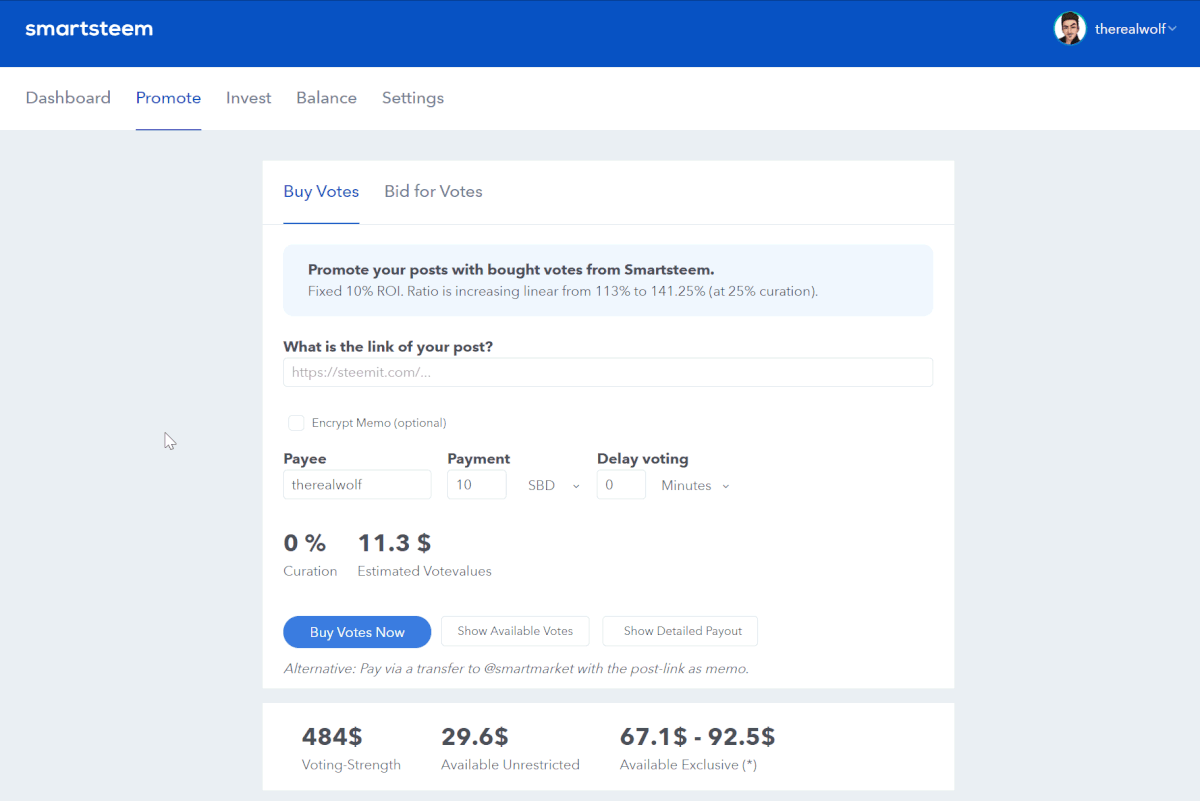 It is all up to you whether you want to utilize @smartsteem or @smartmarket. Both services are available under the promote section.
INVEST YOUR STEEM POWER:
Using this section you can invest your steem power  for more revenue. There are two option under invest tab 
Vote-Selling
Steempower Delegation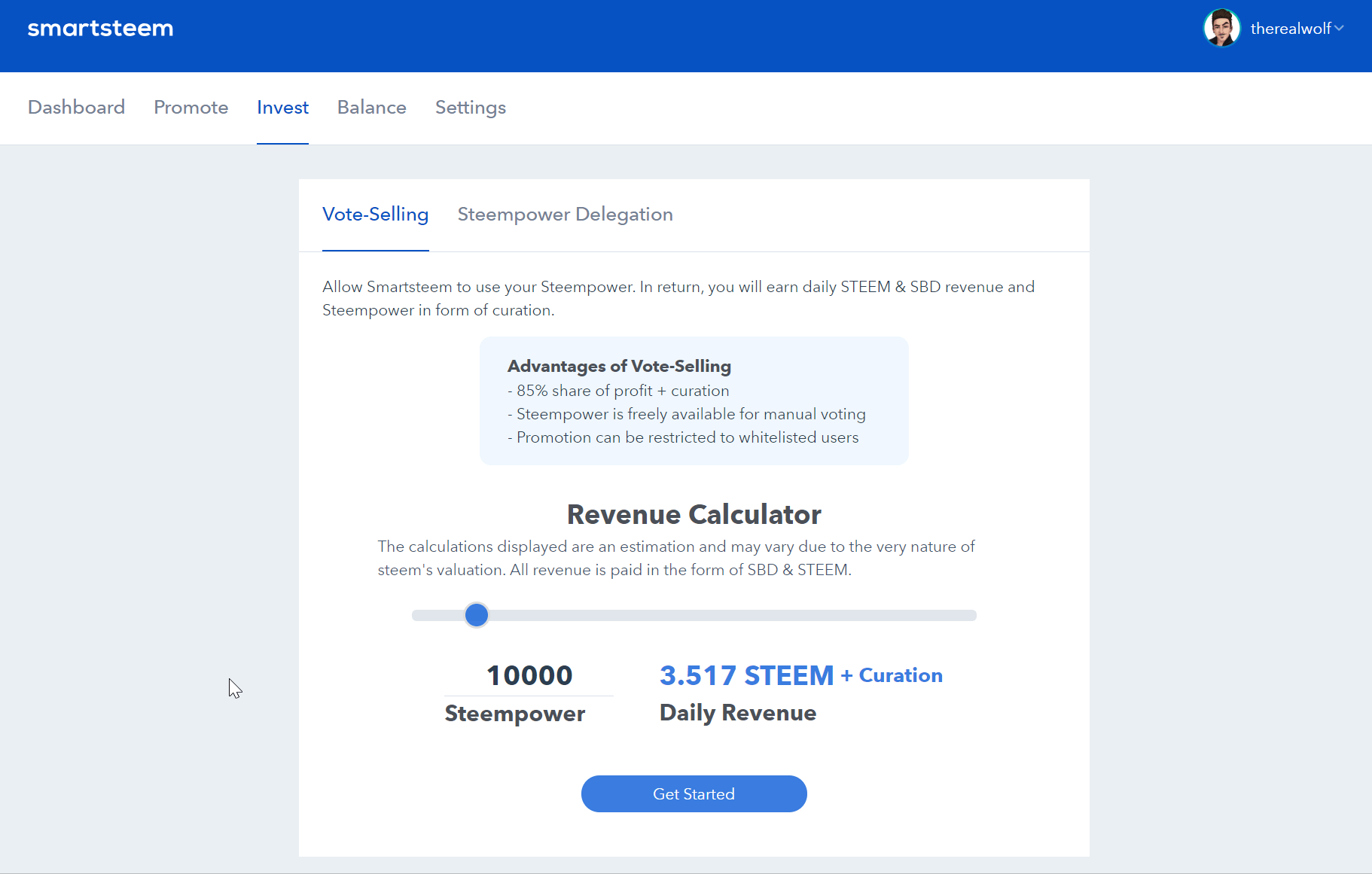 Vote-Selling - Using this section you can sell your vote using smartsteem for generating more revenue. You just have to give access to Smartsteem to use your Steempower. In return, you will earn daily  STEEM & SBD revenue and Steempower in form of curation. 
Here are some advantages of vote selling :
You can get 85% share of profit and curation
Your Steempower is freely available for manual voting
You can use whitelist for selected user promotion 
STEEMPOWER DELEGATION: This can be used for generating more revenue from your steem power for this you have to delegate a certain amount (whatever you want)  of your steem power to @smartsteem .  If yoy Delegate Steempower to Smartsteem you can  earn daily revenue in STEEM & SBD. 
Here are some advantages of vote selling :
 You will get 100% share of profit
Your delegated Steempower is locked and always generating revenue
Note: You can use REVENUE CALCULATOR to know estimated return on your investment.
BALANCE .
This section is really very important by using this you can keep track on your revenue which is generated by your vote selling or delegation. Here you can see your earning and by using this tab you can transfer your earnings from Smartsteem.com to your Steem-Wallet.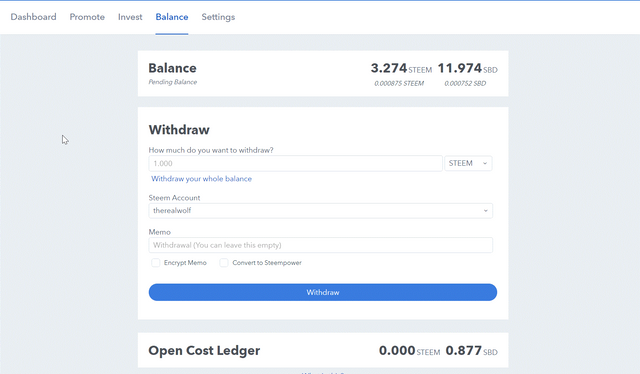 SETTING:
Setting is the main part of every DApp because everything is controlled by using settings.  in Smartsteem setting option is really well categorized there are separate tabs. Everything has been separated into their own tabs, and layed out for ease of use. Here are main componants of setting  
Automatic Payout:
By default all earnings are collected on your Smartsteem account's  balance. However, the system can be adjusted for automatic withdrawals  using a slider or entering it manually. You just have to do that pull the slider when you wants to get automatic payout you can set it as per your choice. Currently there are a  threshold  for automatic payout which is 0.1 STEEM/SBD when the requirement is completed  withdrawals are automatically processed.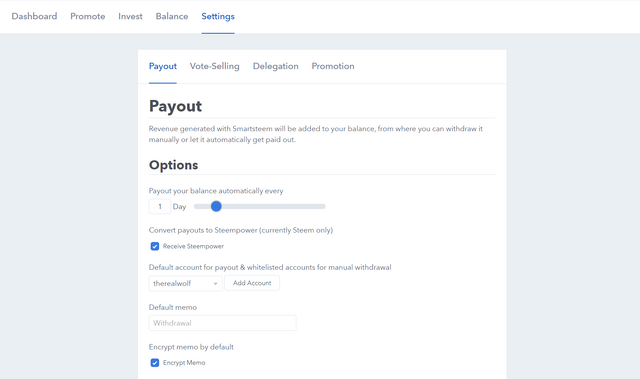 VOTE SELLING:
Using Smartsteem Vote selling is really very easy you just have to allow Smartsteem to use your Steempower. Here you can setup some parameter for vote selling. You can set minimum VP limit by using Slider to prevent excess use of votes. Minimum 100  Steempower required.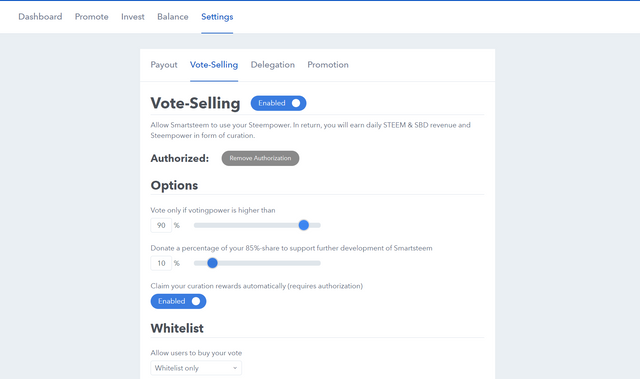 Delegation 
By using this tab you can delegate SP to @smartsteem by pressing two or three buttons.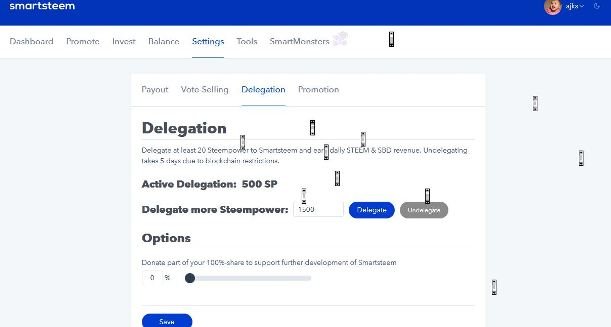 Promotion
You can promote your posts and reach hot & trending. Here you can set your preferred settings.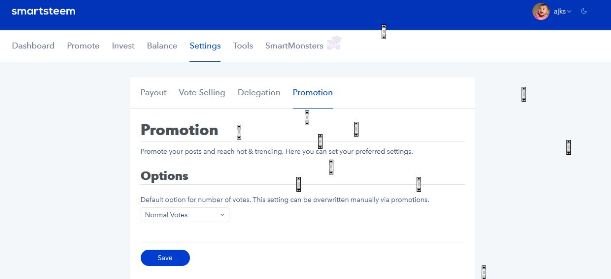 Tools & SmartMonsters
Using Tools Tab you can track your growing in term of stack and Using SmartMonsters Tab you can purchase @smartmonster packs directly .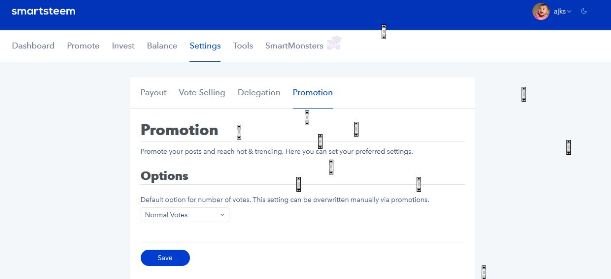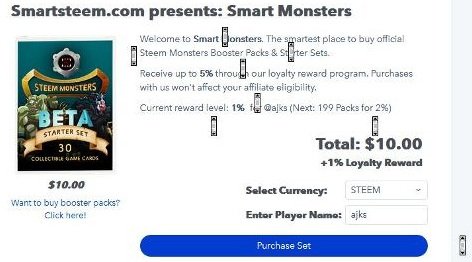 The Things I Think are Good About The DApp. 
This is an amazing DApp I ever used . Here I'm mentioning some things which are  outstanding about the DApp 
The interface of the DApp is quite  impressive and user friendly anyone can use it without any problem and earn rewards. 
Everyone can delegate SP to smartmarket to earn some revenue and will get 100% share of profit
Using smartsteem everyone can sell there votes
While selling votes Steempower is freely available for manual voting
WE can earn unlimited reward by referring this Dapp to our friends  and family member which is very impressive. Anyone can earn good amount  by doing this task. 
The Things I Think are Not Good About The DApp. 
Smartsteem is an amazing DApp but there are some things I don't like about the DApp: 
People with huge stack can game the system because they can send huge bids for there content promotion.
As everyone can use the smartsteem so some people use to earn 15% ROI by promoting there low quality content.
Sometimes system return the bid value without promotion.
It is necessary to use master key to enter this platform if the smartsteem server get compromised we can loos our Master Password.
Comparing Smartmarket With Other Similar DApp.
There is no other blockchain based content promotion and investment  platform  that  works like Smartsteem this innovative platform is extremely unique at the  moment. There are also similar platform where we can Delegate our SP for revenue like  @minnowbooster but smartsteem is better option for such types of work.
My Experience and  How Dclick Can Improve?
I have amazing experience of this DApp I always love to use its  simple user friendly interface and enjoy its features. Sometimes when I send bid to promote my content system send it back without promotion while there are lots of votes available. I usually face this problem if it is fixed  then its all fine. 
Ranking of SMARTSTEEM at State of the DApp
Smartsteem is one of the decentralized Finance DApp listed on the State of the DApps platform. Presently, the ranking of Smartsteem is at #54 on the State of the DApp. But in the Finance, it ranks as the 7th most used Media App.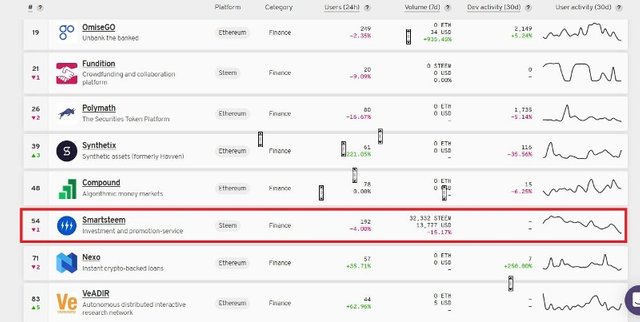 Star Rating & Conclusion 
In the conclusion I just want to say that I appreciate the great work of  @therealwolf Founder & Developer @artbunny Co-Founder of Smartsteem for this amazing platform. I think smartsteem is a game  changer  in investment and promotion of content services. I will give 5 Star Rating to this  project.   
https://www.stateofthedapps.com/dapps/smartsteem
Blog Reference:
Thanks For Your Interest
Follow me @ajks