This is a true story and this terrible incident must be experienced by a 4-year-old toddler girl in Bangkok, Thailand.
And this little girl has to undergo eye surgery at a very young age because of her bad habits playing cellphones.
Chronologically told by his father Dachar Nuysticker Chuayduang through a Facebook account.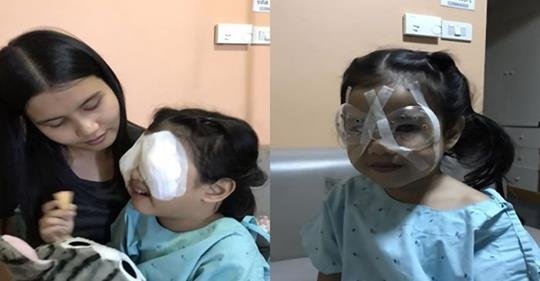 Dachar claimed to have made a mistake when he introduced his daughter to a cellphone and iPad when he was only 2 years old. And the toddler is in fact addicted to playing cellphones, he will be upset, angry, to scream when his parents do not allow him to play cellphones.
In order for her daughter to no longer scream and cry, Dachar finally let her use a mobile device.
Moreover, Dachar is busy working, so he just gives the gadget to his ballast so that he is no longer fussy.
Sadly, the sight of the little girl was getting worse and worse.
Hopefully with what happened to his child and hopefully no longer repeat to other children