Saturday afternoon: For some of us time to get ready for music induced evening/night, for some others writing a post (like I) to bring some music into your room, maybe a warming up for whatever will happen later :)
I've been posting music and artists from the Klockworks clan more often. Klockworks, the label owned by mister Ben Klock releases some pretty darn good artists and music. At least, my personal opinion!
Jay Clarke, is one of them! Last year (or was it two years ago? can't remember anymore) I had the opportunity to hear mister Jay play at my beloved club Berghain in Berlin! Ok Ok, no words about Berghain anymore, I mention this one so many times in previous posts already, you must get bored reading about it. But yeh, it was, is and it stays my most preferred club in the world, by far!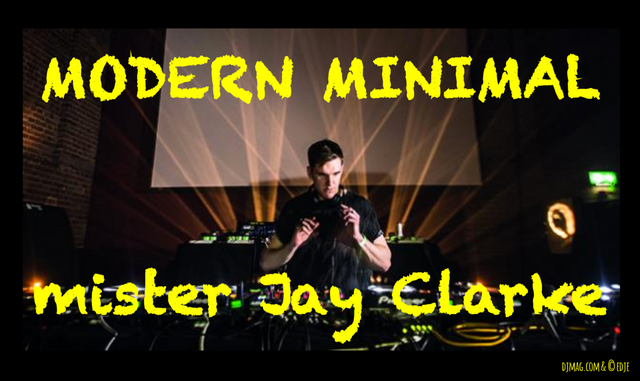 image | copyright: djmag.com / @edje | sources [1]

Soooo, back to Jay and music. The style is obviously techno. The modern minimal variant I would say. I don't mean the real minimal techno as was popular in the underground scene in the 90s and early 2000s. I also don't mean the click house variant of minimal that was made popular sometime between early 2000s and early 2010s by artists like Ricardo Villalobos and little later by Richie Hawtin. I mean the more underground style minimal techno of today, which resembles more the real minimal of the past, has Detroit-ish elements in it, is played a lot slower in BPM though. Today the rate rarely hits higher than 125/130 BPM while back in the days it was more like 135 and up up and up. Those times, DJ Rush was going fast and strong at 160 BPM; Just slightly slower than the hardcore styles and all its variants.
For sure the modern minimal is the techno style I prefer the most, at least of all the dance styles around today! The Detroit sound of the 90s is more to my liking, but yeh, we don't live in those times anymore.
Jay is not bad at all; Actually, the set recording I'm sharing with you today is one I really like! I didn't discover it too long ago but since then have it running from time to time and it is giving me enough brain pleasure to keep this one in my playlist.
NJOY and Have a Little Dance...

Artist: Jay Clarke
Set: Dimensions Mix Series #9
Year: 2017
Country: UK
Music
Discography
Gigs