4/3 While we are inundated with organized pedophilia exposed by the Trump Team arrests, we also have reports of Trump's family connection to Nikola Tesla and the Secret Space Program!
Meanwhile, the Parkland anti-gun activist Cameron Kasky's father, Jeff Kasky, was sued in 2012 for his involvement in child trafficking with the bogus adoption agency, One World Adoption Agency, which was founded by his father, Robert Kasky. The organization has been illegally acquiring children to be sold in the West from Rwanda, Congo and other impoverished nations.
In this video, Dark Journalist gives the full timeline of the Nixon, Trump, Tesla connection. Please support Dark Journalist and his wonderful work in exposing the deep state secret space program!
To read about the involvement of the Krasky's in One World Adoption Services and it's connection to child trafficking:
https://8ch.net/pol/res/11423974.html#11430868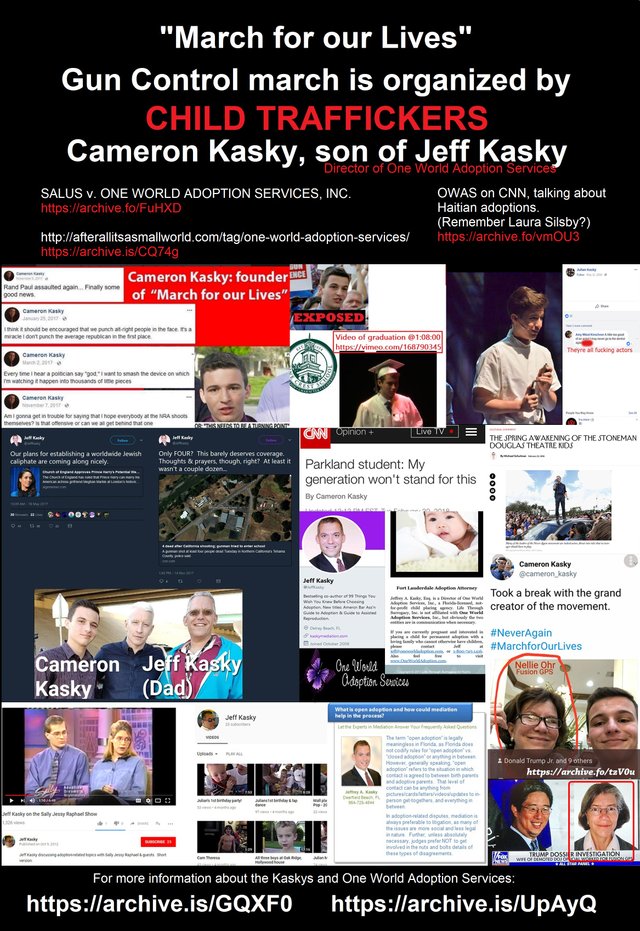 This is the blog of a woman who has had direct experience with the One World Adoption Service child trafficking scam:
https://www.afterallitsasmallworld.com/tag/one-world-adoption-services/
Lori Colley does an excellent job on her Q Anon channel of laying out the murder of Beverly Eckert, who was instrumental in forming the 9/11 Commission to expose the truth about the attack on the WTC:

To catch up on Benjamin Fulford's assessment on the geopolitical deep state battle and his discussion on the prosecution for 9/11 war crimes in Nevada court:
Here is the latest technology being exposed that can read your mind and turn your thoughts in text:
https://www.infowars.com/new-mind-reading-machine-can-translate-your-thoughts-and-display-them-as-text-instantly/
Here, David Hogg, the spokesman for the March For Our Lives, Soros-funded gun-grabbing operation, describes his desire to see billions killed because it is good for the environment. Hogg would fit right in with Gates, Winfrey, Turner, Buffett and the rest of the "Good Society" Eugenicist billionaires! No wonder they wanted him as a spokesman for taking away our rights!
https://www.infowars.com/david-hogg-reddit-post-celebrates-mosquitoes-killing-billions-of-humans/
Is Angelina Jolie still involved in the satanic rituals she describes participating in below? How did this Hollywood star become a U.N. ambassador involved in global children's issues and through what channels did she adopt her children from Africa and Vietnam? Should someone be looking deeper into how Hollywood stars adopt children from impoverished 3rd world countries?

Thanks very much for viewing this post, Stemians! I hope you found the information helpful in discerning current events in the deep state take down and #STORM.
If you would like to support this news blog with more than upvotes:
https://www.patreon.com/youarefreetv
Paypal: [email protected] (for donations only, this is not a personal email, thanks)
With Crypto:
Bitcoin: 1K2mQ5S6na5k5QGPS2Hve7pMMUNrxsRqJQ
BCH: 18hNpMyVsj37CBiHuRMD6cCL9Gr5dNU2e8
Ether: 0x7DF493B943520e28aC5f93737b6Cbf27A1C01a79
Litecoin: Ld4HEnQUk28A415BrAECUUHtRTNZkZ2uYK
Thank you fellow humans for your ongoing willingness and desire to go down the rabbit hole to find the truth! @dakini5d