Štatistika CZ/SK Lotérie + 1 SBD Jackpot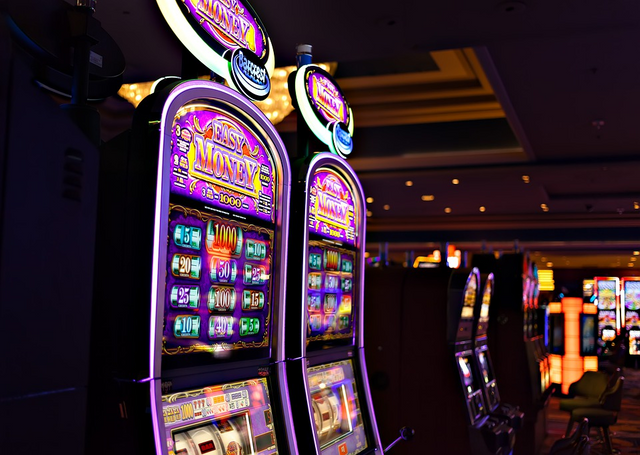 Ahojte, na začiatok trochu štatistiky po desiatich úspešných kolách našej lotérie.
V každom kole sa zúčastnilo priemerne 8,4 súťažiacich, pričom minimálna účasť bola 6 súťažiacich a maximálna 12.
Priemerná odmena v jednom kole bola 0,092 SBD. Najnižšia výhra bola 0,059 SBD, na druhú stranu najvyššia 0,140 SBD.
Celkovo som redistribuoval 0,921 SBD - to je 75% časť z odmeny. Zvyšných 25 % tvorí 0,307 SBD, ktoré dorovnám na 1 SBD a rozdelím ich medzi troch štastlivcov, viz. pravidlá nižšie.
Od pondelka sa môžete tešiť opäť na klasický formát ako ste zvyknutí.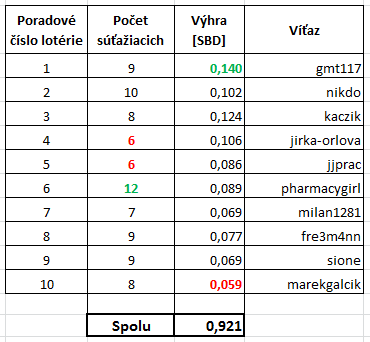 Pravidlá pre Jackpot:
Zúčastnili ste sa aspoň jednej z predchádzajúcich lotérií. (Bez ohľadu na to či ste vyhrali, alebo nie.)
Musíte dať upvote na tento príspevok. (Hodnota je ľubovoľná.)
Musíte dať koment na tento príspevok s vaším poradovým číslom. Tj. prvý dá kometár s textom "1", druhý s textom "2" atd.
Zapojiť sa môžete do 11.03. 23:59.
1 SBD bude rozdelené medzi troch víťazov v pomere 0,5/0,3/0,2 SBD.
Víťazi budú vybraní pomocou random.org.
Foto: pixabay.com