Tail-end of the Gold Rush
Arriving in Cave Junction, we found ourselves in the heart of the Oregon's cannabis country. This is where rumors sprouted into incredible legends of intrepid gold-seekers making a fortune trimming weed during the harvest season. And yes, there is good reason why this time of the year is also known as Croptober. Not that we were really looking for employment, but if an opportunity came our way, we might take it up for a week or two...
None of this ever happened, though. "Yes, it's true," the locals would tell us, verifying the tall sounding tales, "a couple of years ago you could easily earn ten grand in a month. But since recreational cannabis use has been legalized prices have plummeted. Plus, Oregon has grown three times the weed it could sell..." So under these conditions we saw now reason to be really chasing it. Instead, we headed south to Takilma, to look at some alternative constructions.
Tree Houses of Takilma
Being natural builders, we are naturally attracted to alternative construction methods, especially the type that aims to live close to nature. Building houses up in the trees puts you right in there, cohabiting with them. So visiting a complex of various tree houses was right up our alley. The facts that Out 'n' About Treehouse Resort had allegedly the largest concentration of tree houses anywhere, was hosting a tree house conference that weekend, and one of the presenters was a friend who had just offered us a ride in her school-bus, just made everything more interesting.
After a relaxing morning ride we got into Takilma. The sunshine covered the whole valley in amazing colors and lights, and the people we met on the way told us about the amazing party we had just missed, featuring the Garcia Project. Never mind...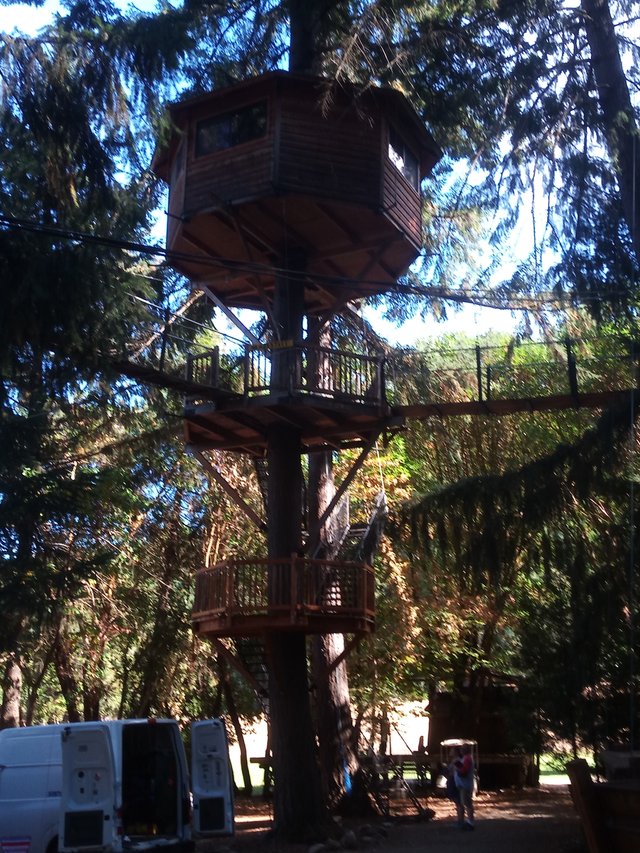 At the tree house resort the conference was coming to a close. Tents were being broken down, the place was being cleaned, though many participants were still busy conferencing over cups of coffee. Our idea was to offer our help with the clean-up, and hopefully get to know the place with its people, but they had everything under control. We could hang out, however, take pictures from ground level, and of course say hi to our friend.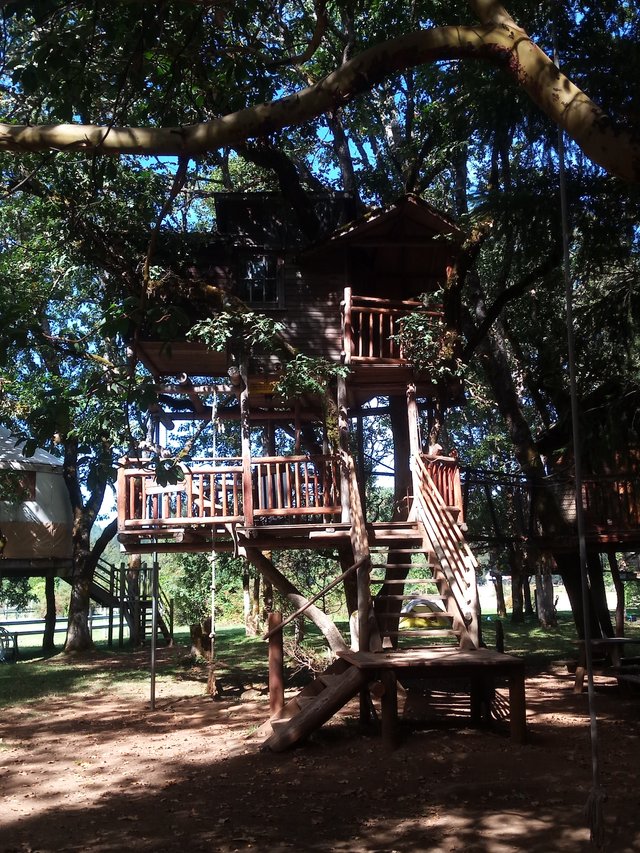 The tree houses themselves seemed very well constructed. This was not surprising, as we knew the story of how an alternative construction method had to find its way into the legal framework of building codes and regulations. The individual structures were connected with bridges and causeways leading through the forest canopy. Very impressive! But once we were done looking at them, talking to random people about our bikes and our trip, and enjoying lunch in the semi-shade, we were once again confronted with the same question: which way now?
Check out the exact location on SteemitWorldMap:
[//]:# (!steemitworldmap 42.000075 lat -123.538513 long  d3scr)
Hey, There is a Road to California
Originally we thought we'd had to ride back to Cave Junction, no matter which way we'd continue: Williams, across the hills, down to the coast, or even to California. But right there in Takilma we crossed Happy Camp road, leading straight towards Orleans, where another one of our classmates from the Earthship Academy lives. It didn't take much debating to decide to go that way.
A Long Good-bye to Oregon
Grayback Road, as this way is known among Californians, is nothing to be taken lightly. Over a number of switchbacks it took us pretty much straight up to 5700 feet (1450 m). We managed to make ten miles in three hours, while taking lots of breaks. During these pauses we had a chance to remember all the things we didn't get in Oregon, while we had a chance: cheap tobacco (at least not overtaxed, as it would be in Cali), denatured alcohol... or even rubbing alcohol for that matter, as my stove was virtually out of it, not lastly the Oregon sticker (the state outline with a green heart in the middle) which everyone seemed to have on their cars, but nobody knew where to get them. However, none of these missed opportunities was a strong enough incentive to make us turn around.
California, Here We ... Are.
Somewhere on the way up we were passed by another cyclist. He was not carrying any gear to speak of, and with  his racing bike seemed to have no problem skipping past us, cheering us on with friendly chatter. An eternity of climbing later, he was coming the other way, and stopped to smoke a joint with us. During these few minutes he gave us the quick impression of his diverging interests. He was a bike enthusiast, a musician (singer-songwriter), a language fanatic (spoke four languages, and deeply interested in a number of others), and a health care provider (working as a paramedic, training to be a doctor). To our query of whether the summit was much further, he replied with a typical "oh no, just around the corner" before he got on his bike to roll back into the valley. So we also got back to pedaling up further.
I tried to keep my spirits up with the stereotypical call "California, here we come!" as I was going around yet another bend, and was surprised to see that we had arrived. Suddenly the hill flattened out, and an abrupt change in the pavement suggested that we had crossed a county line. The spray-painted lettering of CALI indicated that we had most likely cycled into another state too. We must have been pretty remote that the Golden State would greet us in such a crude way. But then again, this is exactly what we'd been looking for.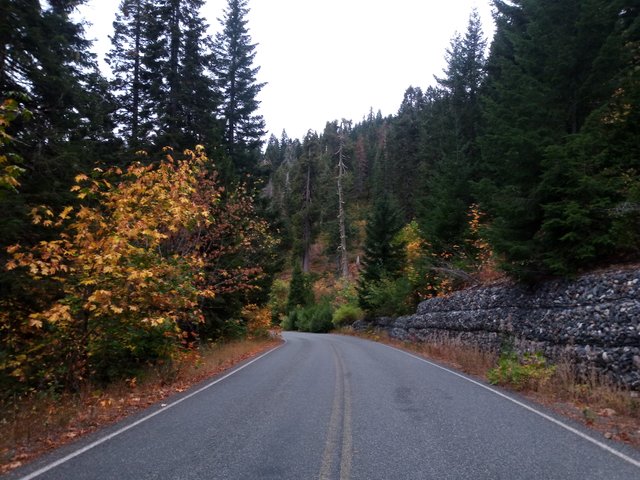 Ear-Popping Descent into Cali
Considering that it was five p.m. and as cold as ever on our entire trip, we decided to make most of our downhill ride and get into warmer elevations as fast as we could. So we put on our windbreakers and enjoyed the speedy descent, while all around us Northern California presented its most scenic sides. Eventually the temperatures started to be less crisp, nevertheless the ride continued its downhill course.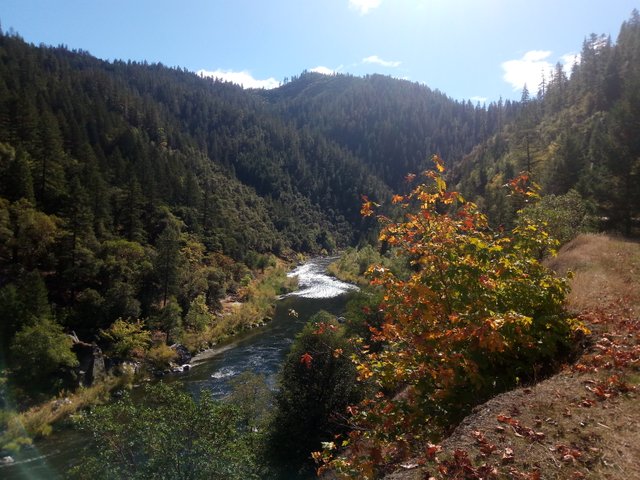 So Far Out There
After spending the night on a knoll overlooking the road (seeing without being seen), we arrived into Happy Camp the next morning. With its gift-shop / cafe and small supermarket Happy Camp proved to be a true metropolis, compared to the other townships we've come across since.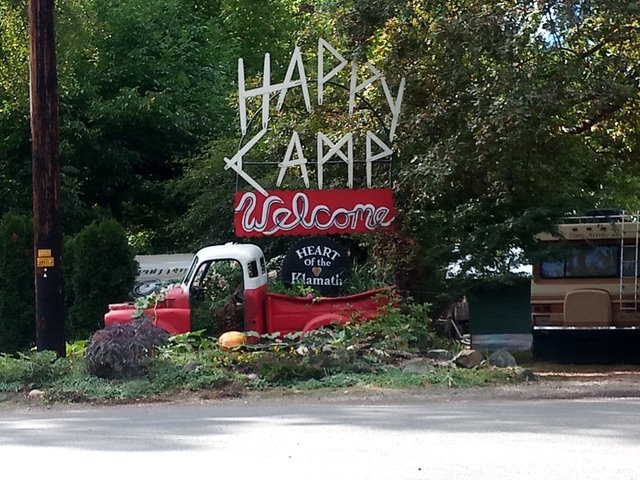 Even the road, highway 96, the only one around, is relatively calm and mostly devoid of traffic. Best thing for us: going down south it follows the Klamath River, going downhill mostly with a few occasional climbs. Interestingly, these were much harder to tackle, after being spoiled from rolling downhill most of the time. But we were not in a hurry. Orleans was only 40-some miles from Happy Camp, but we didn't miss our chance to stop for many breaks, making use of the numerous river-access-points, and ended up camping at one of them.
Camping in the National Forest
We did go by campgrounds too, but thought the whole idea utterly ridiculous: Paying ten bucks for a tent-site in a place that didn't even have running water, while we could as well camp by the river, without even having to hide! The National Forest land is set aside precisely for this reason: to be enjoyed by hikers, bikers, campers, and anyone into outdoor recreation. Obviously, you aren't supposed to stay for extended periods, and keep the place clean and tidy, but these were things we'd abide by anyway. At least we wouldn't be bothered by anyone claiming "ownership of the land". The only thing that morning was the excessive dew on my tent, but then we had the luxury to let everything dry in the sun.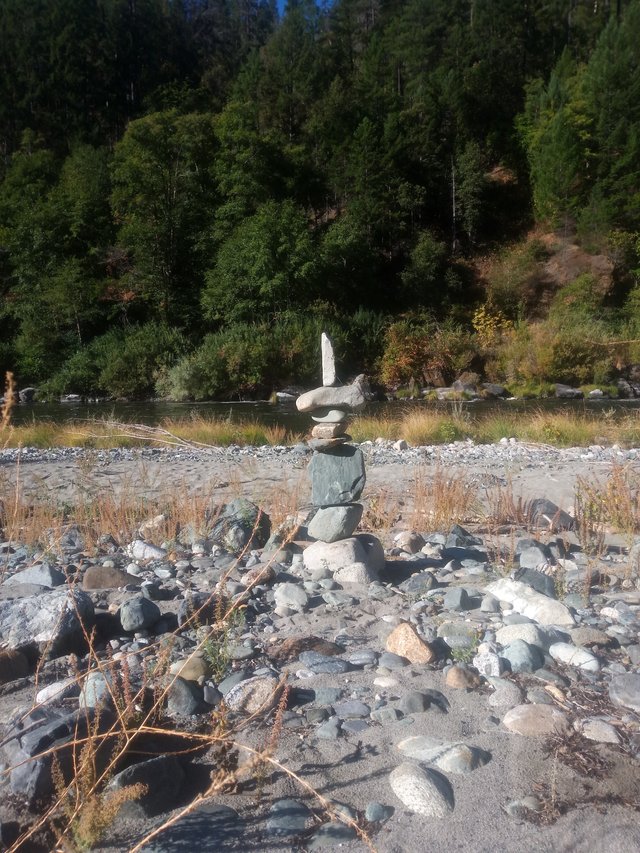 Thus, a day later than planned, but full of love and appreciation for the Klamath valley, we arrived into the town of Orleans, where our friend lives, and more interesting adventures were waiting for us.
If you'd like to read my bike trip in its entirety, check out the rest of my posts in the Cascadia to Aztlan series:
Please check out these great communities I'm contributing to: 

#ecotrain | What is EcoTrain | Discord Community

#cyclefeed | Introducing CycleFeed | Discord Community

Join us on Discord