Morning! Or should I say evening since I'm writing this over 8PM.
I slept considerably well; got 7 hours of sleep which is just the healthy minimum, so the night went well -- didn't even get eaten by a bear!
Also, today I arrived to my first destination!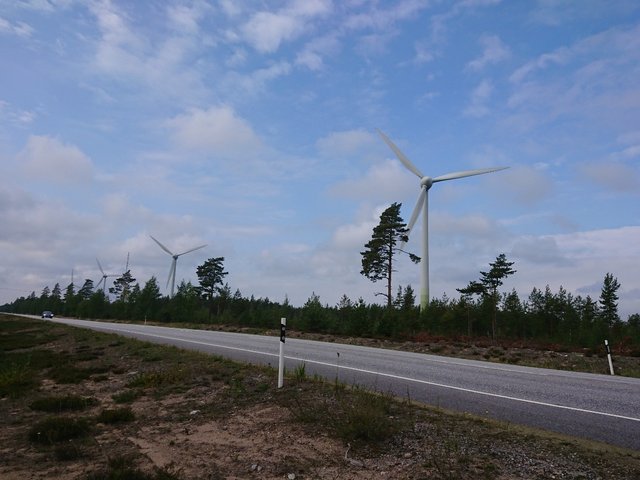 Hmm... what could it be?
.
.
.
Okay, enough teasing :D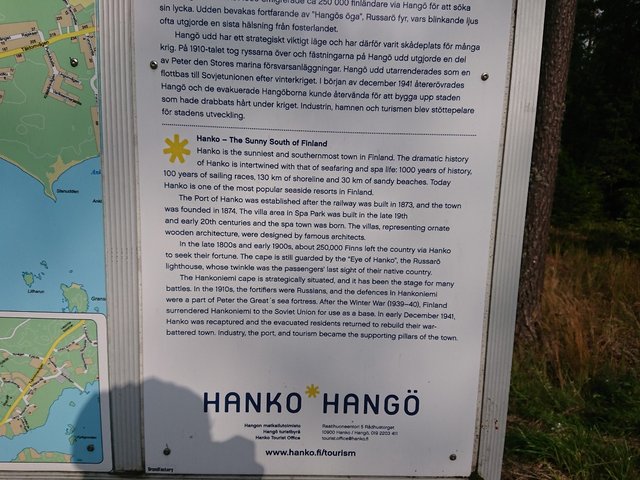 Description of the city.
Hanko was a place that I just decided I want to visit. And since I'm here, and I have to cycle 40 or so kilometers back the same route I came from, tomorrow I'm planning to look around and see what the city has to offer. Though I'm not sure if I want to camp another day here in Hanko or already leave tomorrow for a small distance.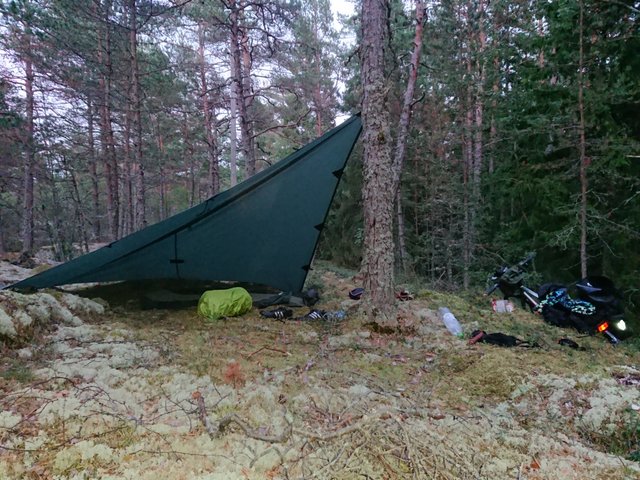 Creative layout; didn't need rope at all with the corner of the tarp being tied to a branch by its loop.
At todays camp a wild deer appeared, to the same direction that is in the picture between the tree and the trunk. Our eye contact met, and we both froze still. Unfortunately my camera wasn't in my pocket so just the slightest step drowe it away.
I've noticed that I've become increasingly introspective, only during these two days. That is probably quite inevitable since there's not many other than me to hang around with. I'm thinking that "What am I doing this for?" "What will I have to do?" "What is necessary?" Now don't get me wrong, I'm not regretting this at all. It's just... My mind has a lot of extra unoccupied time for itself so I guess it tries to figure "what the fuck is this guy doing with his body?"
Even my dream memory came back on the first night, something which I was actually anticipating. I remembered a lot of dreams; one was where I saw green air balloons ascend into the sky. But one of the balls was a fusion of many. I think I tried to touch them to help them lift but it wasn't necessary. Then a narration came in and started explaining how time will start going back in time if the galaxy reaches big enough spinning speed.
Another one was where I was bullied. Though I wasn't upset about it but I actually was asking about the motives of the bullier.
Then there was this case where I clearly felt my mom trying to shake me awake -- exactly there where I was laying in Day 1 camp -- but I didn't react since I realized it was just a dream.
So, there's some psychoanalysis material if anybody is interested.
Anyhow, the plan for tomorrow is to find some cafe perhaps and get my battery loaded there. Also I need to buy myself a new power bank because the one I got from my friend is some cheap Chinese ass shit which doesn't even start loading despite connecting the phone to the bank. And no matter the order I plug things in and turn the bank on, it never loaded more than 5 minutes. And now it barely loads at all, probably got 20% filled of my battery... Yeah, 20 000 mAh my ass.
I might have to take a shit in the woods. Didn't probably want to hear that did you? No worries: I got toilet paper with me, but moss works as an emergency measure just as well. You're welcome for my pro-tip.
Later.
wonders what kinda freaky shit gets discovered this night