Way up on the northern edge of Humbolt County, California, deep down in the canyon that the Klamath River dug out for itself, lies the town of Orleans. It is not very big... it's population is exactly at 604 according to the sign, which is about the size of the village of Rüdenhausen in Germany, where I grew up. With he obvious difference that over there the next bigger town is only a few kms away, while here... well, the road goes on for quite a while before anything else comes along!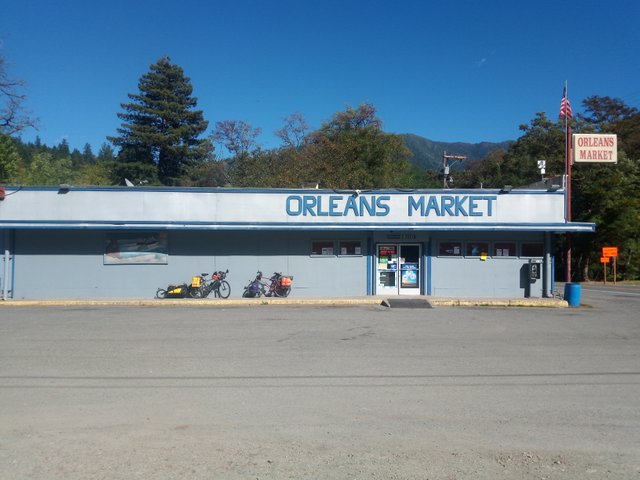 You would assume that in a place this small you wouldn't have a hard time finding someone, let alone losing yourself in the process. Yet, we showed that it was possible. But as these kinda things go, in the end it helped us find not only each other, but ourselves.
Helpful People Abound
Even before reaching Orleans, we were welcomed by the attendant at the Salmon River Outpost, a perfectly stocked store at the turnoff to Somes Bar (though some say that IS pretty much all of the town of Somes Bar). "Stefan, the fiddler? Of course!" and he proceeds telling us how to get to his place, which at that time didn't make too much sense, even with the map, but then he told us Stefan's partner's name, which would come in immensely helpful later on.
Eight miles later, we rode into Orleans across the impressive bridge over the Klamath, and stopped in front of the most important looking building: a post-office / fire-hall, we assumed. Right there we were greeted by a dude on a bike, who told us about the public library where we could get internet, the grocery store, and the general location of where to find Stefan. This would be so easy... so we took it slow, sending him a message that we'd arrived, and chatted to a couple of other locals.
One lady proved to be extremely helpful, especially after hearing that we were visiting Stefan's partner (whose name we hadn't even heard till that morning). Immediately she called around regarding the whereabouts of our friends, and giving a very detailed description on how to get to their house. Though we (she) didn't get to reach either of the two, she sent words out to others about us. So at least someone would be expecting us.
Tackling the Last Hill into the Vanishing Point
It was around five p.m. and both of us were rather weary of our long ride. Being so close to arriving made the last hill of any size seem so much bigger. So I decided to just push through and ride up that last hill where we'd find our friend. 
Following the map, I made it to the place where his drive-way was supposed to be... on the left side in a tangle of intersecting gravel roads. As instructed, I took the left one (one of them), and proceeded riding all the way to the top. After getting close to exhaling my lungs, I stopped to catch my breath, and looked around. Sure enough, there was a house, with the dirt path winding further up the hill behind it. And though it looked nothing like I'd imagine Stefan's place to be, I wanted to be certain before continuing a climb onto the wrong hill. I needed to talk to somebody.
Passing by a burned car-seat in the drive-way, I walked along signs with witty messages, such as: "Keep going, nothing here is worth losing your life over!" and "Due to the increasing cost of ammunition do not expect a warning shot!" Before I reached the door, one of the occupants had come out to talk to me. Unlike what the appearance of the place would have suggested, he was super friendly and helpful. He didn't know any of my friends, but told us which house we should ask at. And there is no point going up further up the hill, because there are no more houses coming. Good to know! 
After bidding farewell to this helpful dude, I noticed the forest of cannabis bushes all around the house. Of course... this is the season in a place like this! So I climbed down the hill again, to tell my friend the information gathered in my reconnaissance. Except for, he was not there...! I backtracked further, all the way out to the road, and I couldn't find him. Gone!
Finding One Friend and Losing Another
So as I was looking around, hoping to catch a glimpse of my buddy's helmet or bike-trailer, I also talked to some more neighbors and managed to locate the house with a small greenhouse, a growing tire-wall, and a well growing food forest. No doubt, this had to be Stefan's place, though no one was at home at the time. So I unloaded my bike, had a small rest, then was about to go out again to look for my riding companion, when Stefan arrived.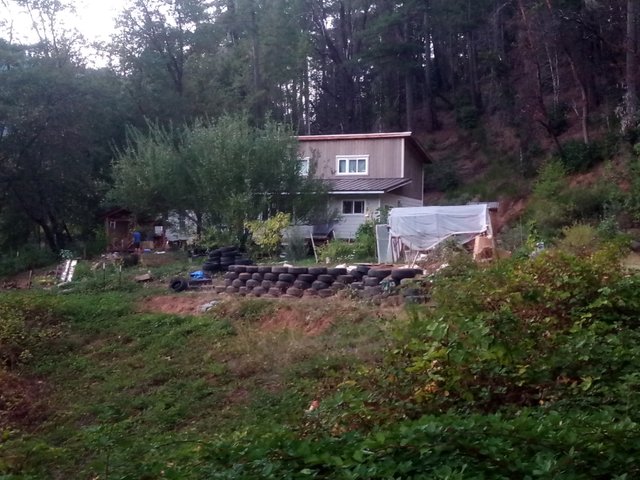 Our joy of seeing each other again was soon overshadowed by the absence of our third friend. So we set out, trying to find him. At first by bike, we visited all the important spots in town where we had stopped by earlier, where he may have gone, and even not-so-obvious places. Eventually we drove around in his partner's car to possible river-access sites in the area, calling his name, but nothing. In the end, we reasoned, as darkness descended on us, that he would find a place to camp where he could NOT be found, so we postponed the search to the next day. I tried to text him that I'd be in the same place outside the library the next morning, where I'd assumed he'd go to communicate.
Two Perspectives of Finding Each Other
The next morning I went back to the same spot outside the library, where we hung out the day before. What is a cool shaded patio in the afternoon is a pleasant sunny spot in the morning, and I used my time to compose another post. But as there was no trace of my friend, I went back to the house around noon, only to find him there, hanging up laundry.
Part of our happy reunion was comparing notes on what had happened, and how it was possible to lose each other like this. For me it was clear that it must have been the appearance of the dangerously unwelcoming look of the grow-op house that got him worried. Still, it didn't make sense why he would run... and where?!? As you would expect, though, his version was the complete opposite.
As I was gasping for air outside that house, he was making his way up the hill behind me, and when I was talking to the guy, he must have unwittingly gone past me, further and further up that steep hill. Once he'd made it to the top, coming down again was the last thing he wanted to do. But at the same time there was nothing up there: no house, no Stefan, but also no David. Just a broken chair and a spectacular vista. On the other hand, not wanting to lose each other, he didn't go far from the last place we saw each other... So he ended up camping on that hill for the night, wondering why nobody came to look for him.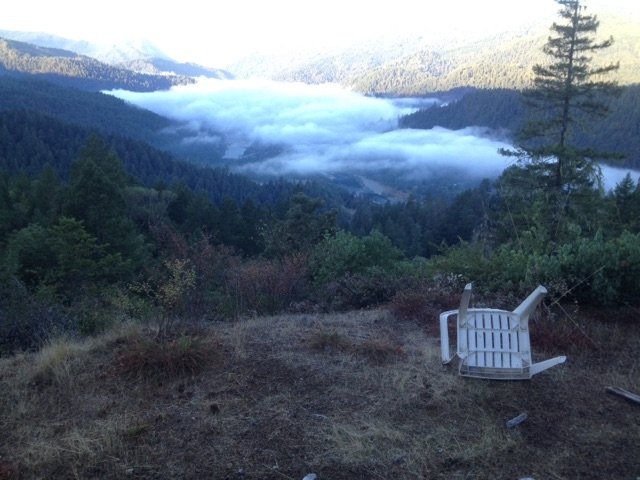 The next morning he waited around the same crossing until someone drove by, and asked for directions to Stefan's, leading him straight to the house, where Stefan's partner welcomed him.
This was it. At roughly half-way between the starting point and the destination of my long bike-trip, we had arrived. Here we would stay for a while with our fellow Earthshipper friend, help him with the tire-wall he's building, get to know the lovely people in his area, and explore the natural beauties of Orleans.
If you'd like to read my bike trip in its entirety, check out the rest of my posts in the Cascadia to Aztlan series:
Please check out these great communities I'm contributing to: 

#ecotrain | What is EcoTrain | Discord Community

#cyclefeed | Introducing CycleFeed | Discord Community

Join us on Discord