Getting into Ventura involved a lot of fun beach-side cruising paralleling the 101 (sometimes combined with the One), and finding the Sandbox Cafe was easy. Only there did I realize that this was not exactly an ideal place to stay. I knew all they had was a restroom to freshen up, so instead of a shower I would take a dip in the ocean. That was fine. I also knew I would be camping in their back-yard, or something along those lines, and I was prepared for that too. But as it turns out, the circumstances were even more spartan.
Opting Against the Cafe
The thing I felt most uncomfortable with was the lack of a back-yard in the first place. It turns out that my accommodation would be sleeping on the front patio, where even tenting is a bit hard to imagine. Also, the symbolic little fence made me feel tremendously exposed, especially since the place was right in the center of town. So, I called another host, the second one to offer me a place to stay. It was in the opposite end of Ventura, but it was worth the ride.
Here I could spend the night, enjoy a HOT shower (finally), and would be a bit closer to L.A. My host also made sure to check on the road conditions, something I'd been trying myself, without much objective results...
Highway One Open or Closed?
According to the fireman and the park rangers I talked to, Highway One was to be closed until ... anywhere from a few days to a week. However, everyone pointed out that the majority of the fires had been contained, and especially bicyclists should have no problem being allowed to pass. Of course this was all their personal / professional opinion, but no official statement. But I felt comfortable enough to try it for myself. The worst thing that could happen is to be turned around, having to find an alternate route, maybe stay in the area for another night, or should all else fail: taking a train to Los Angeles! Having ridden more than 2000 miles, this last option is what I wanted to avoid, if at all possible.
The Very Last Leg to L.A.
I set out early morning from Ventura, riding against a steady headwind (still blowing from the South), toward Oxnard and the One. A freeway with hardly anyone on it? This could turn out to be THE most ideal time to be riding. And the weather couldn't have been better: the sun was shining brightly and the wind had calmed to a breeze. The clear blue waves crashed on the rocks as I rode past charged mountainsides. Certainly, there were enough signs about the highway being closed at the county line, but that was more than 15 miles (24 km) past the last turnoff. Besides, enough people had told me bikes should be okay.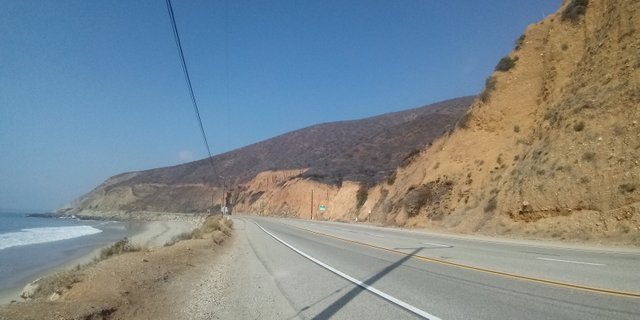 They were not. "Nobody passes, means nobody passes," the officer of the law informed me with a friendly grin while keeping a firm stance. At the same time he was letting those people pass who were on his list of local residents. Apparently they did not fall into the category of nobody.
Protecting Private Property
On my way back I stopped for lunch at a spectacular vista point, where I discussed the situation with some other visitors who were turned around too. The explanation that made most sense had to do with the prevention of looting. Though the fires had been put out, most property owners (in finer places like Malibu) were concerned about leaving their belongings unprotected. So they didn't want anyone gaining access to their homes until the road was officially opened. 
Empty Roads and Empty Beaches
For me the most annoying part was not getting to reach my destination that day. And of course the backtracking part, though riding that little stretch up the coast was at least as scenic as riding down, especially in the bright sunshine and the almost empty highway. I could even stop at a beach access point and take a quick dip without getting my clothes wet. However, I had to find a place to stay for the night, before reattempting going to L.A.
Deciding Against Train Rides
Taking a train fell through as an option as soon as I was confronted with the logistic hurdles of buying a ticket, namely on-line reservations by credit card. Not that I couldn't do it, I just didn't want to. In fact, I never wanted to take a ride to begin with. I didn't come more than 2000 miles by pedal-power alone, to take train rides. So once I found a WiFi spot, I started to seek out last-minute warmshower hosts. If I didn't find one within an hour, I would start looking for a place in mom's house. There's gotta be a nice bushy place somewhere, even in this very urban area.
Second Attempt Through the Valley
I didn't even have to wait that long. Almost immediately I got an offer up in the hills of Camarillo. My host was amazing, as always, and together we laid out a nice bike-friendly route for tomorrow. It was a good day's ride of more than 70 miles (113 km), going through Simi Valley, Reseda and Burbank. However, it was mostly flat, with only one moderate climb over Santa Susana Pass. From there on it was all downhill.
Getting to L.A. Finally
In the end I reached my friend's place in Los Angeles way past sunset, at 6:30 p.m. I was tired, but super happy to have arrived. This was my assumed destination for the bike-trip: Port Angeles to Los Angeles, and so it should be concluded. However, there is one final part remaining: delivering the bike to my friend's property close to the Mexican border, in the outskirts of San Diego. But before I do that, I'm going to rest here for a while, and enjoy Thanksgiving with good friends.
If you'd like to read my bike trip in its entirety, check out the rest of my posts in the Cascadia to Aztlan series:
Please check out these great communities I'm contributing to: 

#ecotrain | What is EcoTrain | Discord Community

#cyclefeed | Introducing CycleFeed | Discord Community

Join us on Discord