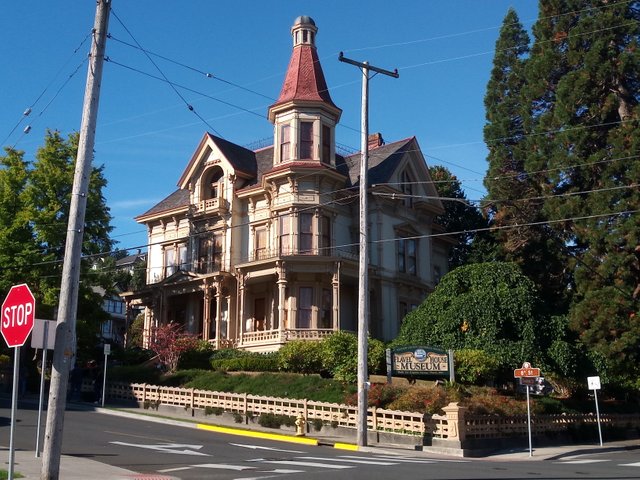 Once we rolled into Astoria, everything was different. This was an actual town. Not a sprawling city, with endless suburbs and strip-malls, but still more than the two-horse towns with maybe a gas-station and a laundromat we kept passing through on the Olympic Peninsula. Here we could actually find such things as a real bakery, a brewery, and a smoke-shop. What's more, during our stay the whole town was bathed in bright sunlight. So notwithstanding how the weather might normally be, for us Astoria will remain forever a wonderful little place of bright light and lovely people.
Taking Warmshowers to a New Level
Our host on warmshowers.org prided himself in not having refused any request in the two years he has been active. And with max. four guests, there was usually enough space to take some more... as it was in our case. We arrived into a beautiful Victorian house with lots of activity: two other bike travelers were hanging out while our host was just about to leave to get some fresh salmon for dinner. "Could you pick up some veggies from the co-op?" was his only request. Of course we did! We even brought beer for everyone from the local brewery. Then we relaxed over some fun chat with our fellow guests, listening to the wonderful tunes of the Grateful Dead, played by our host's home entertainment system.
It turns out that he was a serious deadhead, who also was into Phish, the String Cheese Incident, and of course the Dead and Friends, over which he bonded with my riding companion very well. The best thing about his hosting was the plans for the house: Still under a bit of construction, it is going to be a proper hub for bicyclists, with a place to work on bikes, a large community kitchen, and even a sauna. Wow! But even now, as the basement was being worked on, this was the only place where we could exchange stories with other cyclist who had been on the road for the better part of the year.
On the Goonies Tour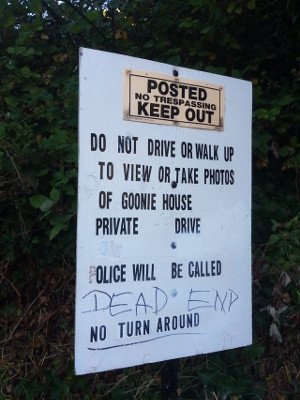 Spending time in Astoria also meant going on a sight-seeing tour. Sure, the little town is historically significant for being the oldest American settlement West of the Rockies. However, what makes the place much more important for our generation, is that the movie
The Goonies
was filmed here. So during our short stay we took it upon ourselves to visit some important landmarks, such as the house in the opening scene. The actual Goonies House, however, was off-limits, as the residents like to enjoy their privacy.
Short Ride to Seaside
Having enjoyed Astoria to the fullest, we bid farewell to our host and fellow guests, and headed on to Seaside to (finally) do some well-deserved beaching. The sun was bright and warm, the ride only 17 miles (28 km) on flat terrain, and we had made arrangements with a host there, just in case.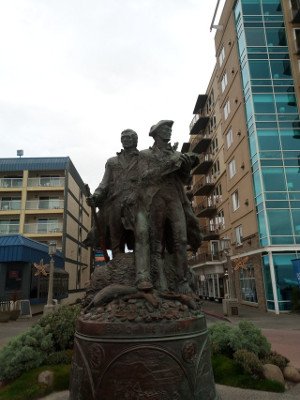 We took the busy though spacious 101 instead of the recommended "Lewis and Clark" road. Unwittingly, we had been traveling on it since ever since leaving Highway 101 for the 4 and the 401 around Naselle, WA. This route commemorates the end of the famous expedition, back in 1805. It passes by Fort Clatsop where they spent the winter, and terminates right in the town of Seaside where they set up a temporary salt production. 
Before meeting our host, we rode by the End of the Trail statue, right at the beach-end of the tourist promenade, and had a little picnic on the beach. It was way too cold and windy to take off our jackets, let alone going for a swim, but we enjoyed the immensity of the enormous beach, and watched the shark-shaped kites flying above our heads.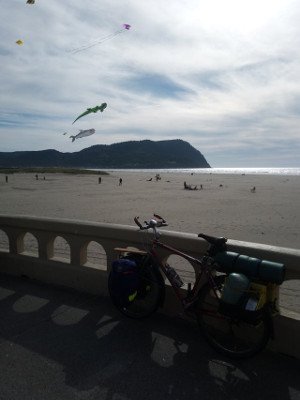 Our host was a fun character, treating us to inspiring conversations about current politics, Oregonian culture, history of the place, bicycling, and the wonderful world of mushrooms, which the region is famous for. At all this time the music system was playing the 24/7 Grateful Dead in the background. Oh Oregon, how we love your style! 
Being an electrician, he also gave me competent advice on electronics, as far as rigging up my bike with a solar charger / power-pack, and using an external keyboard to type on my phone. As it turns out, this advice would come in handy much sooner than I expected.
Gear Failure
After spending a night in Seaside we loaded up our bikes and were ready to head out to Portland, when suddenly my friend's bike broke. At first it was just a spoke, which was easy enough to change, but when he took his wheel off, the trailer-hitch skewer snapped. This was a more serious issue that needed to be fixed, so we unloaded again, and went to look for a bike-shop.
A bit of running around later it was clear: we'd have to stay for another night. The bike-shop was closed (on Wednesday out of all days) and the one in the next town was only a bike rental place. So we were treated to some more mind-blowing conversations and a walk on the beach in the light of the waxing moon. It was fantastic, all things considered.
We spent the better part of the next day getting ready, hunting down the missing skewer, or at least one that would work, buying food for the two-day ride, and writing reviews on our warmshowers hosts. It was then that I realized my computer was dead.
My little laptop I bought eight years ago and changed many of its software and hardware components was finally at a point where it's screen would not switch on any longer. I would give it a few more chances, but I guess eventually I'd have to let it go. This is when I'd make use of my host's advice and completely switch to using my phone for everything. It is already much more powerful than my laptop has ever been. As you might have guessed, I wrote and posted this article with my new gear. Let's hope it turns out as nice as it would have been on my laptop...
Leaving Seaside
In the end we managed to be back on the road by around 4 pm. We would not get too far that day, but at least we'd be on the road. Instead of sticking to the popular highways 30 or 24, we located an alternative route, hopefully less traveled, and possibly more scenic. As it turns out, the first leg of it followed the aforementioned Lewis and Clark.
If you'd like to read my bike trip in its entirety, check out the rest of my posts in the Cascadia to Aztlan series:
Please check out these great communities I'm contributing to: 

#ecotrain | What is EcoTrain | Discord Community

#cyclefeed | Introducing CycleFeed | Discord Community

Join us on Discord