Tuesday - Getting Righteously Drenched
After a good night's sleep we woke up to cloudy skies. It had rained throughout the night, and the rain-fly of my tent was wet outside as well as inside due to condensation from my breathing. Hoping I would be able to dry it in the sun, similarly to the previous day, I packed it all up, along with all my other gear. It's good optimism that carries us forward, just like our bikes, without which I would not even have set out that day. Whether that would have been good or not is still up to debate.
At first we headed on Cooper Ranch Road, following the ODT. The logging road was a nice alternative to the busy 101, without any traffic to speak of, but the rain started falling almost immediately as we set out, and would not stop for a while. Once the road dumped us back on the 101 around Beaver, it turned into a mere drizzle, so we decided to stop at the gas-station store for a coffee. That's where serendipity made its move: The driver of a beer-truck came up to us and offered us a six-pack of Pray for Snow Winter Ale. A 7% craft beer by the 10 Barrel Brewing Company in Bend, Oregon, which donates a percentage of its proceeds to Protect Our Winters? - Sure we'd accept, even if it's expired... only how are we gonna transport it? At that moment Rene pulled into the gas-station. Thank you, good providence! We accepted, put the beer in Rene's car, and headed on.
During the following hours the sun came out for a few moments, but still the rain kept falling, so we saw no point in attempting to dry anything. We soldiered on towards Forks, took the side-roads around it, and as we got back on the 101 it started pouring again. This time we had a set destination: the Hoh Oxbow Campground, which meant we didn't have to worry about communicating. On the other hand, we had no other option, we had to get there, shine or... well, rain. And rain it did.
By the time we reached the campground, we were drenched to the bone. What's worse, most of our stuff was soaked as well. Since I haven't had a chance to dry my tent I didn't even attempt to set it up, and my warm clothes were as wet as the things I was riding in. Fortunately Rene had a spare tent I could borrow, and due to good foresight I packed my sleeping-bag as water-tight as I could. Plus there was the beer, so not everything was hopeless. Pretty soon we even had a campfire going, where I at least dried enough clothes to wear that evening and the next day. Exhausted as I was, I fell into a deep sleep.
Wednesday - A Walk in the Woods
Since Rene was leaving on Thursday, and my friend was excited to go to the Hoh rain-forest with us, we decided to stay at the campground for the following night, and drive up to the hiking trail of the south fork of the Hoh river. This would offer us a view of the old-growth forest, which used to cover the entire region at some point, but has been reduced to small pockets in a few national parks. It took us a while to drive up through second and third-growth woods, along with some fresh clear-cuts right next to the national park, before we reached the trail-head. From here we got ready for our hike. 
Take a Look at the exact location on Steemit World Map:
[//]:# (!steemitworldmap 47.781678 lat -123.873768 long  d3scr)
I was still debating what to wear: shorts and rain-jacket was a no brainer, but what about my feet? My shoes were still a bit damp, and would probably get wet even if it didn't rain. My alternative were my flip-flops, but that would compromise my footing on the trail. Still, I opted for the latter, as I knew how bad my wet shoes would feel after a while. As we were on the trail, however, I decided to clip my flip-flops to my shorts, and enjoy the soft, soggy trail with bare feet. It was the best decision ever! Being able to walk without problems, and feel the forest under my feet made the hike extra pleasurable, even walking four miles (6.4 km) each way. At first the sun was out, but on the return walk we got rained on again. But rain-forest without rain, how weird would that be?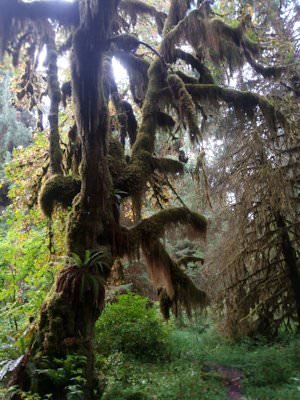 At first the forest was not unlike what I had seen on Vancouver Island. Soon it started to look more like the outdoor forest museum of Cathedral Grove, except it was not a fenced in trail, but more wild. I recognized some old-time friends, such as Hemlocks, Douglas Firs, Thimble-berries, and Huckleberries, but there was more: next to the red huckleberries we found delicious blue huckleberries too. The Sitka Spruce, which had been a rare find around the Doighouse property was virtually everywhere. There were also many other plants I did not recognize, such as this one with a single bright-blue berry, or the one that grows small bunches of red berries.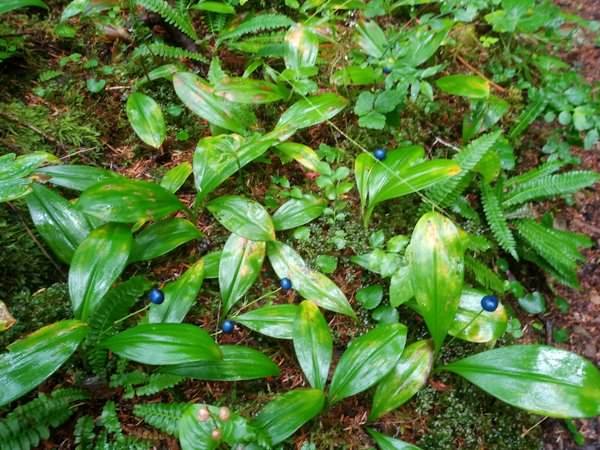 Of course we also came across lots of interesting fungi. The most impressive were these gigantic Chicken of the Woods. Oh, and talking about gigantic life forms, how about these kale-sized lichens. For anyone who knows how slowly they grow, they're truly impressive!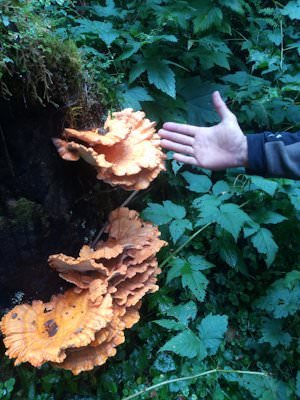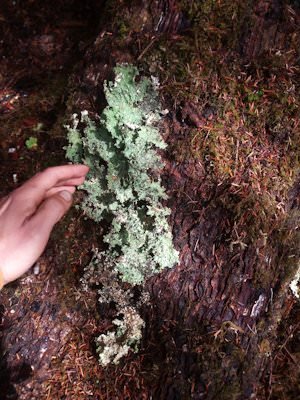 After this impressive experience, it was even more shocking to drive back past all the clear-cuts. So much life everywhere on one side, and such desolation left once the industry was done with it, was truly disheartening. And sure, it will grow back... given enough time, and provided it will be left alone, and not turned into a tree-farm, or any other type of farm for that matter. Because no matter how hard we try, we simply can't come close to emulating nature in her fullest bounty. I want to leave these before-after shots as a final impression of a day well spent in the heart of the rain-forest of the Olympic National Park, a place truly worth getting wet for.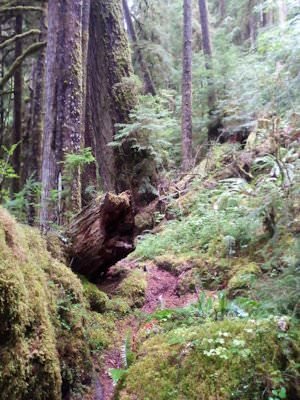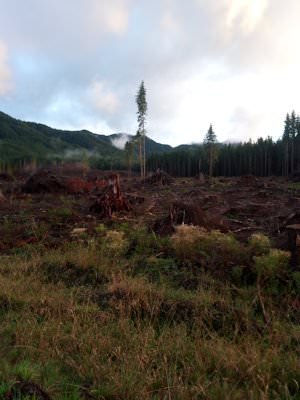 If you'd like to read my bike trip in its entirety, check out the rest of my posts in the Cascadia to Aztlan series:
Please check out these great communities I'm contributing to: 

#ecotrain | What is EcoTrain | Discord Community

#cyclefeed | Introducing CycleFeed | Discord Community

Join us on Discord