When I completed my descent into Rimrock, I also left behind the last forested area on my bike trip. From there on I'd be cycling among rocks and sand, lizards and scorpions, with the occasional wild-west outpost, such as Pioneertown in between. "Pie-town," by the way, had little more to offer than that. Museum or film-set, it doesn't happen often that I manage to capture a whole town in one photo. But it happened to be just on the way out of Rimrock, so I rode through it.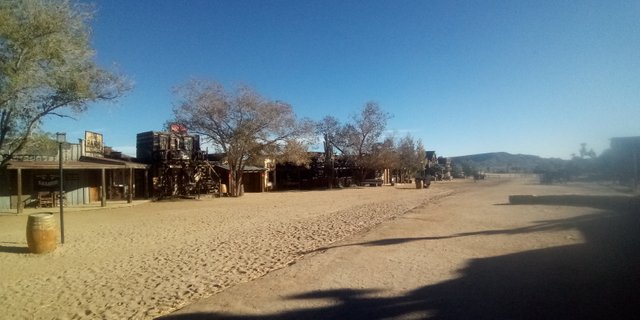 The final destination I had picked for my trip is the Mexican border, or rather the property of my friend Rishi, which is only a few miles from it. To make the ride there more interesting, I wanted to pass by such unusual places as the Salton Sea and Slab City, which are not necessarily known for their aesthetic appeal. But since I had seen so many examples of natural beauty, including on my ride to Rimrock, I felt like adding a bit of ugliness was good for maintaining a balance. 
Meeting Stereotypes in Palm Springs
Boy, was I right about ugliness! And I didn't even need to look too far: Palm Springs was right there as a shocking example of how frightening towns can be. A vast expanse of grid-lined roads with lots of palm trees and air-conditioned homes. The streets are wide, the drivers inconsiderate, and the sidewalks chronically empty of pedestrians. As a cyclist I soon realized that being devoid of humans, they make great bike lanes. Needless to say, I probably used all three of the actual bike-lanes in town, as well as the only bike trail the place has to offer.
After spending the night at yet another amazing warmshower host's place, where I even got to speak some German, I left this shocking example of urban consumerism to be shocked even more by the failed attempts of such efforts at the Salton Sea.
An Environmental Disaster Area
I had heard bits and pieces of information about how the Salton Sea had been created artificially, and enjoyed a brief stint as a successful tourist resort area, before its ecological balance tipped over due to evaporation, salinity, contamination, and a constant presence of botulism. But it wasn't until my host in Camarillo showed me a documentary on the lake that I decided I had to visit the area for myself. 
The film explained how the Salton Sea was the result of a blunder in engineering a century ago, when the Colorado River was diverted to irrigate the Imperial Valley, got out of control, and flowed into the sub-sea-level basin for years. The result was a new lake, which nifty entrepreneurs quickly filled with fish, and invited tourists into new resort towns, such as Bombay Beach. Today that town is virtually abandoned, except for people who really can't afford to leave. One of these people is the charismatic Hunky Daddy, an old '56-er, alleged hero of the Hungarian revolution, who is considered the unofficial mayor of Bombay Beach. Being Hungarian myself, I thought about paying him a visit, but in the end I'm glad I didn't, or I may have gotten stuck in that town myself...
Strange Weather in a Weird Place
What made my ride along the Salton Sea even more memorable was the crazy weather rolling my way. There was supposed to be some rain coming towards Southern California around that time, but along the Salton Sea the only thing we got was a yellow haze covering the skies, dipping the already surreal landscape into an eerie light.  At that time I was cursing the strong head-wind that kept me from enjoying the flat ground, but little did I know what winds lay in store for me over the next few days.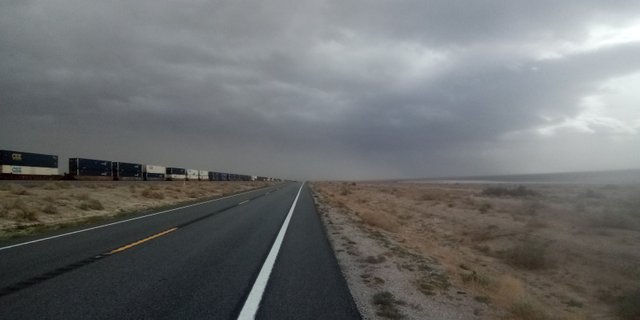 I kept a safe distance from the waters of the lake, and even Bombay Beach I only entered to look for some decent beer to offer to my hosts of that night, which the town clearly didn't have. Bud or Bud Light? No thanks! I might as well drink from the Salton Sea itself...
RabbitSide in Slab City
The folks who were expecting me that evening were located in Slab City, another fascinating spot of ugliness in the California desert. The "town" itself is called the "Last Free Place" and is more like a large squatters' camp than an actual municipality. Built on an abandoned military base, its concrete slabs had been lived on by people since the 50's. None of the occupants actually own their land, they just maintain and "protect" it. Naturally, this kind of anarchistic pirate community attracts all kinds of elements, from meth addicts to Jesus freaks, from murderers on the run to actual psychological problems, but at the same time it offers refuge for artists and people who are just tired of the over-regulated world outside.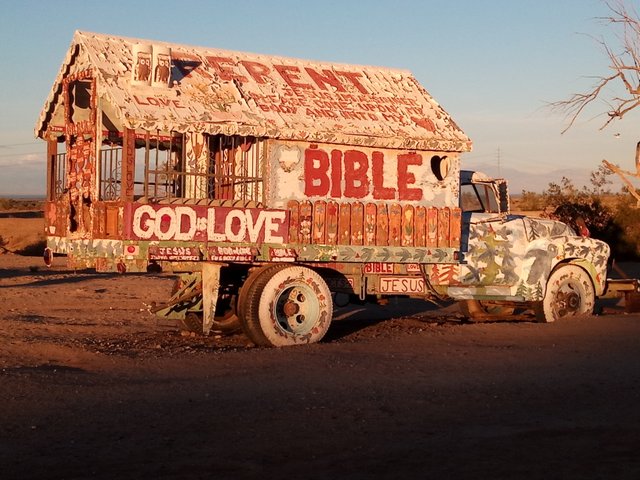 My warmshower hosts fall into the latter categories. Known as RabbitSide locally, on Youtube and Instagram, they demonstrate how you can make a living in and off of garbage, turning discarded stuff into usable features or vendible art objects. They show how to build and maintain a pond and a functioning ecosystem in the inhospitable environment. Also, though this has been my personal impression rather than via social media, they explain the socio-communal dynamics of a place like Slab City.
When I arrived at RabbitSide the sun was just about to go down behind the thick yellow clouds, so I was quite pleased that I didn't have to find my way in through the dark. As it turned out, there was another cyclist there already, a pleasant French Canadian, who had started his trip on the Arctic Ocean and was heading for Fireland. All five of us got on splendidly, and shared some fascinating conversations over dinner and the beer I brought. (In the end I found some in a decently stacked grocery store in Niland.)
Against the Wind
The next day we set out early to avoid the strong wind that was supposed to come our way in the afternoon. Both me and my new touring partner were going the same way towards the Mexican border, so we joined up for the day. There were plenty of empty farming roads giving a pleasant alternative to the highway, so we rode side-by-side, chatting for the better part of the day. As promised, however, the afternoon turned quite windy, coming straight from the direction we were riding into: the West. And it didn't ease up one bit! In fact, it only got stronger. 
Oh, the frustration of going down on a perfectly level road, having to use the lower gears as if climbing a steep hill, and barely making 5 mph (8 km/h). Once we even tried riding the other direction, just to see the difference. It was staggering: We approached 20 mph (24 km/h) without even trying too hard! Too bad it was the wrong way!
After spending the night in Ocotillo outside of a cafe (Ventura experience revisited!), we decided to part ways. While my companion remained to take care of some on-line things, I wanted to face the last 30 miles (48 km) of my trip. It was not pretty: The wind was as strong as ever, but now I would have to do an actual climb of 4000 feet (1220 meters). What's worse, the only road to choose from was the I-8, at least for the first half of the way.
The End of the Road
As I was inching past no-bicycling signs on the Interstate, fighting against the wind blowing relentlessly down the hill I was trying to ascend, I was thinking to myself about the completion of my trip. This was the first day of December, and although I was in the driest area of California, there were heavy gray clouds hanging in the sky. Was this Mother Nature hinting me that the season is finally over for good, and it was time to get off my bike? Maybe so... Just then I actually had to get off my bike to fix a flat, the first one of two on that day! 
After I could finally leave the I-8 I continued on the Old Highway 80, which took a turn along the Mexican border right after Jacumba Hot Springs. Standing only a few hundred yards from the border fence, I thought this was a perfect place to stop for lunch. I finished off my last tortillas, cleaned out the peanut-butter jar, and ate my last apple, thinking that I had reached the southernmost point of my nearly completed bike journey.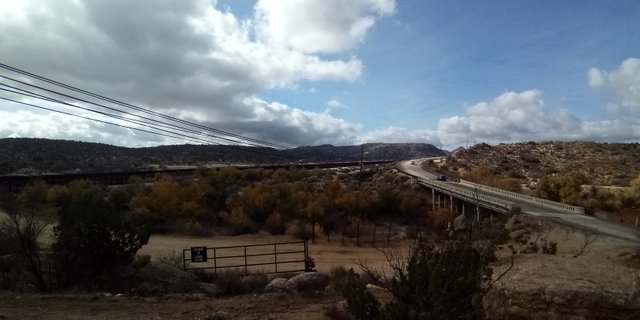 From here it was only about ten more miles (16 km) to my friend's property, where she was expecting me, and would give me a ride back to Los Angeles. The anticipation of arrival mixed with some deep melancholia, just like the wind-swept sky alternated between beating sunshine and cold, foreboding clouds. Being utterly exhausted was an understatement.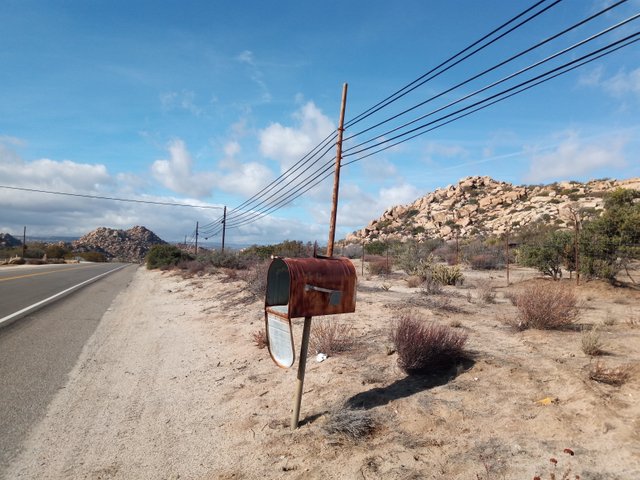 This last week was probably the most extreme part of my entire ride. I went up into higher elevations and lower depths than anywhere else on my long journey. The wind, the highway, my bike, and my body all said the same thing: It's done! Finalized! Completed! Time to draw a line, just like the arbitrary border fence, and come to terms with the end of the road.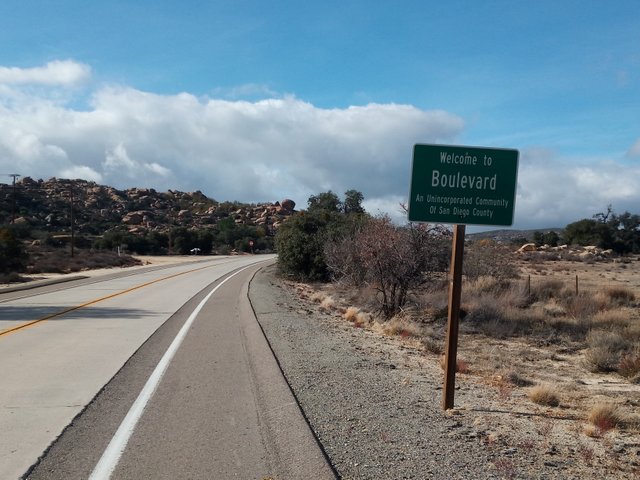 If you'd like to read my bike trip in its entirety, check out the rest of my posts in the Cascadia to Aztlan series:
Please check out these great communities I'm contributing to: 

#ecotrain | What is EcoTrain | Discord Community

#cyclefeed | Introducing CycleFeed | Discord Community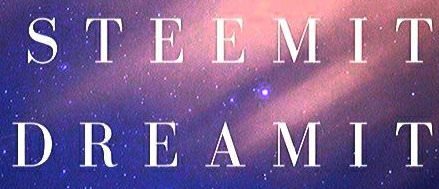 Introducing SteemitDreamit | Facebook Group | Discord Community