Well rested, well fed, and completely dried off, we left our generous hosts in Aberdeen, heading southwards. The Oregon border was within reach, at least we could expect to get there in the foreseeable future, meaning less than two days.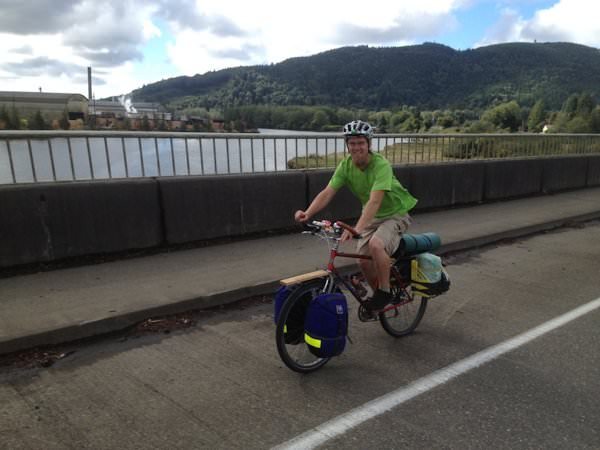 This is one of the most important effect we kept noticing: touring on a bike gives you no other option but to live in the present. The past is left behind, not just in time but in space. Aberdeen is as far and gone as is Victoria, Qualicum Bay where we started our trip, or some distant childhood memories. And what is to come? Portland, Los Angeles, or some adventure in Siberia? In the end it doesn't matter. All that counts is the road immediately ahead of us, and possibly our destination for that day. It all has a very zen-like feel to it, which I find very nurturing.
After conquering the hill leading out of Aberdeen, we stopped by a roadside restaurant where we had to try the highly recommended ice-creams. We split a small one, which was more than enough, and yes, it was as delicious as it was talked up to be. The sun was shining, we were enjoying a sundae, realizing that it was a Sunday too!
Sunday also meant no logging-trucks, but their absence was made up for by RVs and all sorts of weekend tourist traffic. Never mind, the shoulders were good, so they were only slightly annoying. We noticed that the road quality (including the width of the shoulders) had a lot to do with the county we were in. Grays Harbor County is notorious for small shoulders, so called "soft" shoulders (meaning caked in mud, covered in moss, with saplings of all kinds sprouting from it), and shoulders that would completely disappear. In that case the only thing we could do was to ride in the lane like the proper vehicles we are, which however many motorists may not agree with. Someone in Aberdeen actually yelled at us once: "Get on the Sidewalk!" The theory of road-rules can be argued till the cows come home, but on the asphalt you don't want to be on the receiving end. And as a bicycle, that is pretty much the only end you'll get, so I prefer sticking to the shoulders.
No matter the county, however, when it comes to crossing bridges, shoulders generally tend to vanish. In that case I usually come to a stop, look behind me, let everyone pass, including the vehicles way behind me, and then step into the pedals to get across as fast as possible. If any vehicles show up, they may want to pass us, hoping there is no head-on traffic. Depending on the length of the bridge, this can be barely noticeable or super scary. When we had to cross the bridge over the Hoh river, just past the Hoh Oxbow Campground, we decided to ride side-by-side to claim the lane for us. As it turns out, no other vehicle was anywhere around that bridge.
Once we were in Pacific County, things improved for the better. At times we could even ride side-by-side, and still had ample space between us and the motorists. This is how we rolled into Raymond, where an actual bike-trail was waiting for us. We started riding it towards South Bend, until we came to an abrupt halt. The trail was supposed to cross the Willapa River, which at that point was more like an estuary. The only thing we needed was a bridge. There was a bridge in place, indeed, but it was turned the wrong way. "Hey, bridge-man!" we yelled at the presumed operator, "Turn the bridge for us!" but nothing happened. At a closer look we saw that this bridge had not been turned for quite some time. In fact, the operating cabin seemed to be falling apart. Still, the ancient behemoth of a structure was worth a picture, before we turned around to find an alternative way.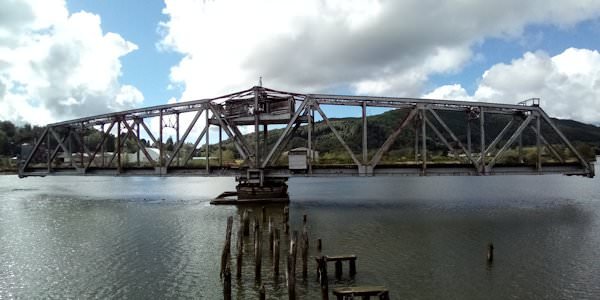 Fortunately we didn't have to backtrack too far, and eventually we found a bike-trail leading all the way to South Bend. From there we headed up into hills to cut off a good chunk from the 101. Up there we came across a nice place to spend the night, and the next day we caught up with the highway leading south. We passed the turnoff to Bay Center, another beach-peninsula, and caught the 4 to Naselle, then the 401 to the Columbia River. There we would have to an immense bridge to cross…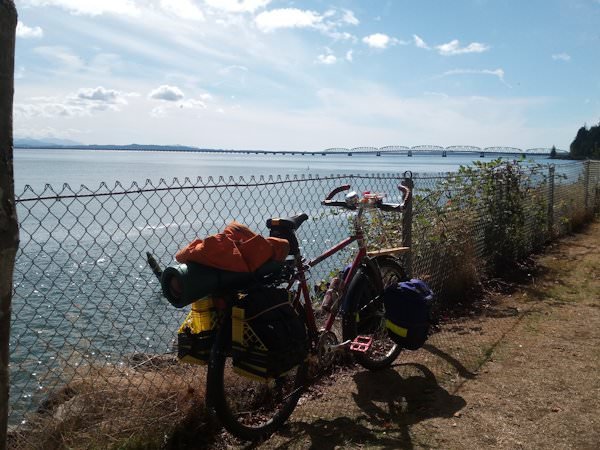 Between the states of Washington and Oregon flows the Columbia River, collecting all the tributaries into a massive amount of water, dumping into the Pacific. The bridge leading across its mouth is a whopping 4 miles (6.4 km) long. Looking at it from the shores of southern Washington, we felt both excited and queasy at the same time. What would it be like to ride across that thing? There was only one way to find out.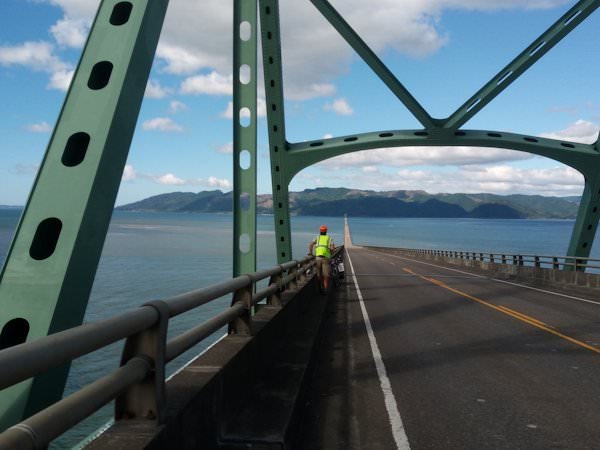 It turns out that there is a bit of a shoulder there, let's say just sufficiently wide, and a joke of a sidewalk, which is more like a glorified curb. But, once we were on the bridge, there was no going back. We pedaled on, past gravel, wooden debris, and dead birds, presumably hit by cars as they tried to sail above the water surface.
At first we climbed a bridge on the Washington side, then descended to a long causeway, and finally climbed even higher to the structure on the Oregon side. We had almost reached the top, when my friend called out that he wanted to take a photo. I could not imagine such a crazy idea, but there was no other traffic at that moment, so I turned around. He was actually taking shots of a scenery that truly so breathtaking that I couldn't help myself either. The afternoon sun was illuminating the Washington hillside beyond the waters of the Columbia in such a perfect light, that any such attempt was justified.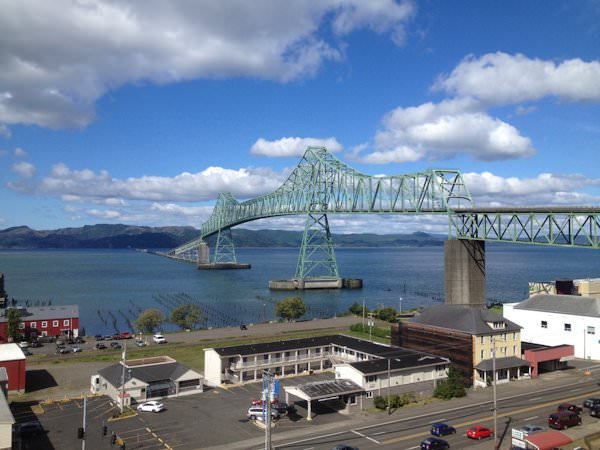 Once we scored the perfect shot, we pedaled on, descending from the tall structure into Astoria, Oregon. The mood was celebratory. Arriving at a comfortable time in the afternoon, in perfect weather, in a lovely little town, where our next warmshowers host was expecting us. What's more, we had covered Washington, and could continue our adventures in the lovely state of Oregon. Let's see what would await us here.
If you'd like to read my bike trip in its entirety, check out the rest of my posts in the Cascadia to Aztlan series:
Please check out these great communities I'm contributing to: 

#ecotrain | What is EcoTrain | Discord Community

#cyclefeed | Introducing CycleFeed | Discord Community

Join us on Discord