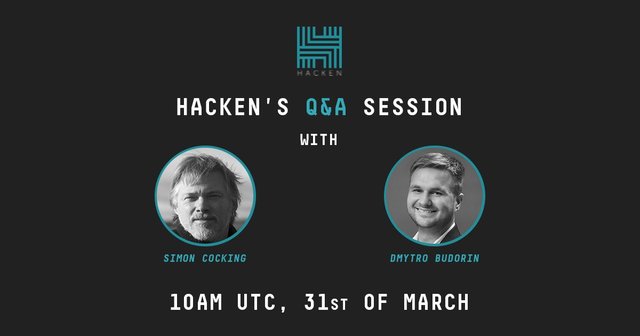 Well, well, well! Hacken team is super busy with the last preparations for the release of HackenProof! Yes, it will happen tomorrow on March 31, or as we say in Ukraine on February 59, it's still snowy though (we have an insight that it's going to be warmer after HackenProof is released!)

The release of our beloved platform is accompanied with the long-awaited (personally, I have even bought a new t-shirt for that!) Q&A session where our CEO Dmytro Budorin will be interviewed by (wait for it) … Simon Cocking! You've heard that right! The very Simon Cocking who is a business mentor and advisor working with 20+ successful ICOs to date. You must have also heard about him in the context of Irish Tech News and CryptoCoinNews where he works as a senior editor and editor in chief accordingly.

So! Our mastermind Dmytro Budorin is going to answer some tough questions, such as 'Why does Hacken need blockchain?' Some of the questions are already prepared as we have been gathering them in our Telegram Community already for a week. BUT! You still have a chance to ask Hacken's CEO anything you're interested in about ecosystem of white hat hackers. The only thing you need to do is follow the link and have a short conversation with our Telegram bot. We are still in need of your unique and original questions!

Almost forgot the details! Exact Date of Q&A session is March 31, 10 AM UTC on our youtube channel, here.  

See you on Q&A session!