U.S. Department of Homeland Security Launches National Risk Management Center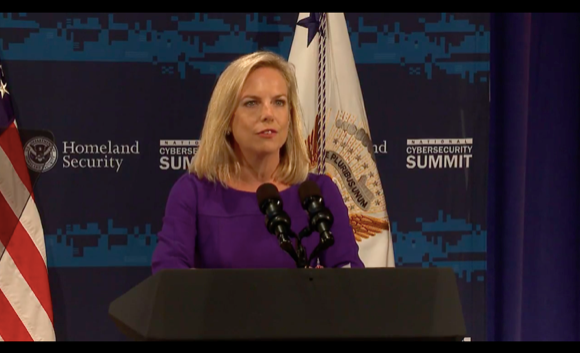 Kirstjen Nielsen, secretary of the Department of Homeland Security, talks about the National Risk Management Center at the first DHS National Cybersecurity Summit in New York City on July 31, 2018.
The United States Department of Homeland Security launched the National Risk Management Center on August 1, 2018. Kirstjen Nielsen, secretary of the Department of Homeland Security, announced the new initiative at the first DHS National Cybersecurity Summit,, which was held at the Alexander Hamilton Custom House in New York City on July 31, 2018.
An initiative driven by industry needs and focused on fostering a cross-cutting approach to defend the United States' critical infrastructure, Nielsen said the Center will employ a more strategic approach to risk management resulting from the re-emergence of the nation state hacking threats, our hyperconnected environment and the government's need to collaborate with the private sector. She also said the Center will develop policies, plans, and playbooks to help the United States gain the upper hand in cyberspace.
"Housed at the DHS, the Center will bring together government experts with willing industry partners so that they can influence how we support them. Our goal is to simplify the process to provide a single point of access to the full range of government activities to defend against cyber threats.
I occasionally still hear of companies and state and locals that call 911 when they believe they've been under a cyber attack. The best thing to do will be to call this center. This will provide that focal point. We will work with our partners in government who will be on stage today and others to provide you what you need to help propel; to help mitigate; to help root out the adversary from your systems. And we will also be able to take a piece of intelligence and with the help of the private sector, ask ourselves the 'so what?' to be able to determine what we're going to do about it together," the secretary explained.
Sec. Nielsen also emphasized the intelligence community is certain that the Russians hacked U.S. voter registration systems and created online propaganda campaigns around the 2016 presidential election during her opening remarks.
"Two years ago, as we all know, a foreign power launched a brazen, multifaceted influence campaign to undermine public faith in our democratic process and to distort our presidential election," Sec. Nielsen stated.
"That campaign was multifaceted. It involved cyber espionage, leaks of stolen data, cyber intrusions into voter registration systems, online propaganda, and more. Let me be clear, our intelligence community has it right. It was the Russians. We know that; they know that it was directed from the highest levels. And we cannot and will not allow that to happen again.
Although no actual votes were changed in 2016 let me be clear in this. Any attempt to interfere in our elections is a direct attack on our democracy. It is unacceptable and it will not be tolerated. Mark my words, America will not tolerate this meddling. So it's clear that we're in a tough fight right now. The cybersecurity headwinds are against us," Sec. Nielsen said.
Other Department of Homeland Security Cybersecurity Initiatives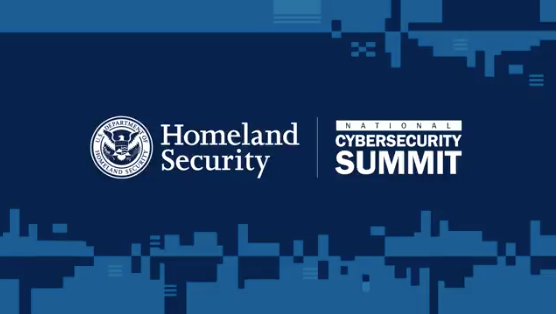 Sec. Nielsen also announced the following cybersecurity activities:
Cross-sector risk registries that share cybersecurity threat information.

A voluntary supply chain risk taskforce spearheaded by DHS Under Secretary Christopher Krebs.

New cyber workforce programs working in partnership with the academic, business and non-profit communities.

Efforts to work with Congress to pass legislation to establish the Cybersecurity and Infrastructure Security Agency within
DHS. "This would recast what is now NPPD or the National Protection and Programs Directorate, our cybersecurity arm,
into an ambitious operational agency, capable of better confronting digital threats," the homeland secretary said.

Initiatives to better protect U.S. election systems, including a new election taskforce and deployment of nationwide
services, programs and partnerships with 50 states to secure their election infrastructure.
U.S. Presidential Support for U.S. Cybersecurity Initiatives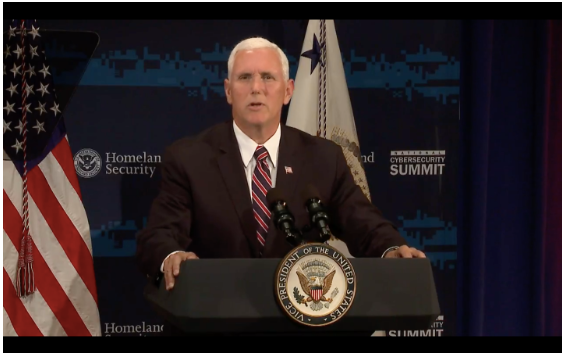 Vice President Pence talks to attendees at the first DHS National Cybersecurity Summit in New York City on July 31, 2018.
Vice President Mike Pence appeared at the event and supported Nielsen's comments about Russia interfering in the 2016 U.S. presidential election.
"While other nations certainly possess the capability, the fact is Russia meddled in our 2016 elections. That is the unambiguous judgment of our intelligence community and as the president said, we accept the intelligence community's conclusion. Russia's goal was to sow discord and division and to weaken the American people's faith in our democracy. And while no actual votes were changed, any attempt to interfere in our elections is an affront to our democracy and it will not be allowed," the vice president said.
He also voiced his and President Trump's support for the new risk management center, as well as other cybersecurity initiatives.
"This new center will be the gateway for American companies who want to work with the federal government more closely to strengthen our shared cybersecurity. And let me take this moment to thank all of you who have already expressed your intention to join this critical initiative.
Just a few weeks ago in the situation room I personally met with the president's National Security Telecommunications Advisory Committee, also known as NSTAC, which brings together key industry leaders to develop recommendations on cyber policy. I learned then, and we'll learn more in just a few short weeks, that NSTAC will soon launch a cybersecurity moonshot initiative to focus our national energies and skills on digital dominance.
Those leaders that day informed me that America won the race to the moon and now to this administration in partnership with all of you, America will lead the way to cyber security and strength."
The vice president called for the United States Senate to follow the lead of the House of Representatives and before the end of this year, to enact legislation to create a new agency under the authority of DHS. He also said the administration is finalizing a national cyber strategy.
"This strategy will make clear that the United States will bring every element of our national power to bear to protect the integrity and security of the American digital domain."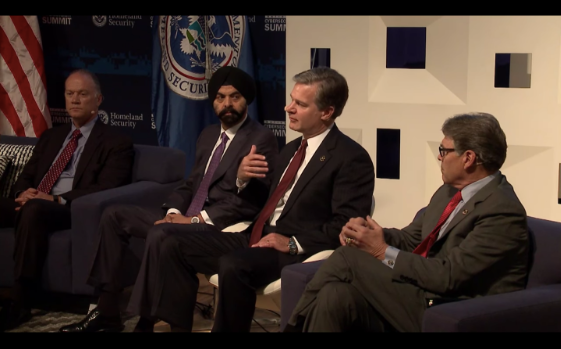 CEO John Donovan, AT&T Communications, Ajay Banga, president and CEO of Mastercard, Christopher Wray, director, FBI, Rick Perry, U.S. secretary of energy, Department of Homeland Security Secretary Nielsen (not pictured), General Paul M. Nakasone, commander, U.S. Cyber Command, and director, National Security Agency/chief, Central Security Service (not pictured), and Tom Fanning, president and CEO, Southern Company (not pictured), discuss public-private partnerships between the U.S. government and the financial, energy and telecommunications sectors to improve cybersecurity at the first DHS National Cybersecurity Summit in New York City on July 31, 2018.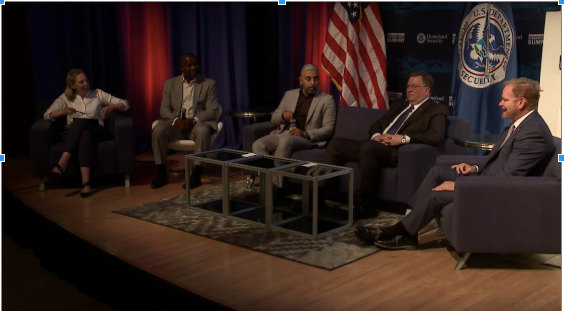 Jeanette Manfra, assistant secretary with the Department of Homeland Security's National Protection and Programs Directorate, moderates a panel on building a diverse cybersecurity workforce with Aric Perminter, president of the International Consortium of Minority Cybersecurity Professionals, Dr. Raj Samani, chief scientist, McAfee, Dr. Leslie Guice, president of Louisiana Tech University, and Russell Schrader, executive director of the National Cyber Security Alliance, at the first DHS National Cybersecurity Summit in New York City on July 31, 2018.