How to use cXc Music
Instructions for cXc Music Alpha
---
The Basic Basics
Head over to music.cxc.world. Scroll around, hover over dots (songs), and click one to listen. You will see players, links to the artist's profiles, and icons linking to the song itself. You will also see a yellow UP button, links to see similar songs at the bottom. If you are logged in via Steemconnect, you will see a link to post the music to Steemit. This will send an automatically generated post to your account.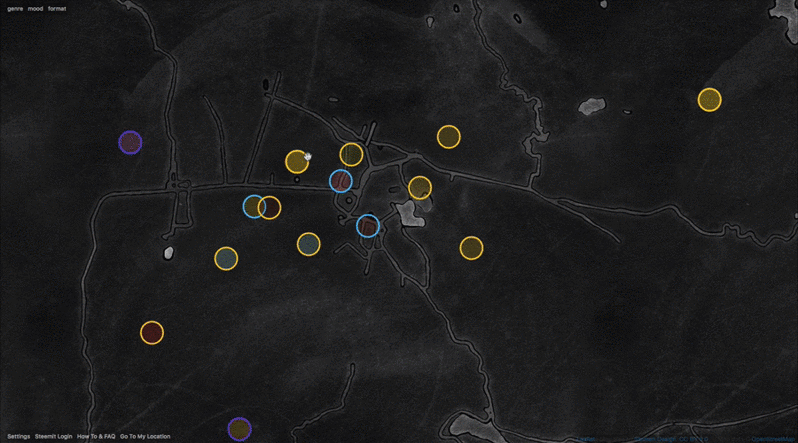 Posting Music
To post music, simply double click on the map where you want to post. This should be the place most associated with the music, like the artist's town, place of recording, or place the song is about. An add music icon will appear. Click this icon to bring up the add music dialogue. The song will be posted at this location.
Adding Info

There are three link inputs, but you can only add ONE song at a time. If you have Spotify, Youtube, and Soundcloud links, you can put them all here. The More the Merrier!!!!
This is the format they should be in:
Youtube
https://www.youtube.com/watch?v=eaR9KTknePE or https://youtu.be/eaR9KTknePE
Soundcloud
https://soundcloud.com/sirdouglasfresh/sir-douglas-fresh-awake-with-a-dedication
Spotify
https://open.spotify.com/track/05ujUIwh4HOW7RaahG6rqd
Here is the entire process to add a song to cXc Music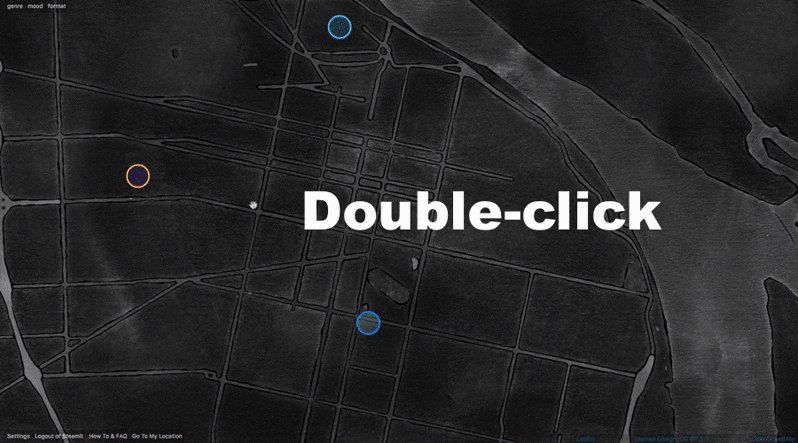 Note: You must link to the actual track for Spotify, an album link will not work. (shown in GIF above)
Pro Tips: You can adjust the location of the song while editing just by double clicking another location. Also, you will not lose your info if you hit the X in the corner, as long as you don't close or refresh the browser window.
Genres, Moods, and Formats
We have a selection of Genres, Moods and Formats to help others find your music. Take the time to choose these, as they will help your music be found. Leaving one out will remove it from all searches, give you a "null" tag, and make the marker black instead of a pretty color. [Show picture of circle]
Expressing Complex Genres
We know there are many very good genres that are not on the list, like chillhop. Although chillhop is not listed, you can still express chillhop using
Genre = Hip-Hop, Mood = Chill, Format = Instrumental.
In this way, you can also express many forms of EDM, Rock, and all other forms of music.
If you have suggestions to changes to Genres, Moods, and Formats, leave them in the comments! We want you to be able to express any form of musical expression through this system.
Send It
Hit the "Post Song" button to send the song. You should instantly see a dot show up on the map where you tagged. Click the dot to load it. If you are logged into Steemit and not opted-out of Steemit posting, this first load will trigger the post to Steemit automatically (this may take up to 30 seconds after the display loads, but requires no further action). If you aren't logged in when you add the music, you can still post to Steemit when you log in via the "Post to Steemit" button at the bottom.
Please note: The location posted will be a little bit off (the icon is not centered), so to get accurate, zoom in as far as you can. if you place the marker when zoomed out, it will be off by a lot whenever you zoom in. Also, you may notice that the tooltip does not have the title. Don't panic, this is populated on the first click, so if you reload the page you will see the title.
Please Do: Post in the right city, the one you (the artist) calls home or the one you recorded the song in. If you're posting music that isn't yours, do a Google search and figure out where the artist is from and post to their home city. This makes the experience of cXc Music better for everyone!
**Privacy Notice: **EVERYTHING on cXc Music is 100% PUBLIC! So don't tag your house or anywhere else you don't want the whole world to know. Tag the city center, or the public studio, park, etc.
Adjusting Settings
By default, you will see all of the music in every genre and format when looking at the map. But you probably don't like country, so you can choose the genre you do like, along with the mood and format.
There are two ways to do this. The menus at the top allow you to choose a display that will stay true until you close your browser. We call these "current" settings. You can also choose a current option from the bottom of any song shown.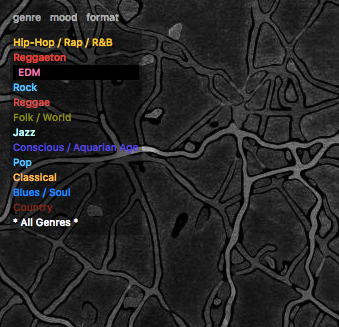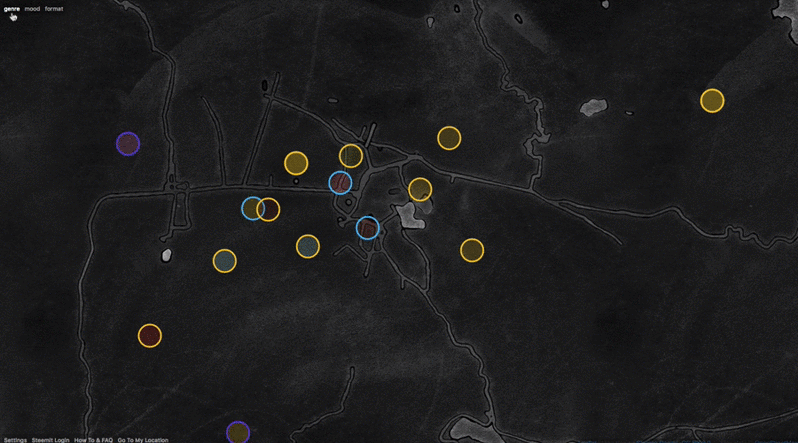 If you want something more permanent, you can set your "default" settings from the menus at the bottom. This will put a cookie that will live on in your browser for centuries to come. It is important to know that current options will always override your default settings. It is also important to know that you will see nothing outside of the settings you have selected, even if you have a direct link to the content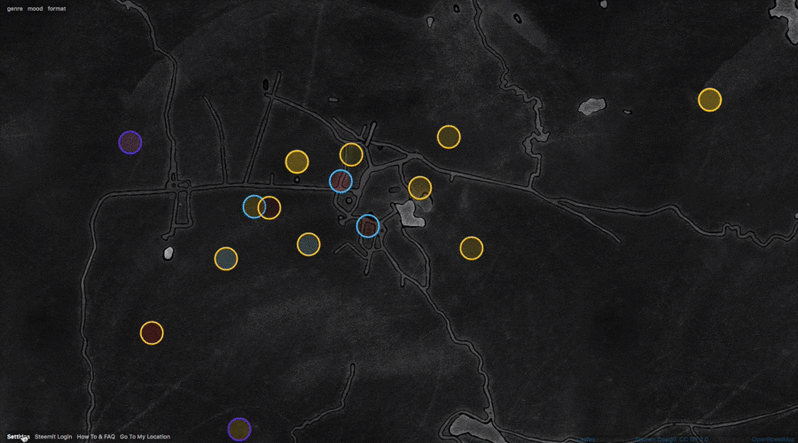 Note: For now, you can only choose one genre, mood and/or format at a time, but we plan to add the ability to select multiple.
More Settings
We have some other cool things you can do with the Map. Most cool, you can change the style of the map. I put what I think is the coolest, Watercolor, as the default. There are also two other options, a black and white map, and a labeled black and white map.
You can also change the display of the dots to be sized by views or UPs. We are still working on this feature. We plan to have the dots glow and adjust size just a bit, but currently they get huge, and CSS glowing was looking weak so we have disabled it until a better solution is found.
You can also set the amount of results. Be aware your computer may slow down with too many results. Also, you can't just load results for one area yet, but soon.
UPvoting
Cryptovoting is the central component of cXc Mapps, but this ain't it. We can't implement our Purple Cryptovoting system until the launch of SMTs, so for now we have a super-simplified Steemit-integrated system that will be transitioned into Purple as things gear-up.
UPs on the system are limited to one per 5 minute. This is similar to Sol, but with Sol you can hold up to 244 UPs (one day's votes), with this system you can only hold 1 at a time. If you are logged into Steemit, and someone has posted the content to Steemit, your vote will also be registered on Steemit as an Upvote.
We plan to transition soon to holding 244 votes, but this would limit voting to users signed into Steemit and we want to be all-inclusive at this phase.
---
Pro Tips
You can use the + and - keys to zoom in and out.
You can use the arrow keys to pan.
You can share exactly what you are seeing by simply copying and sharing the URL.
Posts are limited to one per 90 seconds
Use the URL to hack the exact number of results, genre, mood, or format you want. Adding &results=3434 will give you 3434 results. you can also use &sort=newest or &sort=oldest to see the newest or oldest first, but newest is default so only "oldest" will have an effect.
---
FAQ
I can't see the names of the cites or locations. Can I turn labels on?
Sure! Currently, the only labeled option is called "Black and White Labeled" and you can turn it on under the settings. Watercolor does not have this option, as it is not provided by our tile provider, Stamen.
Why is the dot slightly off where I marked it?
Sorry about that, its because of the icon we picked, making it slightly off center. To fix this, just zoom in a bunch, then put the + there. When zoomed out it will seem exactly in the right place!
My cursor is getting stuck as a grabby hand and I can't click any songs.
You can fix this by zooming in or out. We don't know why this happens, but yes, its kind of annoying.
YouTube videos aren't showing and Spotify shows "Secure Connection Failed"
Make sure you have the correct time set on your computer. This error is because your browser is sending a request with the wrong timestamp. If this doesn't fix it, you are from the future and should take up sports betting.
I Just added a song to the map, but when I click it nothing shows up?
This is because your current display settings (either your current settings at the top, or your defaults under settings) are set to show something that does not include the song you just posted. You will see that the ID still appear in the browser's location. The link still works, and you can share this link, but to get it to show up for you, you must set your current display settings (top) and your defaults back to something that includes the music you posted.
My friend sent me a link from cXc, but I can't see anything. (I sent someone a link from cXc, but they can't see anything?
This is because your (or their) active display settings (Either your current settings at the top, or your defaults under "settings") are set to show something that does not include the song you posted. Click "Clear all" at the top and try the link again. If that doesn't work, set your default settings back to All moods, genres, and formats, or just click "clear all settings".
Why does the song say "Mystery Spotify Song"
This only occurs when you post a Spotify link without a Youtube or Soundcloud link. Spotify doesn't provide title information through its embedded player API, so we can't display the title. If you want the music you post to have a real title, include a YT or SC link also.
Why is cXc Music posting to my Steemit? I don't want it to.
You can disable this by clicking the option to post in the add music dialogue. The button says "Steemit Posting: On" by default, but when you click it it will say "Steemit Posting: Off". This choice will save in your browser so you won't have to change it every time you post
Why is cXc Music Upvoting posts on my Steemit?
Our UP button is tied to the Steemit upvote on posts that are already shared on Steemit.com. The only way to disable this right now is to log out of Steemit on cXc Music. We can change this if you want to give you an option to not Upvote when you UP, so let us know your opinion. Because of the limit to one every 5 minutes, we don't think you will drain your resource credits on UPs/upvotes.
Who made this?
The immortal consciousness known as Thoth is the creator of this app, though physical beings incarnate had a hand in its manifestation.
---
Goals
I want to talk about our goals for this project so we can share them and focus our attention together, manifesting this new reality exponentially faster.
Power to the People
We are building systems that give power to the people to curate attention as it manifests creation. We want to use this to empower people to change their world, creating a newer, higher connection with reality as a more connected planetary consciousness. We start by changing the art, media and ideas the masses are exposed to. Through cXc platforms, local popularity can turn into global attention for everything from music, ideas, solutions for global problems, to governance itself. Purple is the new, better-designed democracy that is the natural evolution from the system we are living in.

Let's make some awesome.
Love & Light,
Douglas James
Founder & Chief Visionary
Current X Change LLC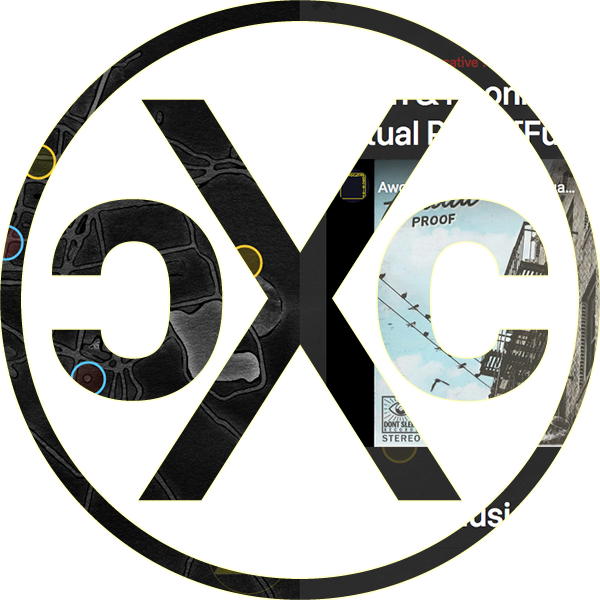 Join us!
Website | White Paper | One Pager | cXc Music (Full App) Demo

Telegram | Facebook | Twitter | Instagram | Youtube