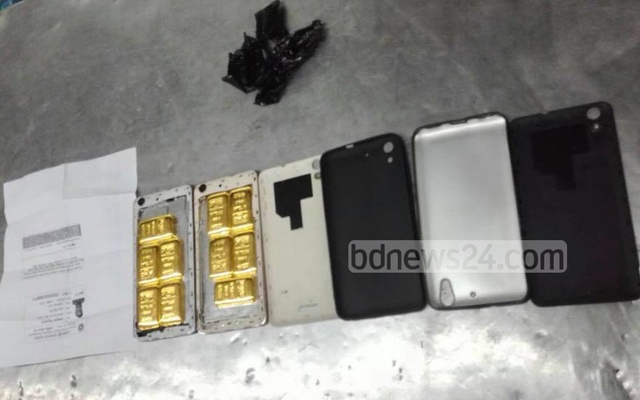 Customs seized gold bars hidden by a traveller in his mobile phones, an official has said.
A traveller was detained after about 1,160gm of gold (10 bars) were found inside two of his mobile phones at Hazrat Shahjalal International Airport, said Customs Investigations and Intelligence Division Director General Moinul Khan.
There was some confusion over the identity of the traveller. Though his national ID stated he was Mohammad Abu Taher, 43, from Chittagong, his boarding pass was under the name Mohammad Abdur Rahim. He arrived in Dhaka from Chittagong by a flight that came originally from Muscat.
Customs officials found the gold bars hidden inside the phones and seized them, Khan told bdnews24.com.
"Officials questioned the passenger as he entered through the domestic arrival point. And they found the bars."
The flight had flown from Oman's Muscat before landing in Chittagong, en route to Dhaka. Customs believes the detainee who boarded the flight from Chittagong received the gold from a passenger from Muscat.