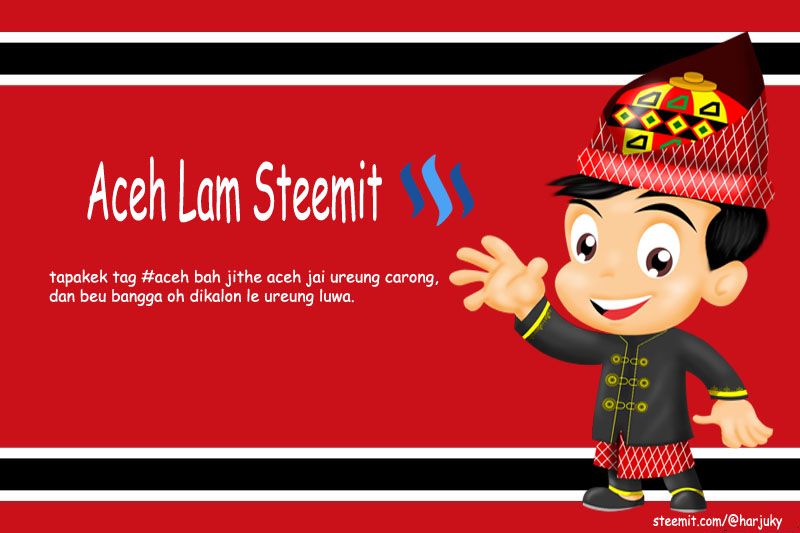 cok
Trep that ka hana lon baca post para steemian. Beugoeh nyoe lon baca padum boh tulesan awak nyoe yang tranding. Intijih Aceh golom na kurator. Rame yang ulas kurator tulesan dan khusus kurator untuk tag Aceh. Nyan teungoeh ji usahakan le awak nyoe beuna kurator ke Aceh, karena steemit awai na di Aceh seugalom Indonesia. Tapi ilon agak hireun bacut, pakon awak Indo yang telat ji teupeu steemit awai na kurator dan pakon Aceh sampe inohat hana kurator?
Nyan pertanyaan lon keu awak yang ka paham deungoen steemit nyoe. Lon hana dalam komunitas sapat, dan lon hana perle na dalam komunitas. Ka padum goe ka bang @amriadits pakat gabong kumunitas han lon tem. Karena galom meuphom tentang steemit nyoe dan lon teupeu steemit nyoe pih bak gop nyan.
Karena nyan lon hana perle ile siat gabong komunitas, karena galom pah untuk steemit nyoe. Karena hek that kerja lah beusoe hai rakan. Jadi han sempat lon baca ata komunitas atau ata laen nibak nyan.
Leubeh nibaknyan na lon baca cit tulesan dan kontes bang @amriadits yang geubahas tentang konten berkualitas. Lon hana lon tuoh konten kiban, hana standar seubab. Karena nyan, ilon hana ikot kontes nyan dan hana pike komunitas nyoe jeh.
Hana perle cit ji vote le kurator asli atau kurator konten yang goet. Nyan hana aju, hana meulam lumpoe pih. Cuma meunyoe sigoe-goe ji vote ata lon kon alhamdulillah cit. Leubeh nibak nyan hana meuharap ilon, na ka vote ka keuh, hana keu tan keudeh. Han ek ku pike vote nyan, tanyoe hana ta vote ata gop karena sibok teuh.
Ka ile ceramah uroe nyoe, singoeh meunyoe ka muprang di steemit peuroh lon sidroe teuk. Lon meunyoe bak sipak awak Indones sep pakat aju. Karena awak nyan jameun ji sipak tanyoe.