Hello everyone, this post is to show numbers for how this bot C.U.B. 1 (Christopher Upvote Bot 1) performed this week (and last week). This initiative was created by: @cmp2020 and @remlaps to try to help curate the authors they find who add value to the steemit community. There are currently 90 authors on the list this week with 0 removed, and 1 added. These authors are:
@cmp2020, @remlaps, @primevaldad, @justtryme90, @lemouth, @valth, @curie, @merej99, @l0k1, @titin, @soundlegion, @hilarski, @pcste, @robotev, @cryptos, @jrcornel, @daveks, @steemstem, @timcliff, @kooshikoo, @claudiop63, @englishtchrivy, @better, @dragosroua, @thisisbenbrick, @explorertraveler, @bitcoinparadise, @steempowertwins, @paulhallman, @nonlinearone, @charlie.wilson, @xntryk1, @therealpaul, @annielee, @hanshotfirst, @joseph, @finpunk, @baerdric, @lily-da-vine, @jerome-colley, @the-bitcoin-dood, @crowdfundedwhale, @williambanks, @biophil, @steempowerwhale, @steemcleaners, @steemprentice, @bleujay, @extie-dasilva, @renzoarg, @ocrdu, @steemsports, @thegame, @steembets, @warrensteem, @carlee21, @colin73995, @philly.sports, @tracilyn, @busy.org, @music-trail, @luzcypher, @thirstyrecords, @jessamynorchard, @leahmchenry, @michaelstobiersk, @jlufer, @tfeldman, @alexoz, @lukestokes , @marius19, @starttheart, @jonathanyoung, @justhope, @chasingstarss, @batanamatampuhin, @Grisha-danunaher, @vir, @prufarchy, @aprilangel, @stray, @herverisson, @cisah, @nadira, @theanubisrider, @richman, @stephenkendal, @jdcrunchman, @riosparada, @taskmanager.
These authors may not be voted on forever as we are planning on making the curating system more advanced than the one that Steem Voter makes possible.
All of the results for CUB1 will be compared to cmp2020 who followed @cub1 and @robinhoodwhale, and @ats-david this week.
Here is the data, collected from steemwhales.com's 7 day curator list, and the steemdb.com daily curation section.
cub1 currently has 1,160.145 steempower to support these authors.
cmp2020 currently has 4,483.679 steempower to support the authors who those streemian users vote on.
Curation Score
Today - 2/4/17
cub1: 596
cmp2020: 501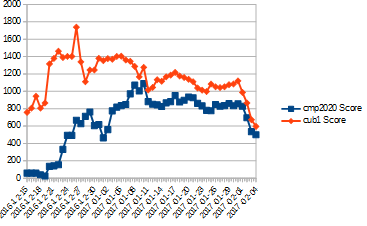 Curation Rank
Today - 2/4/17
cub1: 265
cmp2020: 335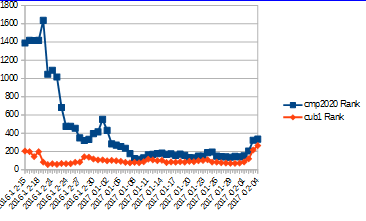 Curation Reward 
Today - 2/4/17
cub1: 0.168
cmp2020: 0.784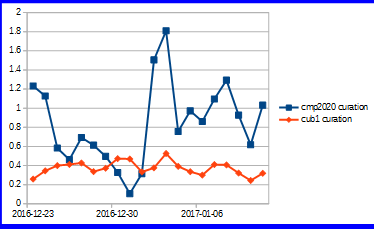 Thanks for reading this! Sorry I didn't post last week, I didn't really think of it