Taleh Curry, Authentic Acehnese Traditional Cuisine [Bilingual]
Good day, good people.
One day, my friends and I had a very fun conversation about our dream travel destinations. Most of my friends had planned to visit many modern places with luxurious technology. Meanwhile, I was thinking vice versa. I had a dream to explore the nature potential and to get experience living with the people in rural areas of Indonesia. I have been planning to wander my own country and its beauty, especially at Leuser areas in Aceh.
Suatu hari, saya dan teman-teman pernah bercakap seru tentang tujuan perjalanan impian kami. Sebagian besar teman-teman saya merencanakan untuk mengunjungi berbagai tempat kekinian alias modern dengan teknologi memukau. Sementara itu, saya justru berpikir sebaliknya. Saya bermimpi untuk menjelajahi alam Indonesia dan merasakan sensasi berinteraksi dengan masyarakat lokal di pedesaan. Saya berencana untuk mengekplorasi negeri saya sendiri. Salah satu alam Indonesia yang saya idam-idamkan untuk dikunjungi adalah Kawasan Ekosistem Leuser (KEL) yang terdapat di Aceh.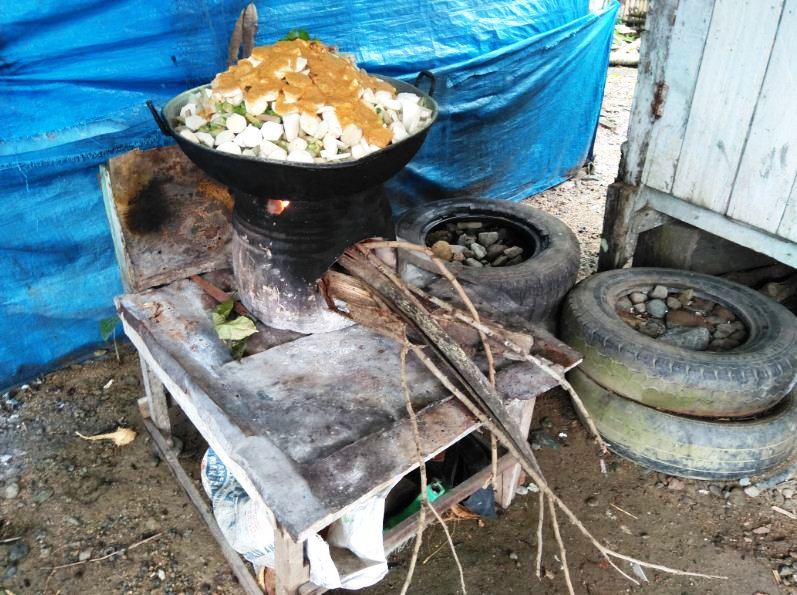 Visiting Leuser have been one of my biggest dream travel destination since long time. Luckily, in the end of 2017, my dream comes true. Under the program Perempuan Peduli Leuser (Women Care Leuser), I had the opportunity to visit the leuser buffer areas and live with native inhabitants for several days. One of the Leuser regions I visited was in South of Aceh. A region which is famous for the name of The Dragon City. A beautiful place with a myriad of legendary stories. This is the place where I first tasted the traditional Acehnese food called Taleh.
Mengunjungi Leuser menjadi salah satu perjalanan impian terbesar saya sejak lama. Beruntung, di akhir tahun 2017, mimpi tersebut menjadi nyata. Di bawah program Perempuan Peduli Leuser, saya berkesempatan mengunjungi daerah penyangga Leuser dan tinggal dengan penduduk asli selama beberapa hari. Salah satu wilayah Leuser yang saya kunjungi berada di Aceh Selatan. Sebuah wilayah yang terkenal dengan sebutan Kota Naga. Sebuah tempat yang indah dengan segudang cerita legendaris. Di tempat inilah pertama kalinya saya mencicipi makanan tradisional Aceh yang disebut Kuah Taleh.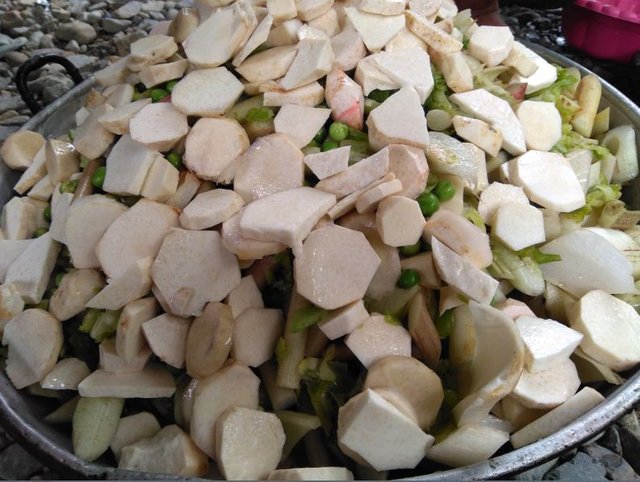 Taleh curry is one of the famous traditional food in Aceh. In Aneuk Jamee language (one of Aceh traditional language), taleh means taro. So, as its name, taleh curry made of stems and fruit of taro. Taro provides more calories than the benefits of potatoes, about 100 grams provide 112 calories. The benefits of taro are varies. Such as it is good for digestion, good for heart, stabilize the blood pressure, improve the body's immune system, overcoming fatigue and as anti-aging. Taro plants are easy to grow in humid areas and moats. So the basic ingredients of this cuisine is very easy to get, for free, especially in South Aceh area.
Kuah Taleh adalah salah satu makanan tradisional yang terkenal di Aceh. Dalam bahasa Aneuk Jamee (salah satu bahasa tradisional Aceh), taleh berarti talas atau keladi. Jadi, seperti namanya, kuah taleh berbahan dasar batang dan buah talas. Soal manfaat, buah talas memiliki lebih banyak kalori dibandingkan kentang, 100 gram talas menghasilkan sekitar 112 kalori. Talas juga baik dikonsumsi untuk melancarkan pencernaan, meningkatkan kesehatan jantung, menstabilkan tekanan darah, memperbaiki sistem kekebalan tubuh, mengatasi kepenatan dan anti penuaan. Tanaman talas mudah tumbuh di daerah lembab atau pun di sekitar parit. Jadi bahan dasar masakan ini sangat mudah didapatkan secara gratis di daerah Aceh Selatan.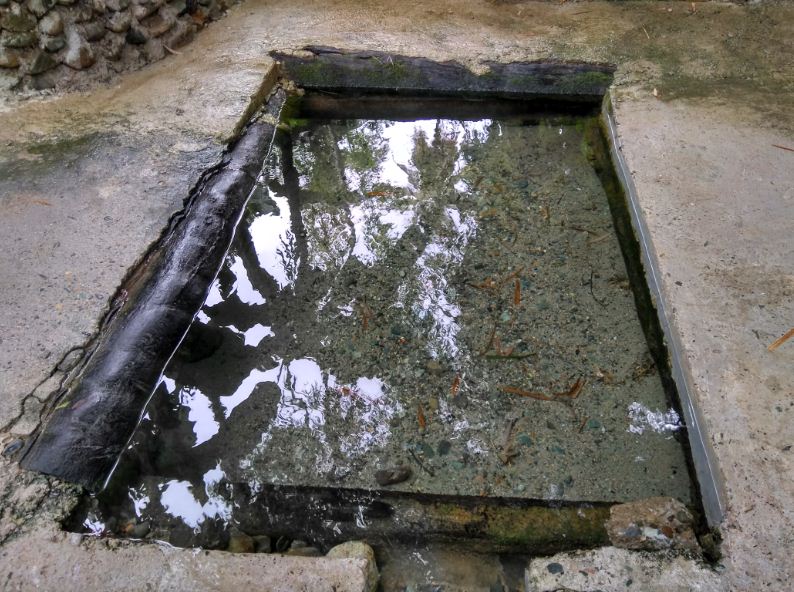 South Aceh local community believes that not just anyone will be able to cook taro into a delicious taleh curry. Because there are many requirements during this cooking. For example, it is said that the main chef is prohibited from speaking during cooking and it is recommended to use wooden spatula. Another unique belief is if you stir the curry and then spoon beaten at the edge of the cauldron, the taleh curry will taste itch when it be eaten. It means the curry couldn't be consumed anymore.
Masyarakat Aceh Selatan percaya bahwa tidak sembarang orang bisa memasak talas menjadi kari taleh yang lezat. Karena ada banyak persyaratan selama memasak masakan ini. Misalnya, dikatakan bahwa orang yang memasak taleh dilarang untuk berbicara selama memasak dan dianjurkan untuk menggunakan spatula kayu kala mengaduk masakan. Selain itu, hal unik lainnya tentang masakan taleh adalah masyarakat percaya bahwa memukul sendok kayu bekas adukan taleh ke tepi kuali akan menjadikan masakan tersebut terasa gatal saat dikonsumsi. Artinya, kuah taleh tidak dapat dimakan lagi.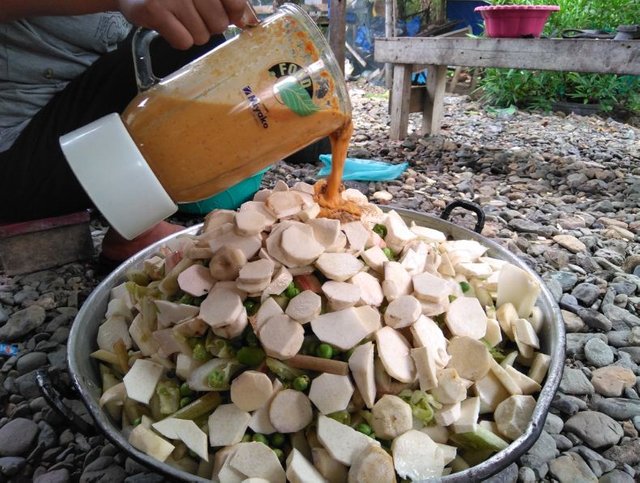 I enjoy the whole process of cooking with heart full of joy. Knowing the story behind each traditional food never bored me. Especially when I see cooking dishes with a stove of fire, which i never see it in my home, like seeing historical objects being re-used in modern times. That was totally amazing moment for me.
Saya sangat menikmati keseluruhan proses memasak kuah taleh tersebut. Mengetahui cerita di balik setiap makanan tradisional tidak pernah membuat saya bosan. Apalagi saat saya melihat masakan tersebut dimasak dengan menggunakan tungku api berbahan kayu bakar, yang tak lazim saya temui di sekitar lingkungan tempat saya tinggal. Rasanya seperti melihat benda-benda bersejarah yang kembali digunakan di zaman modern. Itu merupakan momen yang sangat menakjubkan.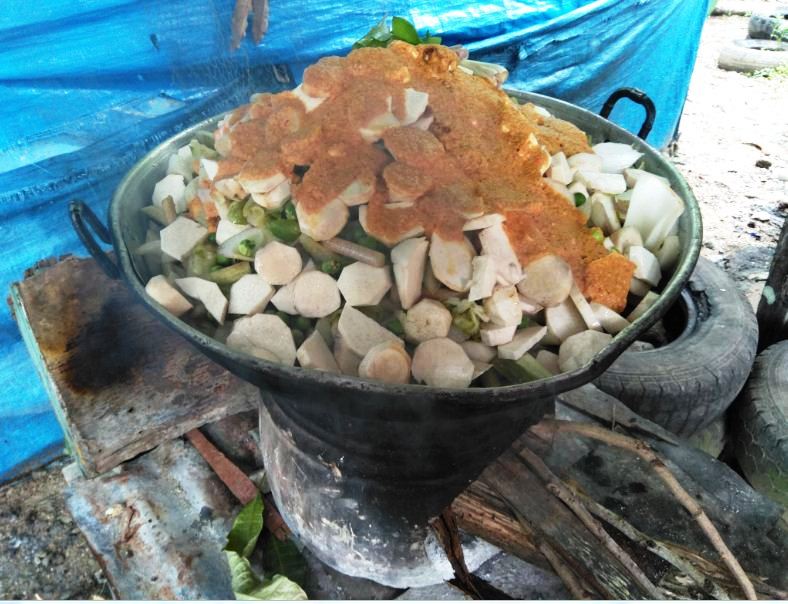 After waiting several hours, taro cooked with a mixture of star fruit, salt, thai green eggplant, onion, garlic, chilli, candlenut, turmeric, lemon grass, bay leaves, turmeric leaves and coconut milk were ready to be served. The mixture of taleh curry seems like porridge. It tasted so yummy. Taleh curry can be eat with or without the rice.
Setelah beberapa lama menunggu, talas yang dimasak dengan campuran belimbing, garam, terong hijau, bawang merah, bawang putih, cabe rawit, kemiri, kunyit, serai, daun salam, daun kunyit dan santan, akhirnya siap disajikan. Tekstur kuah taleh mirip bubur yang dicampur kuah lodeh. Rasanya sangat lezat. Kuah taleh dapat disantap langsung atau dimakan sebagai lauk nasi.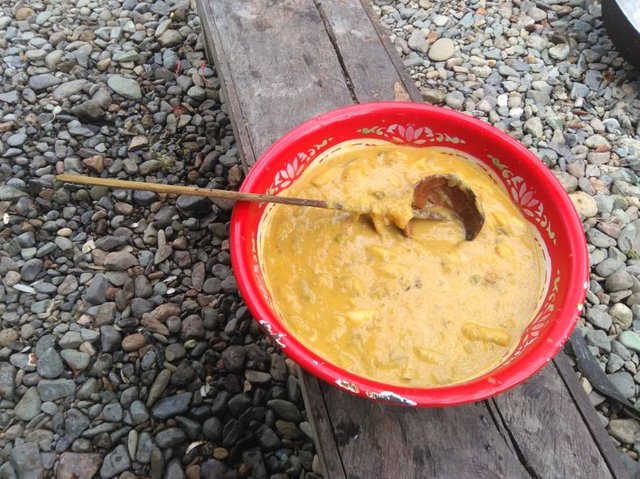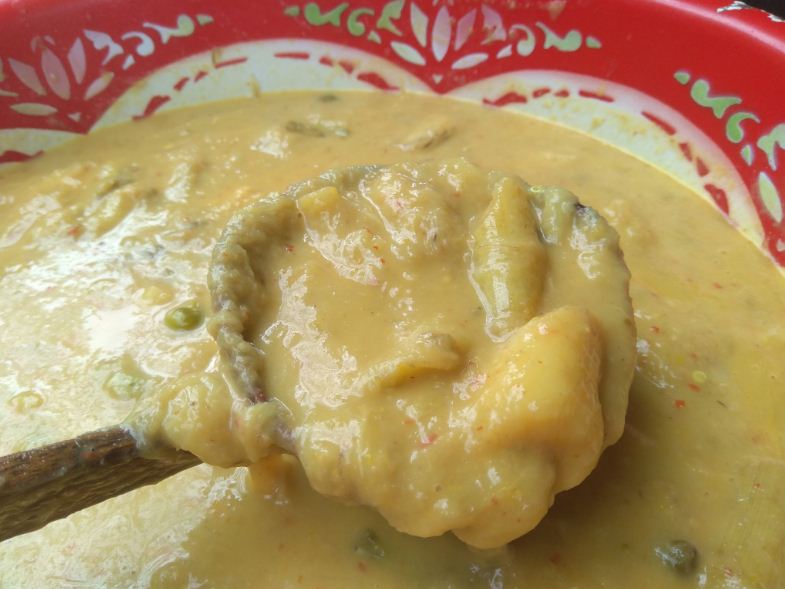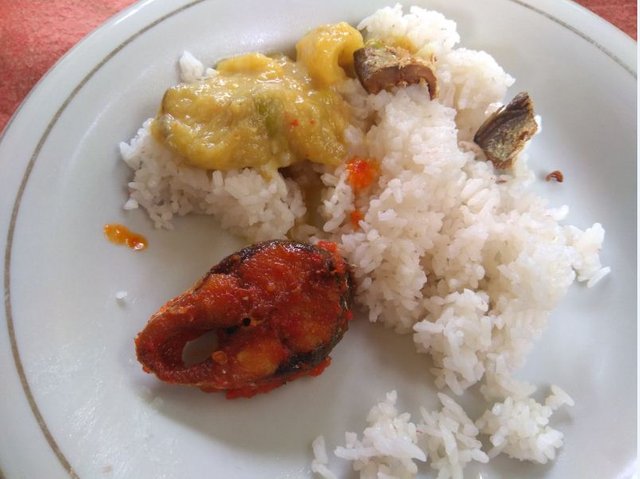 At that moment, my friends (@ihansunrise, @yellsaints24 and Seila) and I were eating taleh curry with rice, sambalado fish and salt fish. The combination of simple traditional food but amazingly delicious. Honestly, at that time, I silently thanks god for this precious moment in my life.
Pada saat itu, saya dan teman-teman (Ihan, Yelli and Seila) menyantap kuah taleh dengan nasi putih hangat plus sambalado dan ikan asin. Sebuah kombinasi makanan tradisional sederhana yang kelezatannya maha dahsyat. Jujur saja, saat itu, saya mengucapkan syukur tak terkira atas momen berharga tersebut.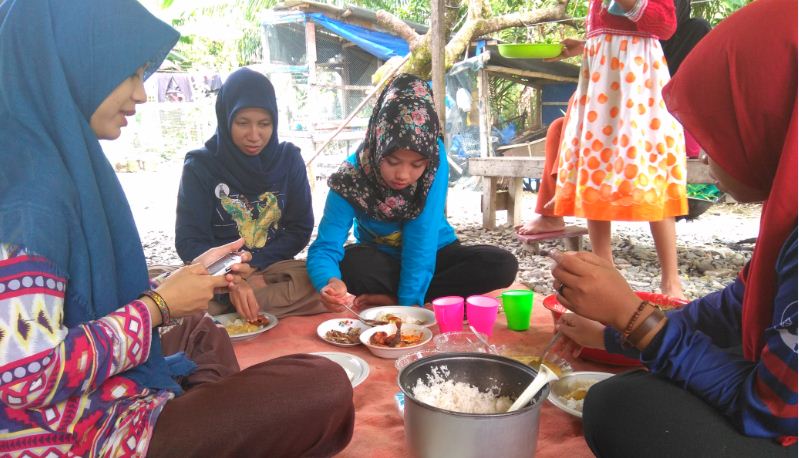 Through the chance of traveling to local areaof Leuser and eating special traditional food of South Aceh, I can look closer and feel deeper toward my own people, my own place, my own country that blessed. As Rumi once said "Maybe you are searching among the branches for what only appears in the roots". Inside-look activity always gives an awakening moment for me.
Melalui kesempatan bepergian ke daerah pedalaman Leuser setempat dan mencicipi makanan tradisional khas Aceh Selatan, saya bisa melihat lebih dekat dan memiliki kebanggaan tersendiri terhadap wilayah ini, sebuah negeri elok yang diberkati. Seperti yang pernah dikatakan Rumi, "Mungkin kita mencari (kepuasan) di antara cabang-cabang untuk hal-hal yang hanya muncul pada akar". Bisa jadi kita terlalu banyak mengagumi hal lain di luar sana sehingga lupa keindahan alam dan negeri sendiri yang kita punya. Mari sama-sama kita jaga dan nikmati keindahan alam Leuser ini.
---
That's all my story. Hope you enjoy the reading.
For the @betterperson.
See you next time~