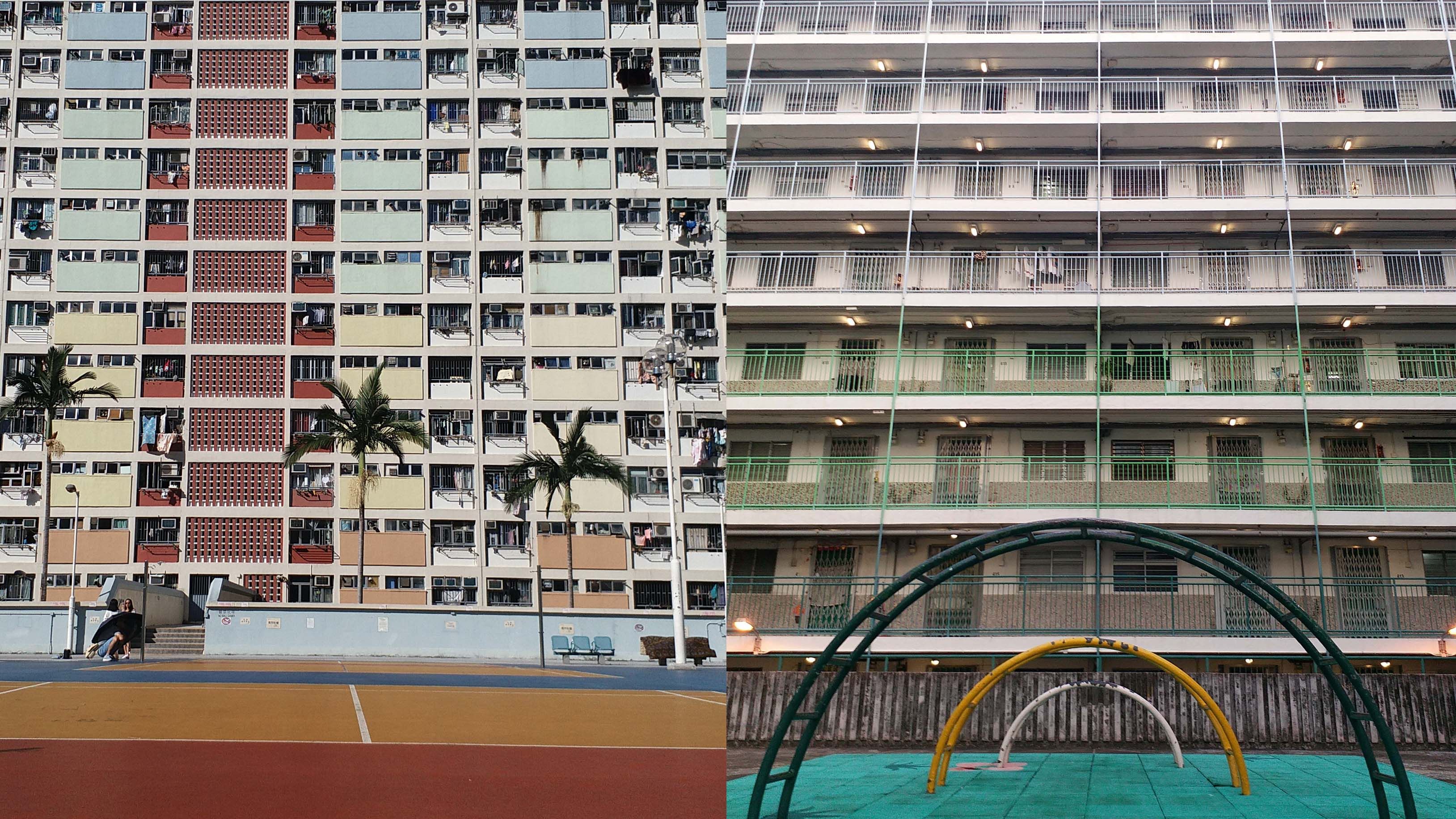 来香港一年有余,去过不少地方旅行,但是这次想专门介绍几个可爱小众的拍照打卡的地方。不是什么特别的著名景点,但是格外适合拍美美哒(凹造型)的照片。如果感兴趣,只需带上手机或者相机,穿得美美帅帅的就可以去装模特啦! 
Being (studying) in Hong Kong over a year, I have been several places normal or special to travel. This time I am willing to introduce some lovely and special local places, non-attractions but which are suitable for fashionable photo taking. To be a hit in your circle, you just wear in a charming style and go to these places with a phone or a camera.   
我花了好一阵子才抽空拍好了以下要介绍的三个曾经传说中的地方,彩虹邨、南山邨和元创方。彩虹邨和南山邨是在快7月份的时候同一天一个下午去完的,两个地方都各有特色,日夜都适合拍照。 
I spent some time to finish my journey to the following three legendary places in Instagram, Choi Hung Estate, Nam Shan Chuen, PMQ. Choi Hung Estate and Nam Shan Chuen were the main schedules in the same day on 30 June.  
---
#1 彩虹邨 Choi Hung Estate 
彩虹邨,听名字,顾名思义,是一个带有"彩虹"景色的屋邨,实际上是一幢幢楼宇外墙上满了七彩的颜色,远远看去七彩纷呈。 这个有"彩虹"的地方也格外好找,就位于九龙黄大仙区,只要坐地铁到彩虹站再按照指示牌走几步路就到了。 
Choi Hung Estate (Choi Hung in Chinese means rainbow), estates with "rainbow" scenery, is actually housing estates with colorful paintings on the outer walls, which seems like rainbows. This "rainbow" paradise lies in the Wong Tai Sin District of Kowloon. Visitors can take the MTR to Choi Hung Station and then walk for several minutes following the guide.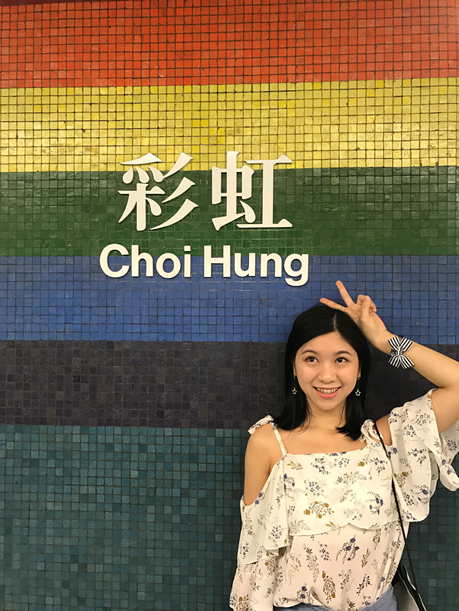 【彩虹站 Choi Hung Station】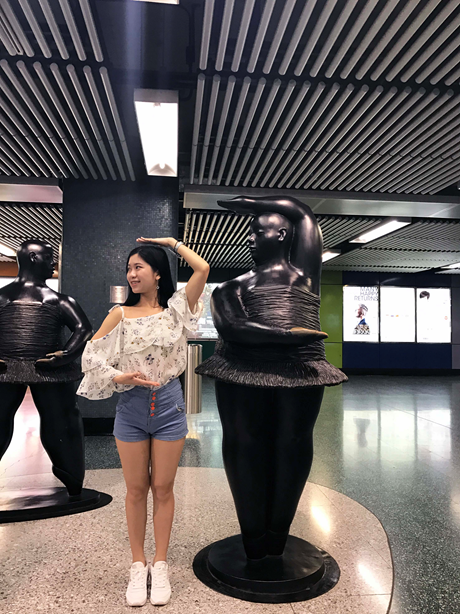 【地铁站有趣的雕像 Statue at the Station】
出了地铁站,直接找到去往彩虹邨的标牌或者指示牌即可。 
You can easily find the guideposts to Choi Hung Estate when getting out of the station.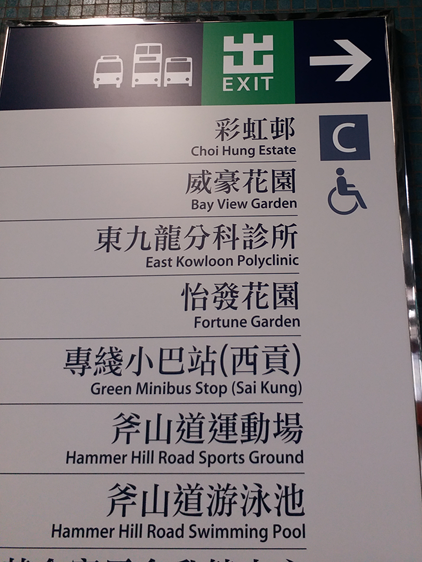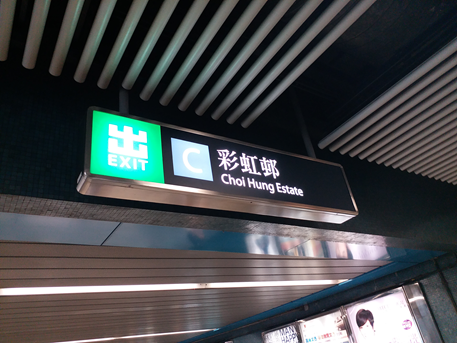 【彩虹邨标牌 Guideposts of Choi Hung Estate】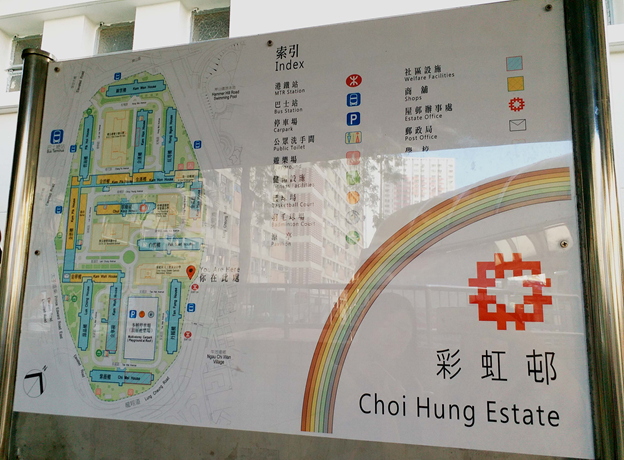 【彩虹邨地图 Map of Choi Hung Estate】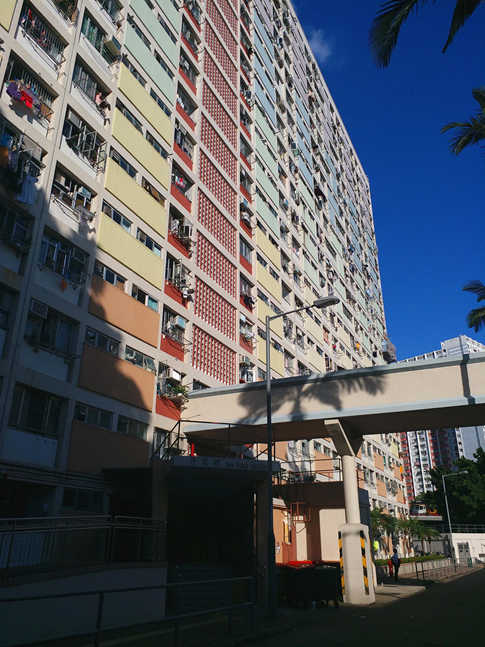 【丹凤楼 Tan Fung House】
找到彩虹邨后,有条楼梯上到上面的一个篮球场,我和朋友选择了在这拍照。
 You can see that there is a playground at the roof near the station. We went upstairs and took photos at the roof.   
这里是主要拍照点,在篮球场上刚好可以拍到四周的七彩的屋宇。平时还是有不少人在拍照的,周围也很有生活气息,有休息的座椅,小植物什么的。 
Here is the main photo taking spot, which is surrounded by colorful houses. There are some people taking photos and local residents playing basketball even in workdays. The scene is full of daily life sense with chairs, tiny plants, etc.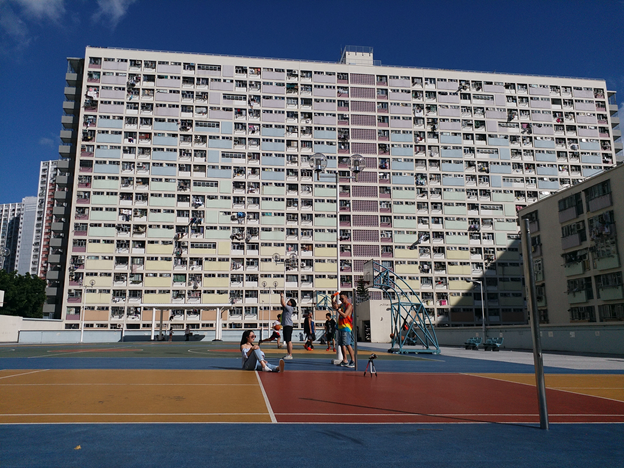 【楼上篮球场 Playground at Roof】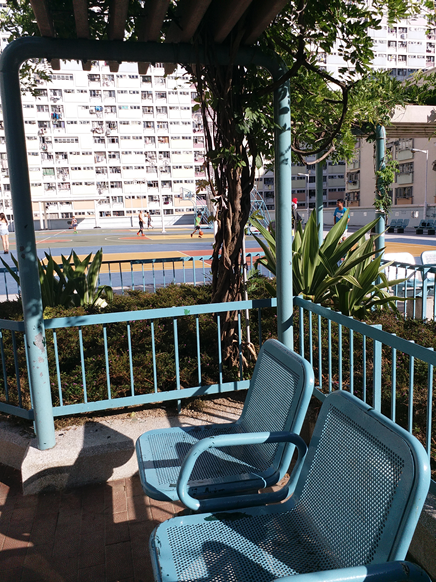 【休息椅和植物亭 Chairs and Plants】
  那天天气特别好,阳光明媚,也是刺眼到不行,拍客们可以尝试戴墨镜,或者背部、侧面拍照等方式。
It was scorching hot that day with shining and burning sun. Photo-takers can try taking photos with poses like back or side shots, or wearing a sunglasses.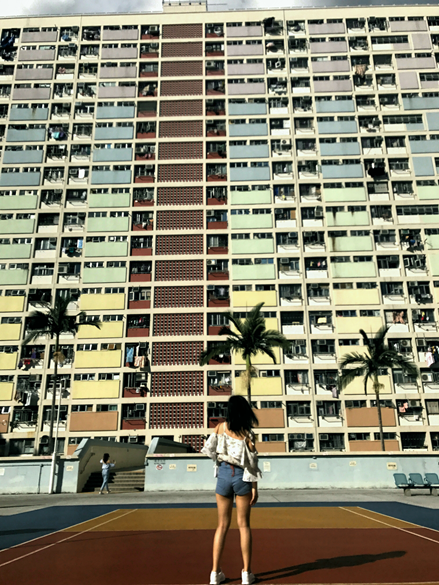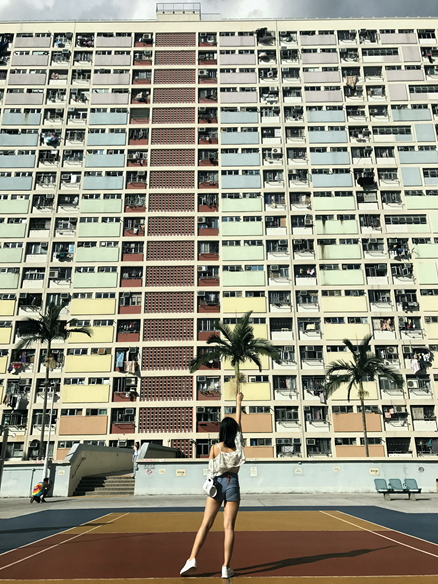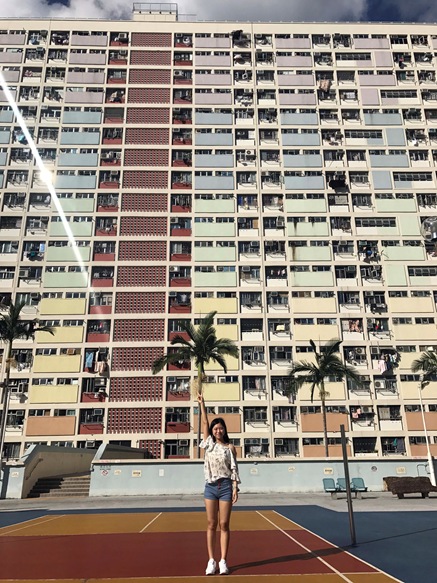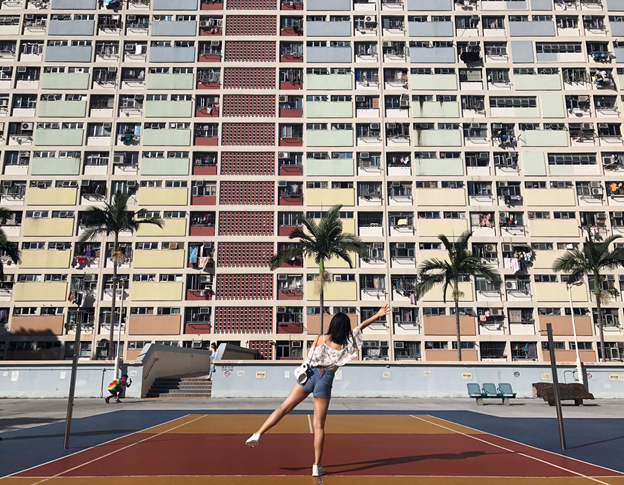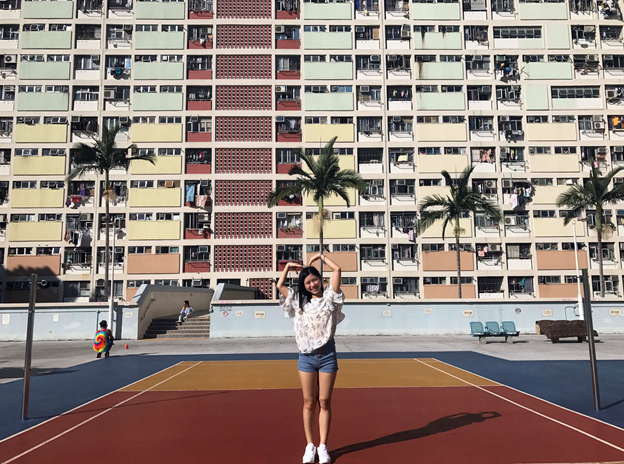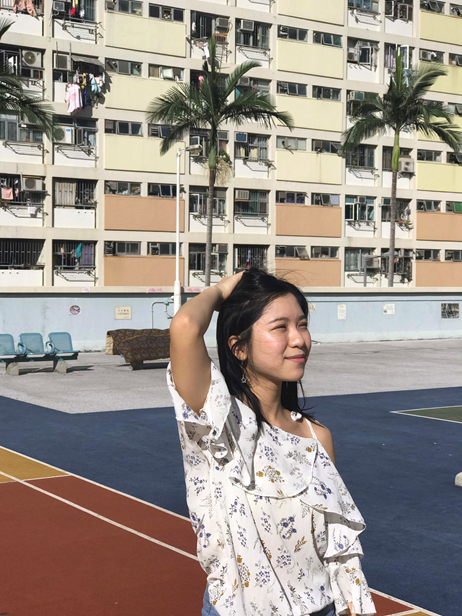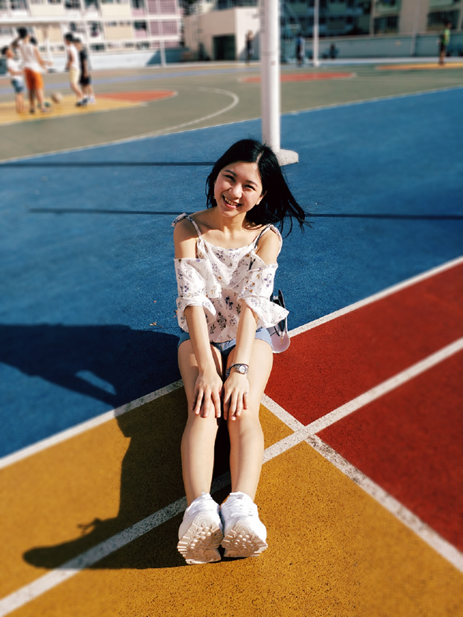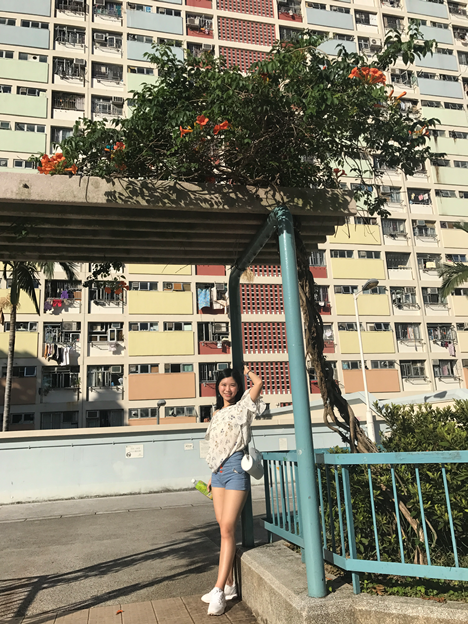 【各种拍照姿势 Different Poses for Photo Taking】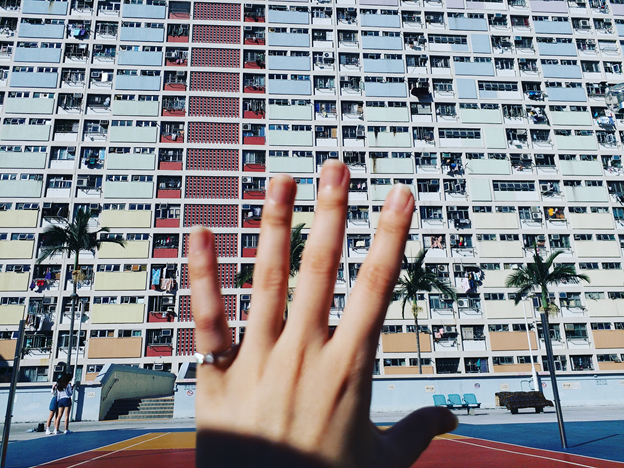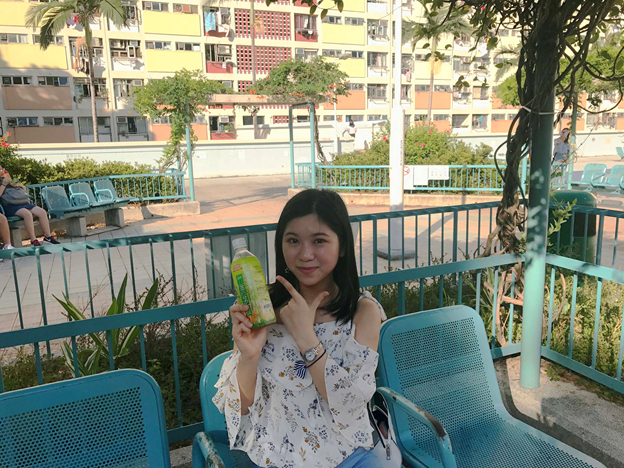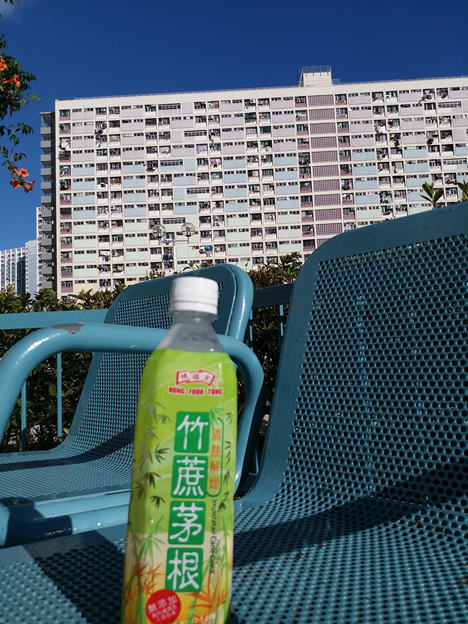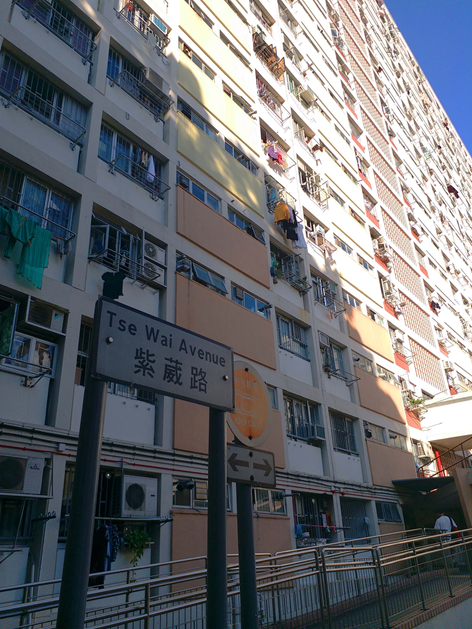 【各种打卡方式 Various Methods for Photo Taking 】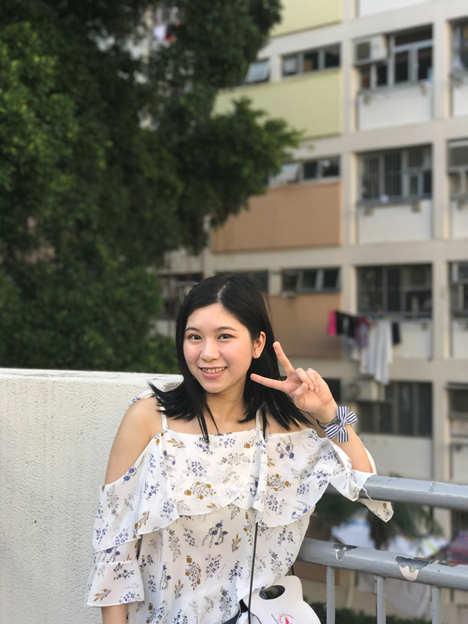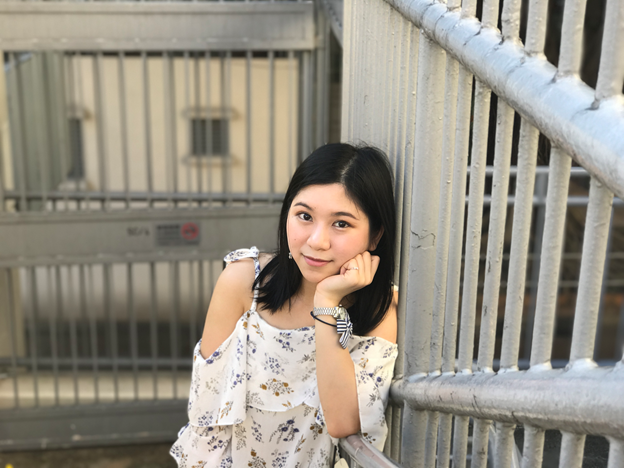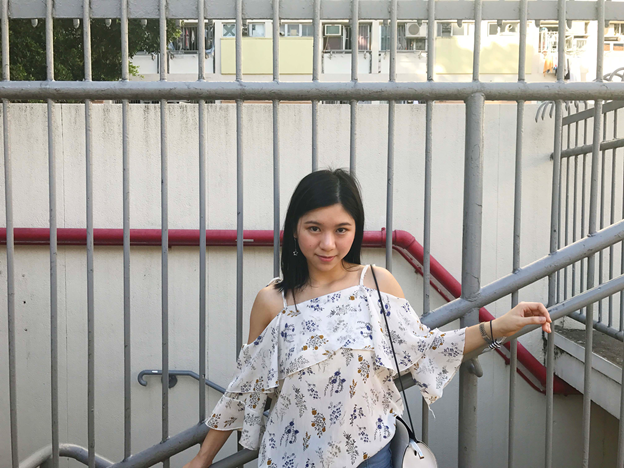 【篮球场的楼梯也是个不错取景处 The Stairs Was A Good Spot For Photo Taking】
默默地,流连忘返的俩妹纸拍照足足拍了三个小时……本来我们当天行程是从远及近,先去彩虹邨,之后回去顺带去去黄大仙。结果拖延症犯了,拍完照已经过了5点,想去黄大仙才发现那边关门了。 
We two girls took photos for the whole THREE hours in that afternoon! And we unluckily missed the open time (till 5 pm) of Wong Tai Sin Temple, which was our next stop in our schedule. o(╥﹏╥)o  
---
 #2 南山邨 Nam Shan Estate 
实际上彩虹邨和南山邨是同一天去的,我们放弃黄大仙后,在同一条铁路线上去到石硖尾找到了南山邨。
 Giving up Wong Tai Sin, we went to Shek Kip Mei Station directly and found Nam Shan Estate, and it took several minutes' walk after getting off the station at Exit B.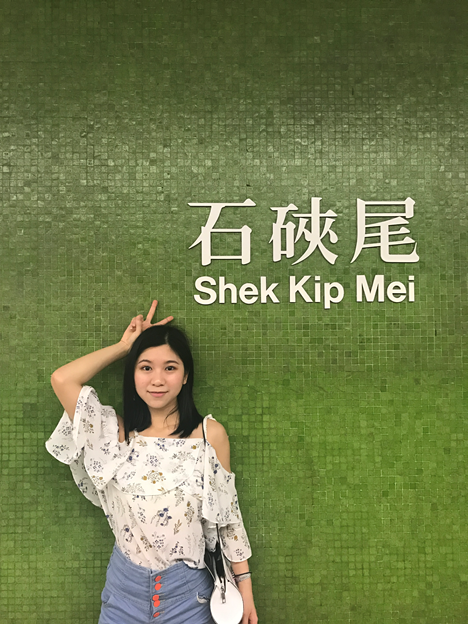 【石硖尾站 Shek Kip Mei Station】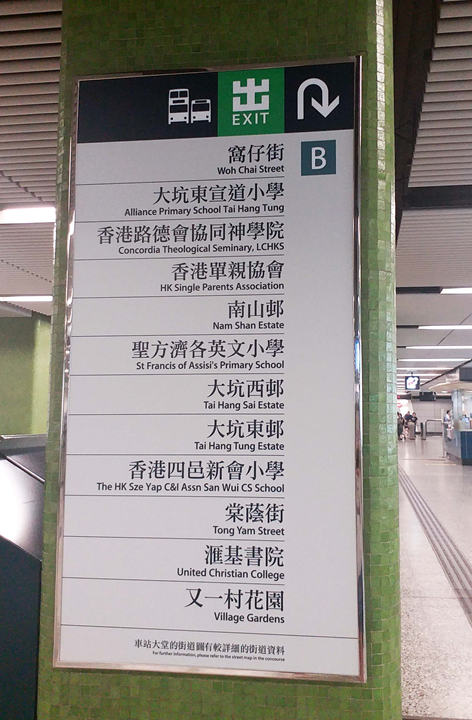 【南山邨指示牌 Guidepost at the Station】
南山邨也是和彩虹邨类似的屋邨,也是外墙上了颜色,只是颜色变成渐变的绿色,看起来很舒服和有活力。 
Nam Shan Estate is painted with green colors, similar with Choi Hung Estate but more vivid and comfortable.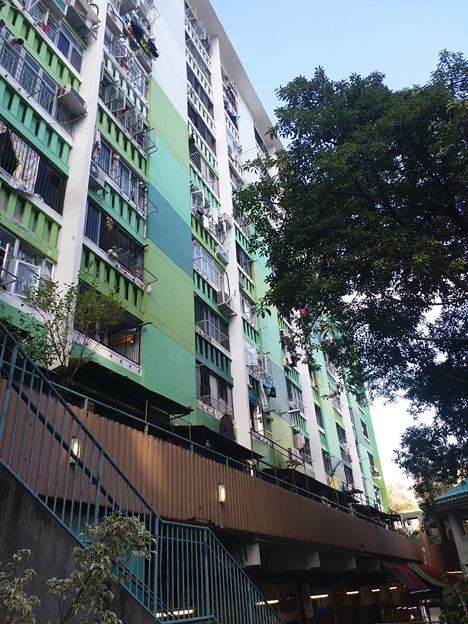 【路上大树 Big Tree Beside the Estates】
去到的时候已经是傍晚,太阳快下山,天气是真的好,几乎万里无云,还能看到刚出来的月亮,十分有情调,太阳下山后更是柔美。 
It had been at dusk when arriving, and the moon could be seen over the estate. It is quite romantic when the round moon appeared over Nam Shan Estate.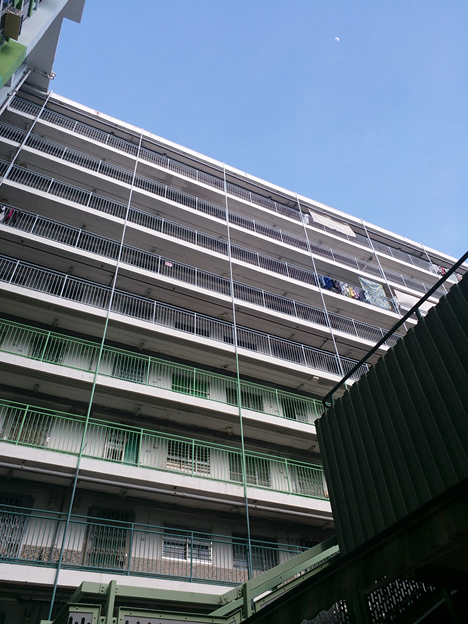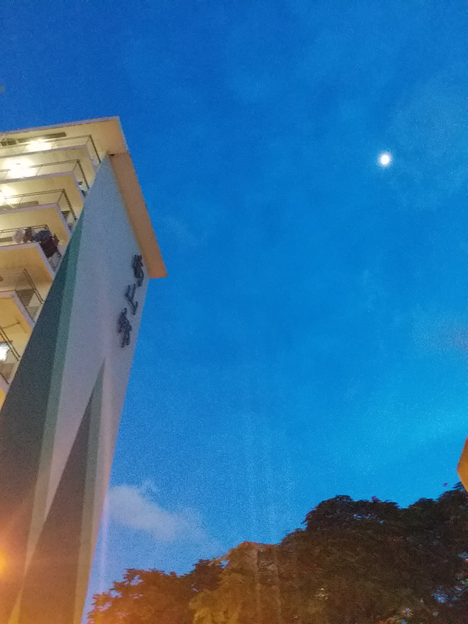 【屋宇上的月亮 Moon Over the Estates】
楼宇成长方形排列,中间是个低矮的市场,市场楼顶有一片空地,是主要的拍照地点。空地上有多个标志性的半圆环,看起来十分和谐。 
Houses make a square surrounding a shorter square market in the middle. The open space on the roof of the middle market was our main photo taking the spot, where we can see green houses. The open space was decorated with several colorful iron semi-circles,  which were very lovely.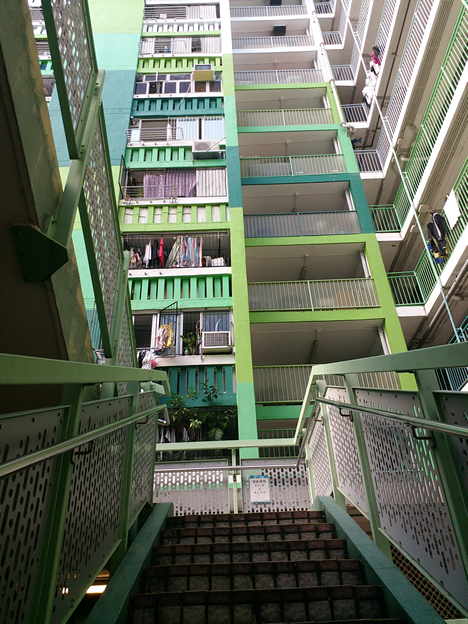 【上去中间屋顶空地的楼梯 Stairs Up To Roof】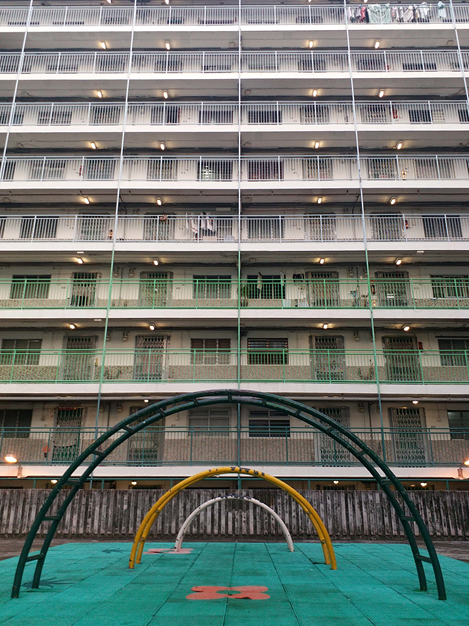 【半圆与南山邨 Semi-circles and Green Houses】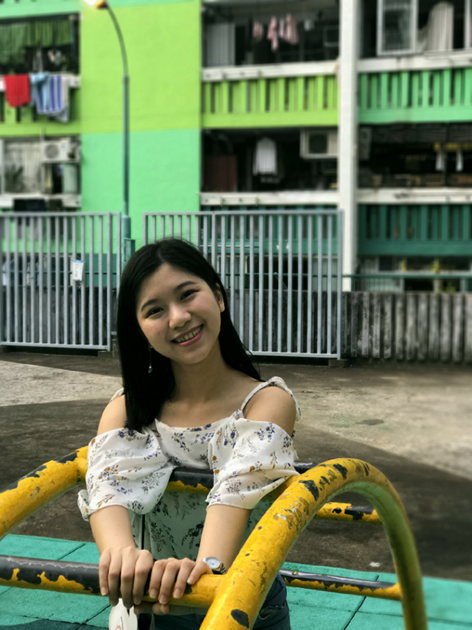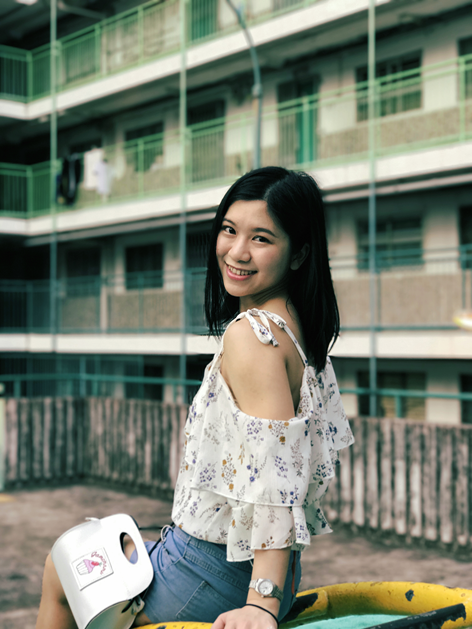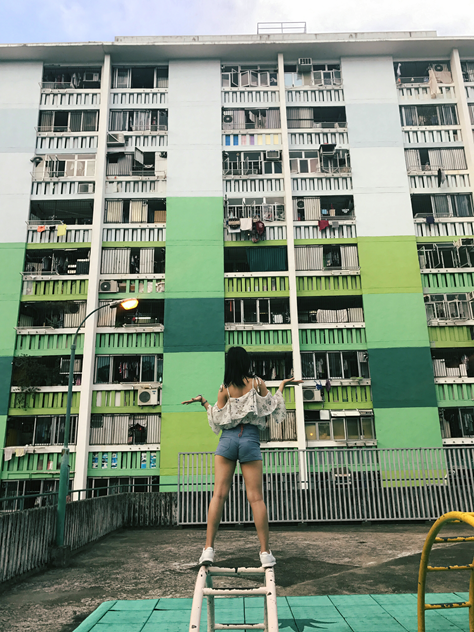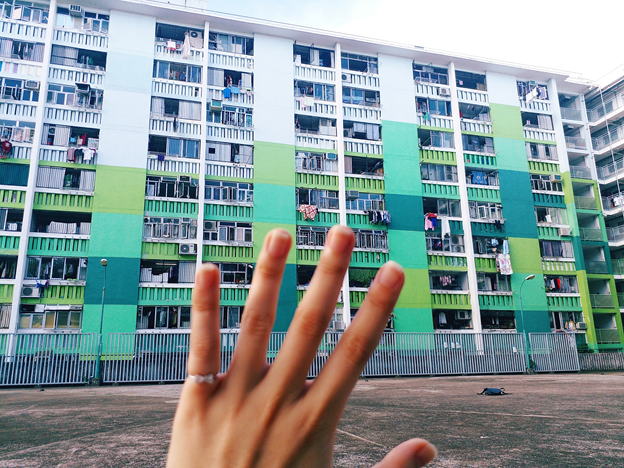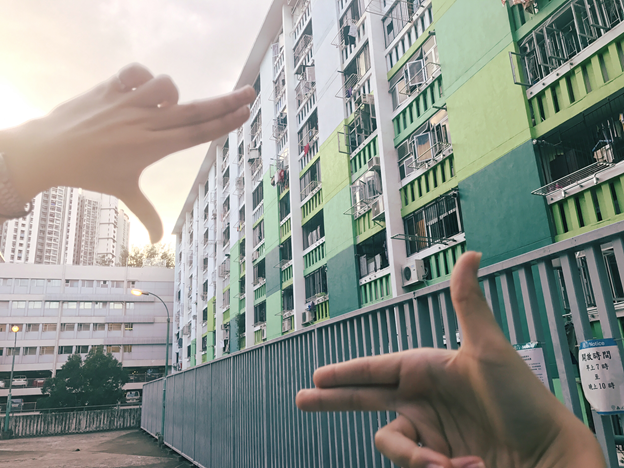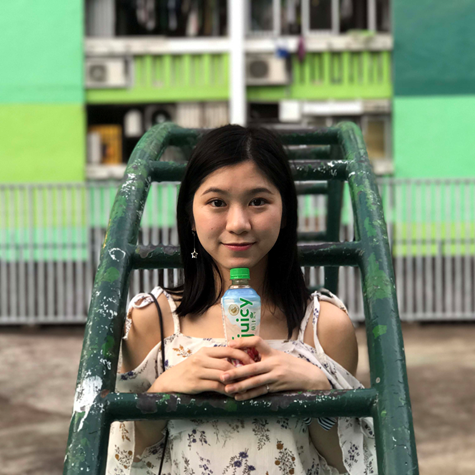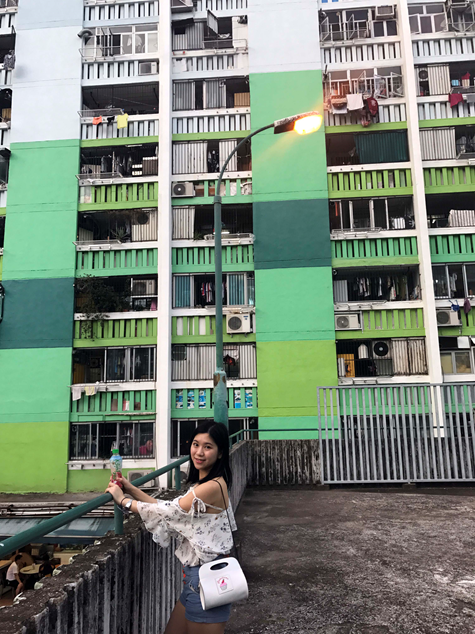 【开始愉快地摆拍和搞笑 Have fun taking photos】
太阳下山后我们直接随便在那边找了家餐厅吃完饭,是十分港式的茶餐厅,食物很local style,老板也是很热情。餐馆后来忘记拍了,实在太饿而且味道是浓浓家乡味十分入口,一下子就什么都忘了。 
When the night came, we had our dinner at a Hong Kong-style restaurant. The restaurateur was quite hospitable and the food was cheap and delicious. Sorry for forgetting to take a snap for the restaurant, I think that is because we were too hungry.   
那天其实是有点遗憾的,本来以为我们有能力从彩虹到黄大仙,之后回到港岛能去元创方,看来是高估了自己。幸好一个月后还是有机会专程去元创方及周围逛逛,那是更加有艺术感的地方,下次我再介绍吧。 
It was a pity that we could not finish our final tour to PMQ in Hong Kong island when we went back to HK island, as it was too late. But still, luckily I had the chance to PMQ and its neighborhood in the next month, and I will introduce it in my next steemit story.   
附加说明:全程手机拍照,大部分图片未修过,其中有几张是放在IG(chen_yingshu)上图片。IG的滤镜还是很好用的。 
P.S. All photos were taken by phones with only several edited ones. Some were posted at my Instagram (chen_yingshu). IG filters are quite good to use.