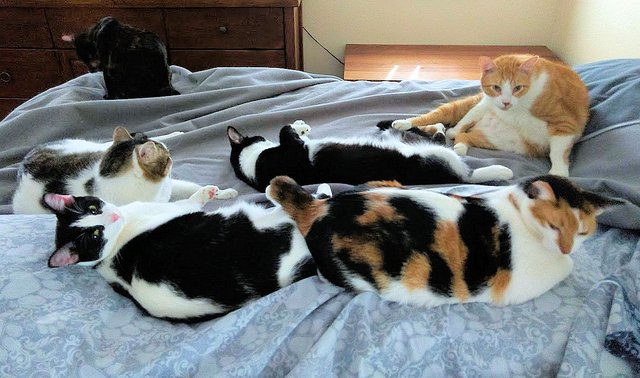 So you wake up and realize you are clinging to the edge of the bed and can't even find your body pillow!
"Couldn't y'all find a spot of sunlight to lie in????"
I had to roust the horde to even get the bed made... (back to front, left to right)Maisie, Teddy, Ernie, Joey, Bessie and Callie... out of frame to the left was Willie...
Then I looked at the clock and realized they had a point, even unintentionally.. You can stay in your comfort zone and never get anywhere in life...
OR, you can make the choice to get out of your comfort zone and try that new adventure... travel to Australia or Thailand or Japan... try a new cuisine, how bad can it be, people live eating that food all the time... or even something as simple as participating in an online chat -- on camera and speaking.... or signing up to video-sharing site like youtube or d.tube...
Step OUT of your comfort zone for a change... you just might like it!!!