Race 4 Hits Launch Party
We are on the final day of the Race 4 Hits Launch Party. Your chances of winning a prize are really good. Just scroll to the bottom and read the instructions.
If you want something to be successful you have to do the right things to make it successful. This is your chance to get traffic to your favorite sites. The Race 4 Hits Launch Party runs from March 6th to March 10th. Get in all the sites and be ready!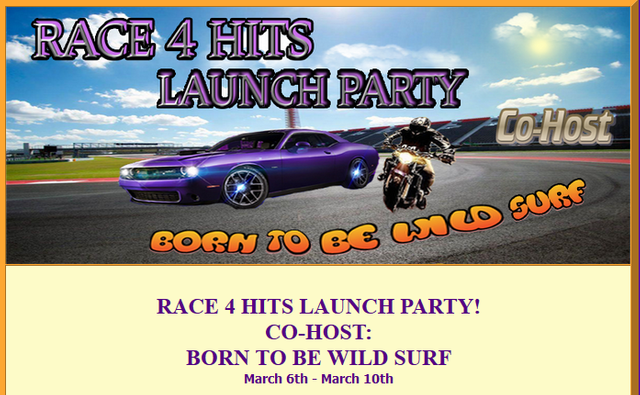 Go HERE: http://magicaljourneydlb.com/page116.php to see the whole party splash page.
So this is the sites you need to be a member of in order to participate and get in the draw for the prizes:
Everyday!
Get in the draw for a bonus prize every day of the party by upvoting this post and leaving a comment that you claimed the prizes for each site on that day.
March 6th
March 7th
March 8th:
March 9th:
March 10th:

You may or may not be a member of these sites but they are all great places to get your ads seen. Click on the banners above or ask someone you know like and trust for a link to join.
Please add your comments below and give this an upvote if you like it! If you do, you will be entered into a drawing for a bonus prize.
Ken Wolff
@wolffden