Saving Unicorns
Wow, what a terrifically frantic morning!
Made sure I got a good night's rest, yep at least 6 hours, got up and did the chores early, all in readiness for the ClickTrackProfit.com Christmas Badge Hunt. I had already had a look at the requirements before I went to bed, so I could plan a strategy for the best way to get all these awesome badges.
Looks like The Universe decided that today was the perfect day for our (very) friendly neighbours in our 14-unit complex to drop by and chat. Since we had a lot of left over food from yesterday's wake, for once I didn't mind those distractions as one after another we had a steady turn-over of visitors. Yep, today was going to be especially busy alrighty!
Helping one of the neighbours take back to her studio apartment an empty chillpack for her to use as extra storage capacity, I popped my eyes through our mailbox and spied some envelopes. OK, drop made, quick chat and farewells said, then I hurry back home to get the key and grab the mail.
All done, and in a rush I open the post.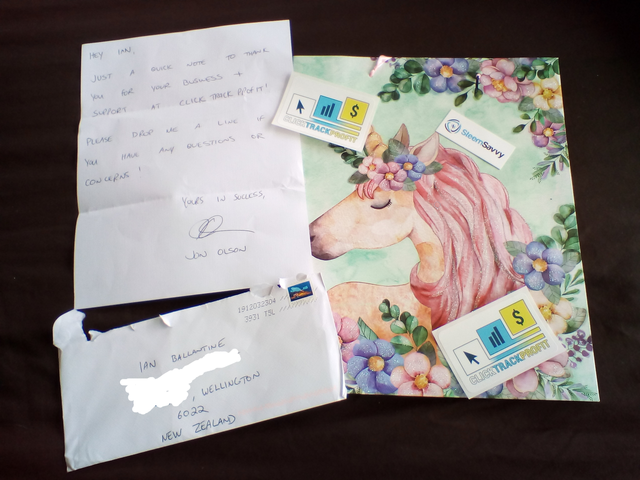 Wow, a hand-written letter and some stickers! Could only be from Jon. Yep, that's a Canada postage stamp.
No matter how very busy today has become for me, I always make time for @jongolson as he's helped me out heaps over the years, and I still owe that man a few favours.
Nothing's more important in my life right now than for me to drop everything and get this article out, to show my appreciation for someone special. Jon goes out of his way to help others, often for little or no reward or appreciation.
Hey Jon, I know how that feels man, I get that all the time. Strange, I now know why Mary and I have had so many visitors this morning; they were readying me for that thank-you from Jon, done in his own hand, in his own style.
Merry Christmas Jon! May God the Father Almighty find favour in your warm heart, and bless you and your loved this day and every day forevermore, my friend.
Ian Ballantine
Wellington, New Zealand
December 16, 2019.