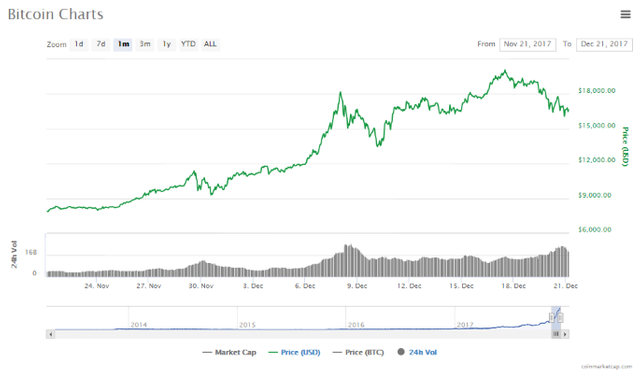 We are all benefiting from the huge rise in crypto-coin valuation, but the two market aspects I look to the most is the overall growth of the cryptocurrency market cap combined with the reduction of bitcoin dominance. They are key factors in determining my opinions for health or frailty.    
Bitcoin is the Undisputed King 
Yes, the rise in Bitcoin has brought great visibility to cryptocurrency and continues to push legitimacy of what most consider a fringe economic activity. Bitcoin is currently the buzz in media and financial circles. I am grateful for all Bitcoin has done, but we must also look at the bigger picture. Years ago financial analysts thought that only one coin (Bitcoin), would emerge as the consolidated victor and fully represent the cryptocurrency market. They were wrong!   
Now that fuzzy picture has become more clear and changed the overall sentiment. Bitcoin was just the lead echelon in a market that is supporting thousands of different crypto coins and backing completely new use cases. The predicted 'great consolidation', that tends to occur in other traditional vertical markets, has given way to a financial system that embraces many different competitors.    
Bitcoin has held a dominating percentage of the overall market. But that is changing. Not only has the total market grown immensely, but other coins are rising as well. Many at a greater pace than Bitcoin. The result is growth everywhere while Bitcoin dominance begins to shrink as a percentage of the whole. This is a very good sign. I see it as an indicator that people are willing to invest in a plethora of different digital instruments, thereby diversifying the market. Diversification is very healthy.    
Bubble? 
Yes, I think we are in a bubble of sorts and eventually there will be a contraction, but that is healthy, as long as the overall market still retains strong gains to fuel further investment. Cycles will come and go. The key is what the long-term trend will show.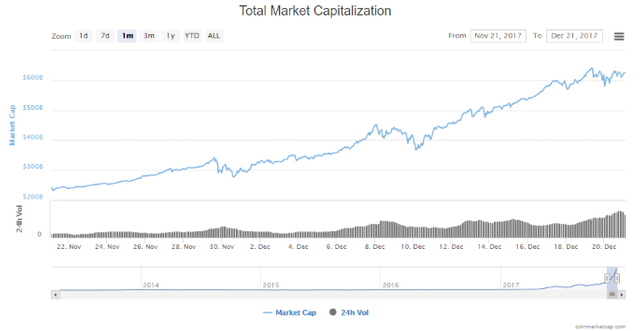 The huge infusion of money into the crypto market truly represents unprecedented growth. Even as Bitcoin has pulled back over the past few days, from over $20k to around $16k, other coins are still rising. Money is shifting, but still staying in the crypto markets. That is a sign of overall faith and long-term valuation.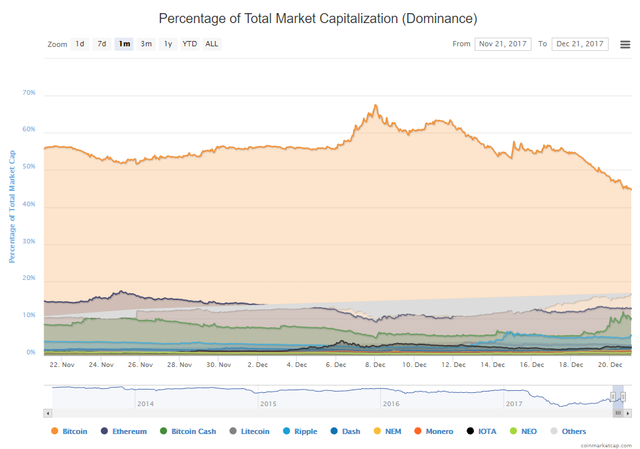 In fact, more money keeps pouring in. The overall market capitalization grew from $242 billion to over $624 billion in the last month. A year ago, the total market cap was only $14 billion. This is a fantastic metric for any healthy market. Bitcoin plays a huge part, but many others are also rising to take a bigger piece of the pie.    
Even if a pullback occurs, which is likely to some extent, I don't believe all that value will be removed. I am bullish on the long-term aspects of cryptocurrencies. More innovative use cases and new companies are flooding in. I see this similar to the boon times of the US, which lead to becoming a global financial superpower.    
It is a great time to be a part of this distributed revolution in finances, all made possible by the rise in digital technology.   
Image Source: coinmarketcap.com