Etheruem Classic has been on a massive bull run in the last 3 days, starting at $23.78 on the 12th day of February, 2018 and the momentum and buy pressure is still inviting, thanks to MACD current bearish position.
The question has been pooping up traders mind " Is it to late to buy?" Well based on analysis on MACD and Fibonacci retracement, ETC is still in a good buy position.
As as time of writing, ETC is trading at $34.10 and expected target for short term is $42.50.
Don't forget to use stop loss.
Happy Valentine's day trading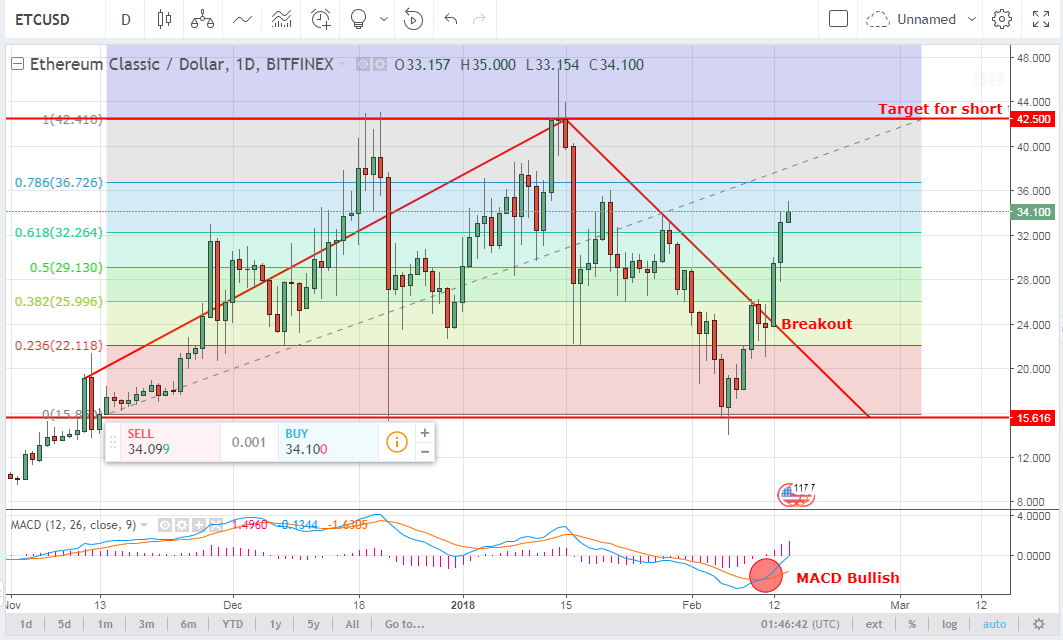 https://www.tradingview.com/chart/ETCUSD/H9lqp2rU-ETC-USD-MACD-Fib-Retracement/
CAVEAT: The analysis is based Education, my opinion and trading decisions. Good luck and trade with caution.
Your Comments, suggestion and questions are highly welcomed
If this blog post has entertained or helped you to profit,
Please UPVOTE, FOLLOW, RESTEEM and/or consider giving some donations:
BTS Wallet - trizle1
BTC Wallet - 1AxEcPUi6nNQDaaT8CKTohmBKeYFhUJyFE
ETH Wallet - 0xDFf7E134291E1C82F98E3976be47BC3484F595B9
LTC Wallet - LbpwNMUYPj2uPMXh6RiDwvzap7UBtQGiAS